Mazel Tov!
802 Settles New Contract for Jewish Wedding Bands
Volume CVI, No. 5
May, 2006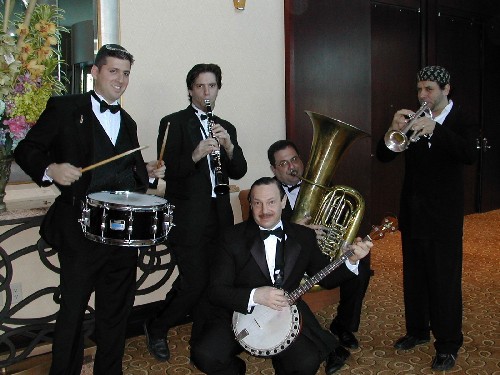 Ari Green's BaRock Orchestra is one of the signatories to the Jewish Club Date agreement.
Musicians working in the Jewish wedding field recently won a new four-year contract. The contract, which is effective immediately, boosts wages $30 over the life of the contract for weekend gigs, and $15 for weekdays.
The agreement also brings pension up to 10 percent at the end of the contract.
"Ten percent is an important milestone," Peter Voccola, principal rep on Long Island, told Allegro. "That on top of the wage increase means a significant pension increase for musicians."
Local 802 maintains a separate contract in the Jewish wedding field. Why? One reason is that many observant Jews – even many secular Jews – don't get married from Friday sunset to Saturday sundown (the Sabbath). Therefore, Sunday is the big wedding day in this field. As a contrast, in the union's standard club date contract, Saturday night scale is the premium payday. But in the Jewish contract, it's Sunday.
Since many musicians work in both fields, Local 802 tries to maintain a close relationship between the union's "secular" club date contact and the Jewish single engagement contract.
Negotiations in this field were tough this year, said Voccola. "There are a crop of nonunion Jewish bands that are undercutting the union bands. It's harder for the union bands to compete. The union bands need a level playing field." Voccola asks musicians who are called to play for a nonunion Jewish band to call him confidentially.
Musicians also won a number of perks in the new agreement:
For the first time, Memorial Day and Labor Day will pay at the premium weekend rate.
Travel to Monsey, New York and Lakewood, New Jersey (two popular cities for Jewish weddings) will increase. Trips to Munsie will pay $20; trips to Lakewood will pay $35 by the end of the contract.
Right now, musicians are guaranteed the union's health plan if they play a certain number of gigs. If the union's health plan goes up in cost, the employer has pledged to cover the increase to keep musicians covered.
The main signatories to the agreement are the bands Nafshenu, Neginah, Neshoma and BaRock plus a few smaller employers.
The new agreement expires on July 31, 2009.
YOU DESERVE BENEFITS!
If you play for nonunion Jewish wedding bands, you are not earning pension, health and other fringe benefits that come with a union contract. You are also helping these bands undercut union bands, which brings down wages for everyone. If you get called to play for a nonunion Jewish wedding band, call Pete Voccola, Local 802's principal rep on Long Island, at (516) 576-9436. Your call is confidential. Do your part and help create a level playing field for musicians!