'Meet and Greet' Offers Chance to Learn and Network
Theatre Roundup
Volume CX, No. 10
October, 2010
If it's October, it's time for our annual Meet and Greet, an event where new theatre musicians – especially those playing at the New York Fringe Festival and New York Music Festival – can get acquainted with each other and with Local 802.
As in the past, we are reaching out to this community. In August, we visited 11 shows from the Fringe, and by the time you read this we will have visited over 20 shows from the New York Music Festival.
This is crucial work. Not only can we bring new members on board, but we can make early connections with both musicians and producers. Then, if and when shows make it big, we have relationships already in place. This makes a big difference when we try to unionize a production.
---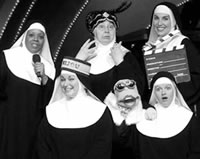 Local 802 won a union contract for "Nunsense" earlier this year.
FIVE NEW CONTRACTS
In other Theatre Department news, we recently organized five shows under a union contract.
Earlier this year, Cherry Lane Theatre signed the Commercial Off Broadway Area Standards for "Nunsense," which played from May to July.
Another show we organized is "Book of Mormon," a musical collaboration between "South Park" creators Trey Parker and Matt Stone and "Avenue Q" composer Robert Lopez. The show played at Lincoln Center's Clark Studio Theatre from August to September and is set to come to Broadway next spring.
We also won a contract for "Fat Camp," which was created by Michael Minarik. It premiered in August.
Finally, Tectonic Theater Project signed a contract with Local 802 for "Puss in Boots (El Gato Con Botas)." The show is being performed by the Gotham Chamber Opera and will play at New Victory Theater from Oct. 2 to Oct. 10.
For more information about any of these contracts or about Off Broadway organizing, contact Claudia Copeland at (212) 245-4802, ext. 158 or Ccopleand@Local802afm.org.