Musical awakening
Announcing an iPod drive on Broadway to bring the power of music to Alzheimer's patients
Volume 113, No. 7
July, 2013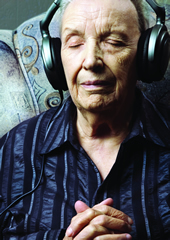 Last year I shared the story of my parent's struggle with Alzheimer's and so many of you responded with such generosity. Your iPod donations have brought such joy to those suffering from this horrible disease.
As you might recall, I am a lobbyist for the Alzheimer's Association. I'm also one of their "Ambassador Advocates," which means I speak about Alzheimer's publicly, and do outreach in articles like this. I report all progress in research and legislation to Carolyn Maloney, who represents New York's 12th Congressional district in Washington, D.C.
My parents' condition has awakened me to the crisis of this disease for countless others, particularly with 10,000 baby boomers turning 65 every day.
Statistics show that over 320,000 New Yorkers are struggling with the disease and at least 320,000 more have the heavy burden of caring for a family member.
But this is not simply a local story. An estimated 5.2 million Americans are currently diagnosed, and Alzheimer's is now the sixth leading cause of death. And of the 10 leading causes of death, it is the only one without any cure or treatment.
More importantly, this disease is not limited to just the elderly, as more cases of early onset are diagnosed every day.
By 2050, as many as 16 million Americans will have Alzheimer's robbing them of independence and memory.
Through my volunteer work, I had the pleasure of viewing a first-time screening of the documentary "Alive Inside." (See www.MusicAndMemory.org.)
Filmmaker Michael Rossato-Bennett follows the work of social worker Dan Cohen here in New York City. You might have seen a clip from this film, featuring an Alzheimer's sufferer named Henry, which went viral in 2012 after receiving nearly seven million hits on YouTube.
Dan has been spending the better part of a decade introducing iPods into facilities that care for those with Alzheimer's and other forms of dementia.
He specifically targets music that speaks to that particular patient in an effort to recall memories and emotions from their past.
The results are absolutely astounding! Patients who are in a detached or catatonic state are awakened and move, sing and even converse about what they are experiencing through the music.
Of course, as a musician I'm not surprised by the power of the music, but seeing it first-hand is still incredibly moving and inspiring.
Through the documentary, Dan related the frustration of trying to convince these institutions to spend a minuscule amount of money on listening devices only to find they were much more inclined to spend thousands on psychotropic drugs to sedate these patients.
That really resonated with me. I knew that there was something I could do and more importantly something my community of fellow musicians and artists could do. That is when the Broadway Alzheimer's iPod Drive was born.
So many of us have old iPods sitting in drawers collecting dust at home. These are tools that can awaken people who are crying out in their own darkness.
In the spirit of giving those suffering independence, the collection drive starts on July 4th and goes through Aug. 19. I chose the ending date to honor my parent's wedding anniversary. I have already given my mom the gift of music remembrance, and the results were remarkable.
You can bring your new or used iPod and charger directly to the Local 802 building, at 322 West 48th Street. Please bring it up to the president's office on the fifth floor and ask for Robin Donach or K.C. Boyle. Please e-mail any questions to Local 802 member Dave Roth at MalletDave@gmail.com.
You can also drop off or send your new or used iPod and charger to:
Broadway Alzheimer's iPod Drive
Alzheimer's Association NYC Chapter
360 Lexington, 4th Floor
New York, NY 10017
Dave Roth is a freelance percussionist and performs frequently in Broadway pits.
This article first appeared in the July/August 2013 issue of Allegro, the magazine of the NYC musicians' union (AFM Local 802). For more information, see www.Local802afm.org and www.Facebook.com/Local802AFM