Musicality First
Feature Interview
Volume 119, No. 2
February, 2019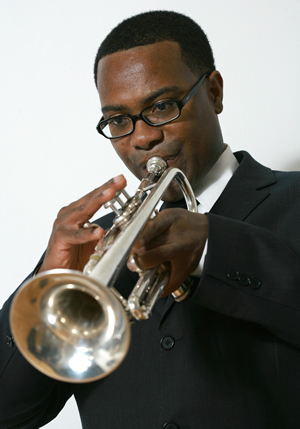 Billy Hunter, a member of Local 802 since 1998, serves as principal trumpet with the Metropolitan Opera and performs solo and chamber work all over the world. A native of Austin, Mr. Hunter earned a degree from the University of Texas, where he studied with Ray Crisara and performed with the college's symphony and wind ensemble. He later studied at Juilliard, where his teachers included Mark Gould and Raymond Mase. Mr. Hunter was principal trumpet with the New World Symphony and Spoleto Festival Orchestra and won the Roger Voisin Trumpet Award as a fellow at Tanglewood. Other orchestras and ensembles he has performed with include the New York Philharmonic, Boston Symphony, Baltimore Symphony, Dallas Symphony, Frankfurt Radio Symphony, Malaysian Philharmonic, Charleston Symphony Orchestra, Prometheus Chamber Orchestra, Eastern Music Festival Orchestra, American Brass Quintet, the Martha's Vineyard Chamber Music Festival and the MET Chamber Ensemble. He won first prize in the Kingsville International Solo Competition and second prize in the National Trumpet Competition, and recently won the University of Texas Outstanding Young Alumnus Award. He was interviewed by Bob Pawlo for Allegro.
Bob Pawlo: Let me start out by asking my usual opening question, because it opens so many doors: how did your remarkable journey in music begin?
Billy Hunter: I grew up in the church listening to gospel music and soul music, and I picked the trumpet as my instrument in sixth grade because it was the least expensive and the easiest to carry! I didn't practice at all until my eighth-grade band director had me listen to Maynard Ferguson playing Herbie Hancock's tune "Chameleon." My eyes lit up and I said, "Oh, my goodness!" I started practicing and eventually made the all-state band in high school. But I didn't really learn anything about classical music from band class. Luckily, my high school Latin teacher loved classical music, and he would play tapes for me of Bach and Mahler. I was really into King Arthur and so he played me Wagner's "Parsifal" (about Sir Percival), and I listened to it from beginning to end. Then I listened to Strauss' "Elektra." All of this opera repertoire would stick in my head and help me later when I got into the Met. But after high school, my next stop was the University of Texas at Austin, where my teacher was the legendary Ray Crisara.
Bob Pawlo: What were the key things you learned from him?
Billy Hunter: Aside from trumpet fundamentals, I learned musicality, how to play a phrase and quality of sound. I told him that I would get nervous when I played. He told me that "the best way to beat bullies is to face them head on," so I decided to give a recital every semester in order to beat my nerves, my bully at the time. That turned out to be a huge amount of repertoire to learn. I also learned professionalism from Ray. He would show up every day on time in a coat, tie and dress pants. He encouraged his students to treat each other with respect and to collaborate with each other. These are all things I try to emulate today.
Bob Pawlo: What happened after you graduated from Texas?
Billy Hunter: I got into Juilliard for graduate school, and when I got there, I was in solo and chamber music mode. But my buddies encouraged me to get into orchestral repertoire and I started practicing excerpts and auditioning for summer festivals. I got into Tanglewood, which was amazing. I learned so much from Roger Voisin there, and met many friends who are my colleagues now. After that, I got into the New World Symphony and worked with Michael Tilson Thomas and many fabulous trumpeters and brass coaches. All of my fellow students ended up getting jobs after New World.
Bob Pawlo: How did you get your first professional gig after all of this training?
Billy Hunter: I kept taking auditions and would get very close each time. I decided to go back to NYC to freelance, but it was the post-9/11 period and the freelance scene had tanked. Finally, I traveled to Miami to visit with my girlfriend (who's now my wife), and I discovered meditation. I started meditating, and then I actually won three auditions in a row: Baltimore, Grant Park…and the Met! So that's how I ended up at the Met.
Bob Pawlo: Wow! What was your approach for getting ready for auditions in those days?
Billy Hunter: From 9 a.m. to 5 p.m., I would do 15 minutes of practice followed by 15 minutes of rest, for eight hours in a row. I did really slow work with a metronome and tuner, being extremely meticulous with every marking, every dynamic, every nuance. I recorded myself and listened to myself. And it showed, because I finally knew every part and how every note fit into a harmony or chord. I knew the style of each piece. I would play my excerpts for fellow musicians, even those who didn't play brass. I played for my wife, who is a phenomenal pianist, and she had really good insight. And I made sure to get enough rest so I never felt tired. When I auditioned for the Met, I had already gotten the Baltimore and Grant Park positions, so the pressure was off in a way. The Met audition was the most relaxed I'd ever been. My meditation worked and it was the easiest audition I've ever taken.
Bob Pawlo: What was your first performance with the Met like?
Billy Hunter: It was "Carmen" with James Levine. My heart was racing. In the prelude, there's a low trumpet solo. You have to kick your slide out to get the low F. I remember that I was just about ready to play the part and I got so excited that when I kicked the slide out, it actually fell out! I caught it in time and everything was fine, but I'll never forget that! But more importantly: I also want to say that when I won the audition at the MET, I believe I became the first black principal trumpeter of a major U.S. orchestra. I was thankful for encouragement from past black orchestral players Wilmer Wise and Langston Fitzgerald for inspiring me so I can can now hope to inspire a newer generation of players.
Bob Pawlo: And it's about time.
Billy Hunter: It's about time. Coincidentally, the same year I got in, clarinetist Anthony McGill got in, and then a year later, my colleague on trombone, Weston Sprott, won the job, so because of the blind audition process that the Met does, we get the most fair results.
Bob Pawlo: Imagine that you're at the Met. The maestro gives a downbeat. What's going through your mind at that point?
Billy Hunter: Depends on which opera it is. I try to get my head into the music. If it's Strauss, I'm thinking "red hot" – let's go! I'm pumped! If it's "Parsifal," then I'm thinking "relaxed, beautiful." If it's "Rigoletto" – which starts with trumpet and trombone in octaves playing one of the main themes of the opera – I'm thinking of the libretto for that music. The words. It's very exposed, so I'm thinking "get in the game," because the trick of opera is that there's a lot of dead time. You're like a soldier on call. There's waiting around, but then when someone's attacking, boom – time to go! For instance, when we play Wagner's Ring cycle, I play the opening Valkyrie theme, then I wait 35 minutes to play the sword theme. You have to be able to relax, but then flip the switch back on.
Bob Pawlo: The legendary story from Mel Broiles and Mark Gould in Mark's first season is that they went downstairs to hit the men's room, and Mel had never spoken to Mark before, and they're standing there, and he said, "Remember, Mark: soldiers go to battle to the sound of the trumpet!"
Billy Hunter: (laughs) He certainly has a ton of quotes.
Bob Pawlo: I remember reading in an interview with your co-principal, Dave Krauss, a couple of years ago, that you've been introducing the German rotary trumpets into some of the playing now?
Billy Hunter: We pretty much do the German rotary trumpet for all of the German composers, including Wagner and Strauss. Last year, we played "Elektra" on rotary trumpets. I like to think of it more as being like a high French horn. It creates the type of sound that I think the composers had in mind. Actually, just to speak about my practice routine, on an ideal day for me, I play all my trumpets: B flat, D, Eb, piston, cornet, piccolo and rotary. This is one thing I learned from taking auditions. You have to be able to switch horns. Flexibility is part of my routine.
Bob Pawlo: What are the things you stress to your students in the music world of the 21st century?
Billy Hunter: Well, for me it kind of depends on the student. Because some students are more musically inclined and some are more technical. But one of the main things I try to teach is, "If you're going to play something, say something. Don't sit there and play something that doesn't do anything." That's a big thing I got from Ray Crisara. I'll never forget a time I played an etude for Ray. It was perfect. Ray looked at me and said, "Now, Bill, that was pretty good, but it didn't do anything for me." In other words, whatever you play has to be musical, or it's pointless. Of course I tell my students that you have to know the basics and you have to know the rules before you break them – but in the end, you have to say something with your playing.
Bob Pawlo: What artists inspire you?
Billy Hunter: I listen to a vast amount of music, including classical, gospel, hip hop and country. In the classical world, I love Mahler, Ravel and Bach, who is my favorite all-time composer. I love the singing that happens in opera, of course. One of my favorite recordings is the Atlanta Symphony with Robert Shaw playing Mahler 8; it's fantastic. Other musicians who inspire me include my fellow Local 802 member Wynton Marsalis and of course the great Louis Armstrong. Also Clifford Brown, Maynard Ferguson, John Coltrane, the singer Joe Williams, Placido Domingo, and Earth, Wind and Fire. One of my favorite pop artists of all time is Bjork. She's so outstandingly creative. I also love Michael Jackson, Willie Nelson and Eminem. I could go on and on.
Bob Pawlo: That is a lot of variety! Let me ask you this: when you're not playing at the Met, what do you still look forward to doing?
Billy Hunter: I haven't been to the Grand Canyon yet. I want to go there with my kids. I would love to play solo in Royal Albert Hall. I've played in it a couple times, and I love that hall. The vibe of it is so exciting.
Bob Pawlo: That would be awesome. And, in closing, what would you like to say to your fellow members of Local 802 and musicians around the world?
Billy Hunter: What I want to say is what I've learned from my best teachers. Treat others how you want to be treated. We need to support each other more than ever before, since we live in a time with so much negativity. And lastly, musicians simply need to remember that making music is a powerful thing. We should never take for granted the joy and happiness that we can spread to other people through our music.