Musician with Vision Loss Gets Another Chance
Volume CVIII, No. 11
November, 2008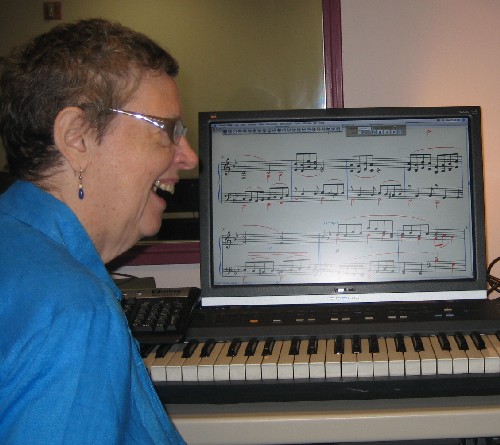 Royce Twitchell, Local 802 member.
Royce Twitchell always pictured herself playing the piano until she was 90. A lifelong pianist and former music director of the American Academy of Dramatic Arts, Royce was an experienced pit musician, playing for many shows including "Me & My Girl," "Grand Hotel," and many showcases of new musicals. A longtime member of Local 802, she also trained singers and musicians. Like most professional musicians, her career always depended heavily on her vision.
When she first developed retinal damage due to Rocky Mountain spotted fever after a trip to Alaska, she started using a high-intensity light to read her music. After a while, even with the stronger light, she noticed her work was getting sloppier and that she could only read little bits of music at a time. "I felt like so much of my life had suddenly been taken away due to vision loss," she said.
There are many resources for members who suffer from physical ailments. A musician's first step should be a trip to the Musicians' Assistance Program, located on the sixth floor of Local 802, or reachable at (212) 397-4802. In New York City, musicians are fortunate to have access to many kinds of music therapy, including institutes like the Louis Armstrong Center for Music and Medicine, which Allegro has written about in the past.
In the case of Royce Twitchell, her eye specialist referred her to the low-vision clinic at Lighthouse International, where she learned about the Lighthouse Music School. Royce enrolled, not knowing she was about to embark on a life-changing journey, saving her profession and opening new doors she had never thought possible.
Royce began her training through the school's assistive music technology program. This technology allows individuals to utilize music notation despite vision loss. With software, students are able to compose, arrange, digitally edit and prepare musical scores for print notation.
Working with Anthony Flare, assistant director and teacher at the school, Royce was skeptical at first but then she began to understand how to tailor the program to her specific needs, enlarge notation, edit and review. "The skill level of the professional teachers working at the Lighthouse and this wonderful program have enabled me to find my own voice," she said.
Royce began serious piano composition. She continues to be active at the piano and coaching singers, a job that she didn't picture herself getting back to when she first lost her vision. "I never pictured myself with the capabilities I have now even before I lost my vision!" says Royce. "Before my experience at the Lighthouse I hadn't been nearly as interested in composing my own music as I am now."
The Filomen M. D'Agostino Greenberg Music School at Lighthouse International is dedicated to helping people pursue their music while overcoming the challenges posed by vision loss. Many professional musicians are students. According to Dr. Leslie Jones, executive director, "The music school is an important resource for professional musicians as well as amateur musicians. Vision loss does not have to mean the end of a career — it can be the beginning of a new direction in your career."
The Lighthouse International Filomen M. D'Agostino Greenberg Music School is the largest community music school in the United States that provides access to all formats of readable music — large print and Braille.
In addition, the school maintains a unique, accessible library of more than 25,000 musical scores in Braille, large-print and regular staff notation. A member of both the National Guild of Community Schools of the Arts and the New York City Coalition of Community Schools of the Arts, the Music School offers a full music curriculum — from individual lessons in voice and a multitude of instruments to an intensive comprehensive music education program for young people. The music school offers many free performances of students and professionals throughout the year.
For more information, see www.Lighthouse.org. Click on "Our Schools" from the upper blue menus. Then scroll down and click on "The Filomen M. D'Agostino Greenberg Music School."
Brigitte Bendl is communications coordinator at Lighthouse International. Some upcoming events at Lighthouse include:
Nov. 7 at 7 p.m. at the Lighthouse Theatre. Joining the Lighthouse Vocal Ensemble in their third interactive showcase is the high school choir of the Harvey School from Katonah. Featuring the New York premiere of "Lines" from "Crossing Brooklyn Ferry" by Elam Ray Sprenkle of the Peabody Institute, Johns Hopkins University.
Dec. 6 from 1 p.m. to 6 p.m. at Lighthouse's Benay Venuta Hall. Third annual all-school "Performathon," featuring students from every musical level, style and age.
Dec. 11. Lighthouse Carolers entertain holiday crowds throughout the East Midtown business district.