Musicians at Work
Volume CIX, No. 6
June, 2009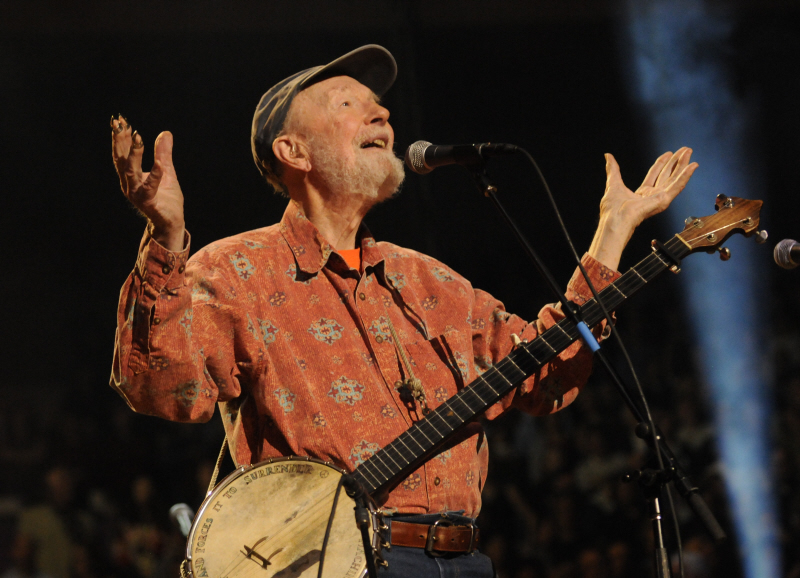 Photo by Wire Image
PETE SEEGER'S 90th BIRTHDAY BASH
May 3 • Madison Square Garden
Members of the "Saturday Night Live" orchestra performed as the house band.
"Times have changed a lot since I was a kid, growing up in rural South Carolina during the days of integration. And although we have a long way to go, it was great to participate at Pete Seeger's birthday bash, looking at the human tapestry on stage and reflecting on the 1950's and 60's. It was also an honor to accompany Joan Baez on 'Jacob's Ladder.' I'm always proud to be a musician when events like this roll around, given how musicians — for the most part — seem to enjoy just being together, blurring racial and political differences."
— Leon Pendarvis
"It was a thrill and an honor to be part of this event. My bandmates were as amazing as always, and producer Bob Ezrin reminded me that a top-shelf creative leader is capable of making anything possible. One of my first gigs on the East Coast (at age 22 or so) was with Pete at the Clearwater festival. It was heartening to celebrate a healthy 90th birthday with him in such a venue as Madison Square Garden. To me one of Pete Seeger's primary contributions to American culture is his ability to encourage people to sing. Because of my work in West Africa, I have the conviction that you don't need to be a professional to enjoy participating in music. Pete is probably the most famed artist to propagate this notion, and the fact that he's taken it to the top gives me hope."
— Valerie Naranjo
---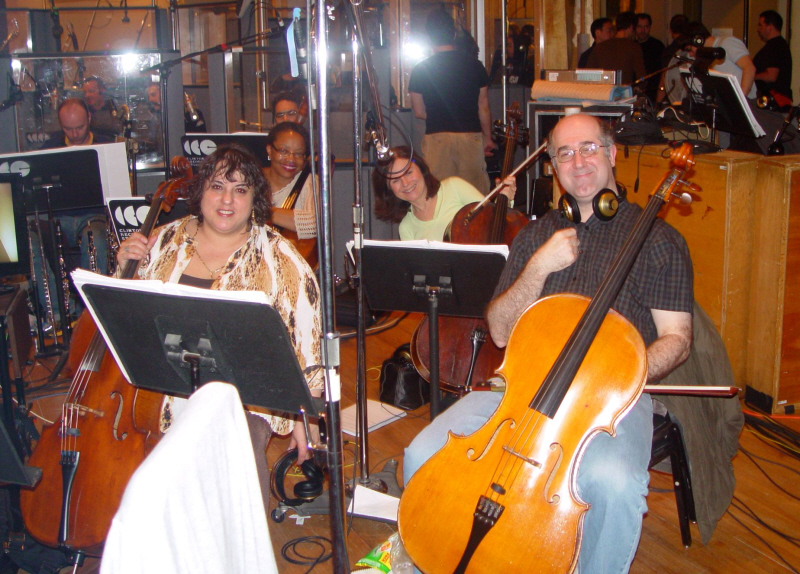 Pictured above are Peter Prosser and Vivian Israel (front row) and Diane Barere and Jennifer Lang (back row). Photo by Martin Agee.
A MUSICAL TREASURE
"West Side Story" recording session at Clinton Studios
A true Broadway revival deserves no less that the full original orchestration and that is especially true for a musical treasure. Local 802 applauds the producers of the recent revival of "West Side Story" for making that decision and thereby helping to make this production a hit with both critics and audiences.
Victoria Paterson, violinist, told Allegro: "A lifelong dream has come true. This orchestra is unbelievable — the warmth of 12 string players is magical, especially in songs like 'Maria,' 'Tonight,' and 'One Hand, One Heart.' The audience roars with applause after the exit music. This is a thrill of a lifetime. Leonard Bernstein's music, the orchestra and the diversity of my life here in New York City is truly a gift. The success of Broadway affects the health and well-being of our entire diverse music scene and unlike any other city in the world. The musicians here help each other all the time, and then are able to confidently perform the widest possible repertoire from new music to pop music and everything in between."
There's a new style of recording collaboration in town. Musicians recorded the cast album of "West Side Story" at Clinton Studios. But additional equipment and engineer support were provided by Legacy Studios and its mobile recording spinoff. Later, the project was mixed at Legacy Recording Studio B.
This partnership in recording is a new solution to the problem of space. As previously reported in Allegro, New York City suffers a lack of studios to record large projects.
So Chris Bubacz, general manager of Legacy Studios, created a new mobile recording unit called Legacy Scoring and Broadway, which can travel to larger venues and do recordings on the spot.
In the case of "West Side Story," Clinton Studios already had an experienced recording staff. But the creative and production team of "West Side Story" called on Legacy anyway to provide additional support for this project.
In the future, Legacy Scoring and Broadway may travel to other venues where no recording staff exists — places like concert halls or rehearsal studios.
"Basically, we're creating recording studios where none existed before," Bubacz told Allegro. "By bringing in our own equipment and finding creative spaces to record, we're able to show producers and project managers that it is possible to record large ensembles in New York City. Not only is it possible, it's easy. And you get the best musicians in the world."