Musicians come together!
Volume 113, No. 1
January, 2013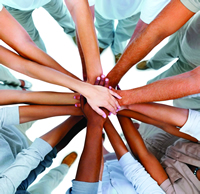 Are you a musician who regularly plays gigs under Local 802's single engagement contracts? Do you often take jobs that you would like to see covered by the union, including corporate events, restaurant gigs, weddings, bar and bat mitzvahs, clinics or jazz gigs? Are you unsure of what protections and benefits the single engagement contracts provides and whether or not the contract pertains to you? If so, we would love to hear from you and we invite you to a special meeting.
Local 802 is currently ramping up its efforts to extend union benefits and standards to an ever-widening field of musicians. The union's Organizing Department will be holding a meeting for musicians in mid-February to discuss what steps Local 802 can take to make sure more jobs are under contract and to see how we can better represent you.
So whether you are already playing union jobs or whether you would like to play more, we invite you to join our discussion. Look for details on this event soon on our electronic newsletter 802 NOTES and on the union's Facebook page (www.facebook.com/Local802AFM). Invitations for the event will also be sent via e-mail and snail mail. To get on the invitation list right now, or if you have any questions about this event or anything about single engagement work, please contact Adam Witkowski at (212) 245-4802 ext. 157 or Awitkowski@Local802afm.org. We look forward to seeing you in February and hearing from you now.