Musicians in the Storm: Voices from New Orleans
Volume CV, No. 10
October, 2005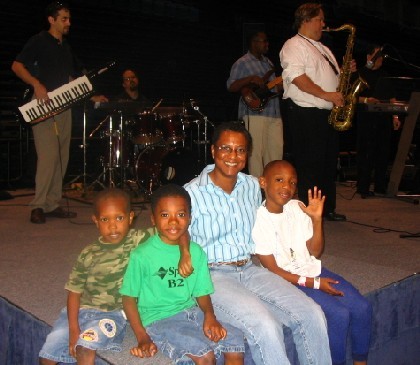 Nicholas, Jeremiah, and Akeem are three kids displaced from Hurricane Katrina. They're pictured with Lovie Smith-Schenk, the president of AFM Local 65-699 (Housten) at a benefit concert for Katrina survivors.
I had just had surgery a little over a week before the hurricane and was not even supposed to be in a car yet. We had to evacuate my family to Lafayette, LA, which is about 135 miles from New Orleans. We are fortunate to have family members here who opened their doors to us. We do not know the extent of the damage to our home just yet. But by the time you read this, we were supposed to have made a trip back to evaluate. I have made contact with all of the musicians in my band whom I've known for more than 30 years, and everyone is safe.
–Buddy Gaudiest
BudDude@gmail.com
---
I am a member of Morning 40 Federation from New Orleans. We are currently scattered about all over the country but we are all safe. Only one band member stayed for the storm, our guitar player Ryan Scully. He had to swim in the streets of New Orleans with a bicycle tied to his back until he reached dry ground, where he then rode to the Bywater, where he found friends with a boat. He then paddled the boat towards the house where he left his wife, picked her up and managed to save a scruffy little dog as well. We just finished a new album days before Katrina hit, so our plans for the immediate future are to work on ideas for CD graphics and master the tracks we have mixed. Our label, M-80 Music, has been very supportive of us in our time of need. We will accept donations from our fans through our Web site (www.morning40.com).
The best way New Yorkers can support us is to visit New Orleans in the future to help rekindle our economy. If everyone associates New Orleans with the "Hell-on-Earth Dome" and "disease and decay," our city will truly be changed forever.
As for my immediate plans, I am blowing glass in Ohio, trying to make money and survive. I am going back to New Orleans to assess the damages to my house as soon as they let me back in. I am staying positive and taking it day by day.
–Josh Cohen
vicodd40@yahoo.com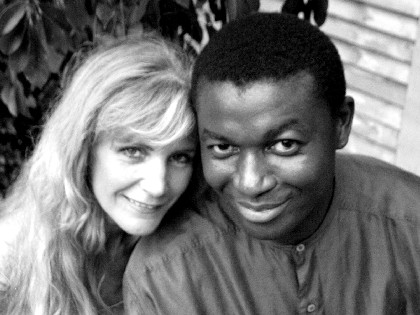 Nanette Ledet and Julian Garcia found a place to stay in Memphis.
---
We are in Memphis at the moment. Having been self-employed in New Orleans, we have found ourselves in somewhat desperate times now. We are looking for gigs and could use whatever financial assistance we can obtain to help us out until we get more employment. As we lived in an area of the city that was flooded pretty badly, we are expecting to lose most or all of our equipment and instruments that we were not able to bring with us. We have shelter and food and are staying with family here in Memphis. We intend to move to a new location, and are considering coming back to New York City. We have applied for FEMA assistance but do not know how long that will take. We know that it will be some time before we are allowed to return to the city to see if we have anything left. We have contacted Musicares and hope they will be able to help us get some instruments or gigs. We are a self-contained duo.
–Nanette Ledet and Julian Garcia
NanetteLedet@aol.com
---
Many New Orleans musicians are scattered throughout the country because their way of life has been shattered. The employers of those musicians are also struggling to keep them on payroll. Local 802 could help organize tours for the musicians that are affected. They could help provide medical, financial, and psychological assistance to those in need. I haven't heard from Local 174- 496 yet.
Getting out of New Orleans was pretty stressful because a major evacuation route was closed due to a bridge failure. As you could imagine, the traffic was horrific so tempers began to escalate. The beads of sweat accumulated in the air-conditioned automobile as I watched the tides rise. After 13 hours of traffic, I was able to find a hotel room in Birmingham, AL. Many New Orleans musicians are scattered throughout the country because their way of life has been shattered. Local 802 could help organize tours for the musicians that are affected. They could help provide medical, financial, and psychological assistance to those in need..
–Jared Zeller
funk@MotherShipEntertainment.com
---
A whole bunch of us are going to need new instruments. I've been asked to play at a benefit in New Mexico in a few weeks' time, which will raise money to buy New Orleans refugees new instruments.
I'm in New York as I write this message, so if there were a benefit here I would gladly perform. I had to leave a guitar I've owned since 1979, my mandolin, several electric basses, a priceless antique banjo, and my customized upright bass, literally on a moment's notice. There was just no room in the car.
As it was, we got across the Twin Span twelve minutes before they closed the bridge. Other members of my band got turned back. We spent 13 hours in a Nissan Sentra with three adults, three 70-pound dogs, and a cat. It was worse than touring, though not as bad as playing Branson.
Right now my life doesn't have a "next month." I'm trying to find a guitar in New York so I can perform. After that, I have to find someplace to squat down South so I can return to New Orleans as soon as they'll allow us into Orleans Parish. Mike West and I will have to try and salvage what we can from his studio and our houses.
Considering that the studio is about four blocks from the place where CNN showed the Coast Guard helicopters rescuing people from rooftops, we ain't what you'd call hopeful. Last we heard, it was under only eight feet of "water" (if that **** can be called water!)
–Peter Orr (Sneaky Pete)
WolfgangFlywheel@hotmail.com
---
I am displaced from my musical equipment, which is what I use to make a living with. I am not allowed to venture into the city to even see if I have anything left. The type of help I need is access to audio gear and freelance jobs that don't require me to supply my own gear. I feel very fortunate that I had one vehicle to evacuate my friends and family (but no room for musical gear). My immediate plan is to work with the nonprofit New Orleans Video Access Center on a documentary about Katrina. The project is receiving a lot of press on Oprah, Frontline and the Today Show.
–Eric Laws
SaucerSeed@prodigy.net
---
Our youngest member is 12 years old. He's a junior-high kid, but they put him in the high-school band and made him first chair. He left his trumpet in the back of his mother's car. And unfortunately, it got vandalized. So he lost his instrument. His name is Doyle Cooper. When he enrolled at Shreveport, he didn't have his birth certificate or any I.D. on him, except for his union card. And he was so proud of that.
–Kim Foreman, office manager of AFM Local 174-496 (New Orleans)
Office@NewOrleansMusicians.org
---
Why did we stay in New Orleans at first? The answer is that we really needed to stay; to protect the life and soul of our city. First of all, to help our fellow New Orleanians. We were able to become a bit of a local communications center as it was, since we had a working phone line. Over a dozen people were able to make vital connections to their friends and family through our phone.
Our next step would have been to set about boiling tap water to give out to the people straggling in from flooded homes in the East.
In general, it was the presence of several neighbors staying in the neighborhood that made the place feel safe. Lots of people were out on the street, looking out for each other. There would be no reason for anyone to get violent in our area — in a largely deserted city, why bother trying to rob someone in a crowd or burglarize an inhabited house? Any would-be robber or burglar had much easier prey elsewhere. This is the fundamental way of keeping a safe neighborhood anywhere in any city — not a tough police presence. The police can never be around enough to really keep a community safe; only the community members can do that.
It was when more and more people left that it started to feel unsafe. We really went into a tribal existence, with everyone looking out for each other. For example, I managed to get bags of ice from an ice truck that stopped in the neighborhood selling ice for $5 a bag. In turn, our neighbors donated an extra large ice chest to keep the ice in, and others donated perishable food that would have otherwise rotted (potato salad, cheese, etc.), but that we now could all share.
Another neighbor had a generator and offered to hook us up by extension cord if the power stayed off more than a couple of days. The more people stay, the better the standard of living for everyone, and the safer the neighborhood.
We don't want our city to become a war zone, simply populated by soldiers and officials. This is a unique city with a vibrant culture. New Orleans will not recover until the people who love her are there to nurture her flawed but beautiful, living, breathing soul.
–Claudia Copeland
BayouAria@planet-save.com