Musicians' Rights are a Global Fight
President's Report
Volume 112, No. 9
September, 2012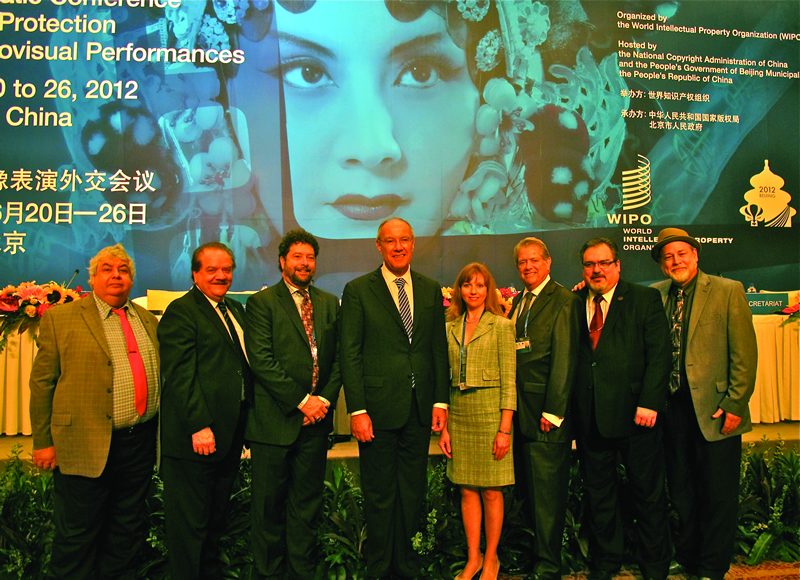 ON THE WORLD STAGE: Musicians were well represented at the signing of the Beijing Treaty on Audiovisual Performances. From left: Alan Willaert (AFM vice president from Canada), Vince Trombetta (president of AFM Local 47), AFM president Ray Hair, Francis Gurry (director general of the World Intellectual Property Organization), Jennifer Garner (counsel to the AFM), Sam Folio (AFM secretary treasurer), Local 802 president Tino Gagliardi and Dave Pomeroy (president of AFM Local 257).
I hope that everyone had a restful and happy summer. In contrast to the doldrums that one usually expects in August, Local 802 has been just as busy as ever, including some groundbreaking international activity.
As I previously reported, I was in China this summer along with AFM President Ray Hair. Together, along with a delegation of the AFM, we witnessed the signing of the new Beijing Treaty on Audiovisual Performances. To understand why this treaty is so important, we have to go back in time a bit.
More than a hundred years ago, the world was already becoming a global village. Even though the Internet was far in the future, people were starting to trade and share culture more than ever before.
One result of this was that novelists, songwriters, journalists and publishers – those who created the written word and musical compositions – found that their work was being used without their permission, in far-away places.
So in 1886, the leading nations of the world signed a treaty which became known as the Berne Convention.
In a nutshell, this treaty provided that if you created a literary or musical composition in your home country, foreign countries would have to respect your copyright.
This treaty protected only writers, since sound recording – although it had just been invented – was not yet a popular form of media.
Then, in 1961, a second treaty (the Rome Convention) was ratified to protect singers and their recorded product.
Now, in 2012, we are pleased to announce that the new Beijing treaty, if enacted, will provide for fair compensation to actors, directors, singers, writers – and especially musicians – for the use and sales of audiovisual performances in motion pictures, television, new media, and video games. (At this time, early word on the status of the vote is that the treaty is well on its way to becoming law.)
This treaty is the first step in resolving the issue of collection without distribution.
All over the world, money is collected by foreign agencies but not distributed to the musicians who created the product, who are, in many cases, AFM members.
This treaty will support and codify the ideal that all musicians will receive money collected by foreign collectives for the sales and use of their product.
The United States is a major exporter of music. We need to ensure that our product is not exploited in the world arena without appropriate compensation.
In the U.S., when a radio station plays a recording of a song, only the songwriter and publisher get a royalty, not the session musicians. This is clearly deficient and something we've been trying to change, but it's the law of the land.
In Europe and elsewhere, many countries have laws that say that session musicians get performance royalties as well.
So in those countries, when a song is heard on the air, the foreign equivalents of ASCAP and BMI collect royalties from radio stations and pay the musicians.
Because the United States has yet to adopt a performance rights act, many foreign collectives believe that they are not required to make those payments.
We are hoping that the new Beijing treaty will give us the basis on which to demand that these foreign collection agencies do in fact send the money where it properly belongs. This will mean a new income stream to U.S. musicians in the realm of millions of dollars overall.
In summary, the new Beijing treaty makes the moral and legal point that musicians' performances cannot be exploited without compensation. That's something we can all appreciate.
To further emphasize the AFM's call for no collection without distribution, the AFM is asking that the same delegation that was part of World Intellectual Property Organization diplomatic conference responsible for the Beijing treaty, also represent the AFM at the upcoming International Federation of Musicians (FIM) congress in October. This event will be taking place in Buenos Aires, Argentina and will be attended by all the member unions of FIM.
As a member union, the AFM has submitted a resolution to have FIM adopt the policy of no collection without distribution.
This is a complicated issue but I am confident that with the appropriate negotiations with the member unions of FIM, we will prevail.
PARKING FIASCO
Over the summer, the city made a move to increase city revenue with no regard to the theatre community. It put a two hour maximum on all of the parking spots on Ninth Avenue near the Theatre District.
This means that musicians, stagehands, actors and audience members alike are effectively barred from parking on Ninth Avenue during a show.
This is outrageous and is exactly what we – as a huge component of NYC's economic engine – do not need during this fragile economic time.
Rest assured that Local 802 will do everything in our power to protest this decision. By the time you read this, we will have already spoken with public officials and started a petition drive. Look for e-mails from us with updates.
ORGANIZING
The union's Organizing Department has been in full swing over the summer:
We've held three events for our Justice for Jazz Artists campaign.

We negotiated a new club date agreement, which boasts strong increases in wages over the life of the contract as well as benefit increases (see complete scales at www.Local802afm.org).

We are beginning a new initiative to bring more live music into area hotels.

Finally, we have enacted a new enforcement procedure, which involves our reps making sure that musicians are being paid fairly in our major halls. Each rep is being assigned several major halls to monitor. (See "Operation Fair Play" below)
If you get called for a job where you're not being paid properly, make a confidential call to the Organizing Department at (212) 245-4802.
OPERATION FAIR PLAY
Local 802 would like to announce that we're stepping up our efforts to make sure that musicians in New York City are treated fairly. We're naming this campaign "Operation Fair Play." The Organizing Department has assigned specific reps to monitor the major venues in the area. Our goal is to make sure that whenever musicians are hired, they're paid fair wages and benefits. Below is a chart showing which union reps are assigned to which venues. This list is not exhaustive. Whenever you get called to play a job, make a confidential call to the union. We can tell you if the job will be covered under a union contract. If not, we can help you secure the wages and benefits that you deserve, while protecting your identity and protecting your work. Call (212) 245-4802 and ask for one of the reps below, or ask for Bennett M. Baruch, director of the Organizing Department.

VENUES
NAME OF REP.

All of Lincoln Center, Carnegie Hall, Apollo Theatre

Bobby Shankin, (212) 245-4802,
ext. 140, Rshankin@Local802afm.org

Madison Square Garden, Radio City Music Hall, Barclays Center, Beacon Theatre, Jones Beach, Nassau Coliseum, Shea Stadium / Citi Field, Tilles Center, The Paramount, Westbury Music Fair, Yankee Stadium, Tribeca Roof Top

Pete Voccola, (516) 576-9436, Pvoccola@Local802afm.org

Symphony Space, Town Hall, 92nd Street Y, Brooklyn Academy of Music, Brooklyn College, City Center, Colden Center, Hunter College, Manhattan Center, Merkin Hall, Plaza Hotel

Rich Schilio, (212) 245-4802, ext. 146, Rschilio@Local802afm.org
RECORDING MONEY
Recording musicians just got a nice payday. Steve Danenberg, director of our electronic media department, recently informed me that his department collected just over $21,000 for musicians from ABC for re-use fees for the themes of "America This Morning" and "World News Now." The recording department will now seek late penalties for these cycles.
Local 802 recommends to all musicians that whenever you are called for a recording job of any kind, you should make a confidential call to the union. We can make sure you get paid the wages and benefits you deserve while protecting your identity and your job. Call (212) 245-4802 and ask for a recording rep.
POLITICAL DONATIONS
We did not have a quorum at our June 13 membership meeting, at which the question of political contributions was under consideration. The lack of a quorum meant that, under Local 802's bylaws, the Executive Board was empowered to vote on the matter. The board voted to donate $2,500 each to three mayoral campaigns and to donate $3,000 to the AFM TEMPO fund, which works to elect musician-friendly candidates all over the country as well as lobby for such national legislation as the Performance Rights Act and a standardized system for instruments as airline carry-ons.
Though a quorum was not reached – which requires a membership attendance of 95 – it was a very well-attended meeting. There was full discussion on the merits of our strategy and after some debate, it was made clear that this was something we needed to do for the benefit of our union.
An important note was made that I think is worth repeating. Our political action fund (TEMPO) is made up of member donations specifically contributed to the fund for political donations. It is important for all Local 802 members to know that no money from membership dues or work dues is applied to TEMPO.
HEALTH CARE FOR ALL
As everyone knows by now, the Supreme Court upheld the Affordable Care Act over the summer. We're still in the long and difficult process of figuring out how this act affects our own health plan. But for musicians who don't have any health insurance at all, the act may be a very good thing. Look for a story by Martha Hyde in the next issue about the new "exchange" system for buying health care.
LABOR SOLIDARITY
If a company is making a record profit, don't you think that workers deserve a fair wage? Caterpillar – the maker of heavy machinery – has forced workers into a strike that is now in its fifth month. The company's last offer was a six-year contract that would freeze wages for most workers while sharply increasing health care costs and cutting pension benefits. This is despite the fact that Caterpillar recently reported $1.7 billion in profit for one quarter alone. I urge you to support Caterpillar workers any way you can. These workers are really struggling and they are up against an employer who appears to be a blatant union buster. For the latest updates, see www.IAMLL851.com.
On the flip side, we were happy to see a resolution to the Con Edison workers' strike here in New York City. Thanks to all Local 802 members who helped out. In a statement, New York State AFL-CIO President Mario Cilento said, "This was one of the toughest contract fights New York has seen in recent memory, and I could not be prouder of the way the labor movement responded. Up against Con Ed's billions, union members joined together to support the 8,500 workers and their families who were forced to the street. This fight was never about just the workers of Con Ed; it was about all New Yorkers whose wellbeing was jeopardized by the lockout. It was about all workers who've ever been pushed around. It was about standing up for what's right."
VICTORY FOR LATIN JAZZ
We're pleased that the trustees who run the Grammys have voted to reinstate the award for best Latin jazz album. When the Grammys had voted to cut the award last year, we thought it was a huge mistake and a blow to some of our most creative and hard-working musicians. The Grammys also voted to create a new award for the best compendium of classical music and an award for best urban contemporary album.
RECORD LABEL MERGER
The Future of Music Coalition, to which Local 802 belongs, has raised questions about a proposed merger between Universal Music Group and EMI Music. In their statement, the coalition reports that if the label deal is approved, the combined company would stand to control approximately 40 percent of the U.S. recorded music marketplace. Furthermore, the coalition said, the number of major labels would again fall – this time from four to three. Together, UMG and Sony would command a whopping 73 percent market share of total recorded music sales. A combined Universal/EMI would have tremendous leverage to withhold catalog, dictate which innovations are allowed to exist and set the terms for artist compensation while preventing meaningful reforms that could bring greater stability to the entire music ecosystem.
GOODBYE, MAXINE – AND HELLO, BOB
After many years of service to Local 802, Maxine Roach has retired from the union's Executive Board. Maxine has been a freelance violist for over 30 years, playing in Broadway, chamber orchestras, jazz, recordings and concert tours. She was first elected to the Executive Board in 2006. I'd like to thank Maxine for her valuable service and I wish her the best.
I am very pleased to let you know that the Executive Board voted to appoint Bob Cranshaw to Maxine's vacant seat. Bob, who has been serving as one of Local 802's jazz reps, has played bass with artists from Ella Fitzgerald to George Peterson to Sonny Rollins, and was a regular in the "Sesame Street" recording band. Bob was a founding member of the Local 802 Jazz Advisory Committee and has always been a stellar activist on behalf of musicians everywhere.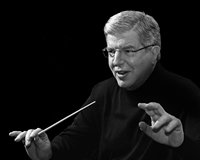 Marvin Hamlisch (1944-2012)
REMEMBERING MARVIN HAMLISCH
We lost one of our most decorated composers on Aug. 6. Marvin Hamlisch died in Los Angeles at the age of 68. He had been a member of Local 802 from 1963 to 1981. Through his immense talent, Mr. Hamlisch won every major creative prize: Emmys, Grammys, Oscars, a Tony, a Pulitizer and two Golden Globes. Mr. Hamlisch was best known on Broadway as the composer of "A Chorus Line." He was also well known for composing the title song from the 1973 film "The Way We Were," which was sung by Barbra Streisand.
Mr. Hamlisch served as musical director and arranger of Streisand's 1994 concert tour and her television special. He wrote the music for many films, including "Sophie's Choice," "Ordinary People," "Three Men and a Baby," "Ice Castles," "Take the Money and Run," "Bananas," "Save the Tiger," "The Informant!" and his latest effort, "Behind the Candelabra," an upcoming HBO film about the life of Liberace. He also arranged Scott Joplin's ragtime tunes for the movie "The Sting."
Mr. Hamlisch held the position of principal pops conductor for the Pittsburgh Symphony Orchestra, the Milwaukee Symphony Orchestra, the San Diego Symphony, the Seattle Symphony, the Dallas Symphony Orchestra, and the Pasadena Symphony and Pops.
LABOR RALLY
All Local 802 members are invited to march with us in the annual labor rally sponsored by the Central Labor Council. The rally is Saturday, Sept. 8 at 10 a.m., and as usual we march up Fifth Avenue, starting at 44th Street. For meetup information, e-mail BMbaruch@Local802afm.org.
MEET & GREET
If you want to network and get connected, don't miss our annual Meet and Greet for theatre musicians on Sept. 12.