Musician's Voice
Volume 111, No. 6
June, 2011
The Musicians' Voice is an open forum for discussion about the state of union affairs. The letters here do not necessarily express the views of Local 802. E-mail letters to Allegro@Local802afm.org or write to Allegro, Local 802, 322 West 48th Street, New York, NY 10036. Letters must be no more than 300 words.
BRAZILIAN BOYCOTT? WHY?
This is a response to Local 802's call for a worldwide boycott of auditions for the Brazilian Symphony Orchestra. Why should such a boycott happen, from London to New York to Rio? Brazilian Symphony management under Maestro Minczuk wishes to improve its 86-member orchestra by re-evaluating through auditions. This procedure is legal. I refer members to an informative article written by Francine Stutzman, president of AFM Local 180 (Ottawa) in the May issue of International Musician. I called one of the Local 802 officers about this and was informed "it isn't fair." Oh, really? Auditioning is the accepted process for employment. Because you have auditioned years ago, does that mean you have a job for life? Fifty players that did re-audition have been rehired. What is the problem?
I contacted a colleague who is an experienced U.S.-trained string player and was a member of Eleazar de Cavalho's Sao Paulo orchestra, and knows the Brazilian scene well. I was informed that "the reason some of the players wouldn't audition is because they are that bad." That is why the management (with a large amount of funds recently given them) wants to have a higher standard orchestra for the city of Rio de Janeiro.
We now have a world-wide union boycott propping up 36 players who will not audition, and prohibiting 36 trained applicants from auditioning for these jobs.
In 1970, I was the associate principal violist with the Dallas Symphony. Anshel Brusilov was appointed the new conductor and requested all non-tenured players to be re-evaluated by re- auditioning. We all auditioned, no one was fired and there was no opposition from the union.
Is this an example of "WORKERS OF THE WORLD UNITE"? If so, count me out. Unions should not be involved in artistic matters: it is not their domain.
–Kenneth Burward-Hoy
---
TYRANNY VS. CIVILIZATION
If people think that the banning of the categories "Best Classical Album," "Best Chamber Music Performance" and "Best Latin Jazz Album" from the Grammys is to be the final nail in the coffin of American culture, think again. It may appear so and seem to be the final death knell of traditional culture in the midst of this very unenlightened generation. But be aware that barbarians have come and gone before and the spark of genius which marks the thinking minority of our species lives on in spite of idiocy, no matter how tiny its glow.
The actions of the National Academy of Recording Arts & Sciences will live on in infamy as always do the dumb functions of tyranny against the advance of civilization. We few will prevail even when the last shriek of sound – misnamed "modern music" – finally fades and dies the death it so richly deserves.
–Ferde Grofé
The writer is a producer, director and screenwriter,
and son of the composer Ferde Grofé (1892-1972)
---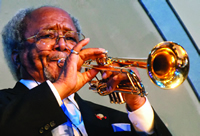 SNOOKY, I'LL MISS YOU
We lost trumpeter Snooky Young, 92, on May 11. Some of my favorite moments during my tenure at the "Tonight" show in the 1960's were spent hanging out between rehearsals with some of the "older guys" in the band: Snooky, Clark Terry, Jimmy Maxwell, Al Klink, Bob Haggart et al.
Snooky was a master storyteller and I couldn't get enough about the Lunceford and Basie bands, where he played lead for years. When the show moved to California in 1971 we lost touch. I didn't see him again until maybe ten years ago at a jazz festival in Newport Beach, Calif., where he appeared with the Clayton/Hamilton band, still smiling, still having fun. What a great player! I'll miss him.
–Derek Smith
---
REMEMBERING ARMEN
Armen Halburian, my relative and exceptional friend, passed away on March 16 at the age of 77. Armen was an extraordinary drummer, percussionist and inventor and a member of Herbie Mann's "Family of Mann," recording and touring alongside heavyweights Steve Gadd, Tony Levin, David "Fathead" Newman, Cissy Houston, Sam Brown and others. He played on over 50 albums, including Larry Young's "Lawrence of Newark" and Dave Liebman's "Lookout Farm." Armen earned a reputation as an imaginative and tasteful musician, attaining prominence and recognition for his high energy level and personal style that feeds back inspiration and creative spirit. Armen also invented, designed and patented the famous 4-in-1 drum tool and the "Armen Solid Bar Chimes." His chimes sold successfully throughout the world. Since 2009 Armen played at the Chapala Grill in Bergenfield, NJ with a nine-piece Latin jazz band, "Cactus Salad," led by traps master Russ DiBona. This gig became Armen's musical and spiritual refueling. He became a devout Roman Catholic in 1999 and dedicated his life to the teachings of Jesus Christ. Armen is survived by his companion of over 27 years, Joan Sergi, and nieces Dawn Booth and Lorna Bagdasarian and nephew, Jeff Bagdasarian, and their children.
Armen was a personal inspiration to me. My first memory of him goes back to my grandparents' 50th wedding anniversary in 1960. I was 9, Armen was 29. I distinctly remember him as one of the hip relatives who I admired. In later years, as a musician myself, I had many conversations with him during which he expressed his views on music, spirituality and life. He was always engaged with the world, incredibly active and unrelenting in his curiosity and involvement with others and with his own growth and self-realization. I will miss him a lot.
–Armen Donelian