In memory of Nancy McNelly Koutzen
Volume 120, No. 11
December, 2020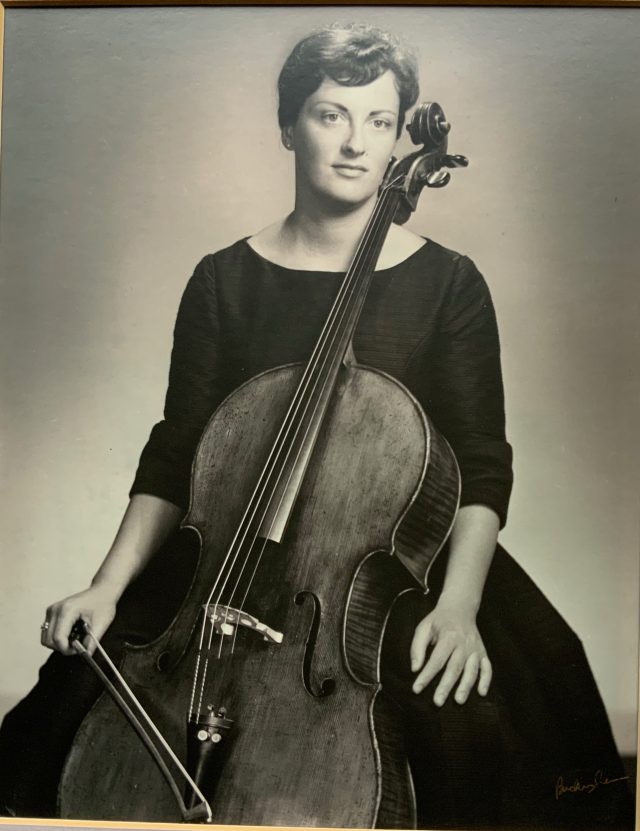 Nancy McNelly Koutzen died on October 23, 2020 at Mt. Sinai West in New York, New York. Born Nancy Jane McNelly in Oxford, Ohio, she completed the family of four on January 12, 1936, daughter of Walter and Freda McNelly and sister to Joan Teckman. She had been a member of Local 802 since 1964.
Nancy found music in elementary school and was drawn to the warm and lyrical sound of the cello. Private lessons and dedication to music education started here. She graduated from McGuffey High School in 1954 and received her Bachelor of Arts degree in Music from Miami University in Oxford, Ohio in 1957. A Master's Degree in music from the New England Conservatory in Boston, MA followed.
Her career as a professional cellist began in the Houston Symphony, one of the few symphonies in the country hiring women. The required performance attire, however, was a tuxedo so Nancy's mom had to make one to fit a woman. The next adventure was touring the U.S. with the Godofsky Opera Company followed by moving to New York City, her life-long dream. There she played cello in orchestras, for ballets, and Broadway shows. One of her favorites was playing the show "Mame" on Broadway starring Angela Landsbury. During these years, she met and married cellist, George Koutzen. Together they continued their music careers in the Big Apple until moving to Los Angeles, CA in 1978 to pursue studio work. Nancy started a second career becoming an expert human resources professional putting her heart and talents into non-profits in Los Angeles. In 2006, at the age of 70, Nancy moved back to New York City, where she spent the rest of her life enjoying family and friends.
Beloved mother and grandmother, Nancy is survived by her children Tanya Rosenfeld (John) and George Koutzen; stepdaughter, Myra Koutzen (Kathy McGahran); and her grandchildren Katherine Rosenfeld, Grace Rosenfeld, John Rosenfeld, Nicholas Koutzen, and Christopher Koutzen. She is also survived by her brother-in-law Charles Teckman.
Nancy lived life to the fullest and pursued interests beyond the cello.  She was an active member of the Presbyterian Church on both coasts. She sang in the choirs and played the cello at Madison Avenue Presbyterian Church in New York City and the First Presbyterian Church of Hollywood. Nancy tutored English to foreign born students at John Jay College of Criminal Justice, volunteered at a nearby hospital and took in all the cultural events that New York had to offer season after season.
Nancy's trail-blazing spirit will be sorely missed. The family thanks you for the outpouring of love.