New health center for Local 802 members and the entire entertainment community
Volume 117, No. 2
February, 2017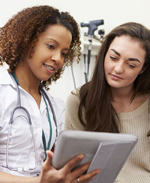 Want excellent health care, without the song and dance? The brand-new Samuel J. Friedman Health Center for the Performing Arts is a thrilling addition to the many services provided by the Actors Fund for all Local 802 members.
The new health center, which is designed for the performing arts and entertainment community in New York City, was created by the Actors Fund in partnership with Mount Sinai.
Scheduled to open in March at the Actors Fund's main offices at 729 Seventh Avenue in Times Square, the Friedman Health Center will serve as the medical care provider for the creative community. It will offer primary and specialty care with extended hours that are sensitive to entertainment industry work schedules. The center will accept commercial insurances, most Obamacare/ACA plans, Medicare and workers' comp.
"Providing access to quality, affordable health care is central to our mission," said Joe Benincasa, CEO of the Actors Fund. "The Friedman Health Center will not only provide Local 802 members with access to Mount Sinai, one of the best health care systems in the city, but also provide for continuity of care for any members who experience regular changes in their health insurance coverage. This is a real win for our performing arts and entertainment community."
The Friedman Health Center will be staffed by primary care providers and specialists available on a rotating basis. Personalized health insurance counseling, guidance and enrollment support will be available on site through the Actors Fund's Artists Health Insurance Resource Center.
The Actors Fund's Al Hirschfeld Free Health Clinic, located at 57th and 10th Avenue, will continue to operate in its current location until the opening of the new health center in March.
To make an appointment at the Friedman Health Center for the Performing Arts, call (212) 489-1939. For more information and updates, visit www.actorsfund.org/HealthCenter.
The Friedman Health Center is run in partnership with the Actors Fund and Mount Sinai, with major funding provided by the Gerald J. and Dorothy R. Friedman New York Foundation for Medical Research, Broadway Cares/Equity Fights AIDS, SAG-AFTRA Motion Picture Players Welfare Fund and the Booth Ferris Foundation.