Nightmare on 57th Street
Local 802 fights for Latino musicians
Volume CX, No. 5
May, 2010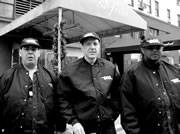 From left, Raphael Sanchez, Michele Bazzani and Lorenzo Rodriguez.
Photo: Walter Karling.
For many a musician, it would have been a dream job: a prime Manhattan location, regular work, and decent pay. But for Michele (pronounced Mi-kele) Bazzani and his "Sofrito Band," that dream gradually morphed into a nightmare.
Bazzani and his band had been working at Sofrito, a Midtown restaurant specializing in Puerto Rican cuisine, located at 400 East 57th Street.
Unlike other Latin bands that specialize in a single musical style, Bazzani's ensemble plays salsa, merengue, Cuban music, and bachata.
Beginning in early 2006, the band developed a strong following at the space and, by 2009, Bazzani had secured a series of short-term contracts with Sofrito management.
Based on its Web site, Sofrito caters to the upwardly mobile Latino set and frequently hosts celebrities and politicians: Jennifer Lopez and Mark Anthony are featured prominently in the site's photo gallery, as is New York State Senator Pedro Espada. The restaurant is owned by a parent company, 400 Restaurant Group Corp.
Work at the popular nightspot could sometimes be difficult, but it was steady. Then, suddenly, shortly before the Christmas holiday, the band was fired without notice.
What went wrong?
Relations with management had not always been cordial, Local 802 learned.
Over three years, that lack of cordiality sometimes spilled over into disputes regarding pay and working conditions.
According to Bazzani, there was frequent verbal abuse and general mistreatment of the performers by management.
At a January 2010 meeting at Local 802, the Sofrito Band cited multiple incidents where they were upbraided by their employer in the midst of a performance – either for issues of sound, uniforms, or repertoire.
The working conditions were hardly ideal.
According to the musicians, it was common practice for their employer to insist that the group arrive two hours before the scheduled start of an evening's performance ("just in case it's slow…."). This would allow the band to set up and begin their set early. No extra pay was provided in these situations.
There were no scheduled breaks during the group's regular set, which lasted from 12 midnight to 2:30 a.m. – but could sometimes be even longer, if the band started early.
According to Bazzani, on various occasions when management was approached by musicians requesting a break, the response was always presented via harassment or intimidation: "No break. In fact, I think you might get fired tonight."
"I just got tired of being talked to that way," says Bazzani, a timbales player, who is originally from Italy, "and I started speaking up."
Tensions mounted when a musician asked for a $15 pay raise per man. The musician reported that the owner answered: "No raise. Actually, I'm thinking about paying you less."
Musicians were also often forced to wait up to two hours after their 2:30 a.m. breakdown time for their night's wages. The restaurant owner routinely maintained a bouncer at the door of his office.
One more than one occasion, Bazzani was forced to go into his own pocket to cover the wages of guest performers whom management had deemed inferior: musicians who were originally hired independently by the restaurant to supplement Bazzani's group.
"That was it for me," says Bazzani. "I told them it was wrong; and they fired the whole band."
Recording Vice President John O'Connor feels strongly that this scenario is endemic to the Latin club scene, and that these musicians need advocacy.
"Latino musicians are routinely exploited all over Local 802's jurisdiction," O'Connor told Allegro.
O'Connor added, "Our goal is to reach out to this community, and offer these performers the protections and benefits of union agreements."
Bazzani claims he is owed back wages by 400 Restaurant Group Corp. The musicians also demand they be paid for monies owed for canceled engagements resulting from their being dismissed without notice.
"I just feel that they owe us the respect we were denied while on the bandstand," says Bazzani. "No musician should ever be treated that way."
The union agrees.
Local 802 is currently investigating possible harassment and discrimination charges, and is representing the musicians for unemployment and reinstatement claims.
If you or someone you know is in a similar situation, contact the Local 802 Organizing Department at (212) 245-4802, ext. 185.