No Time to Waste
Musicians - and all labor activists - need to get serious about climate change
Volume 114, No. 9
September, 2014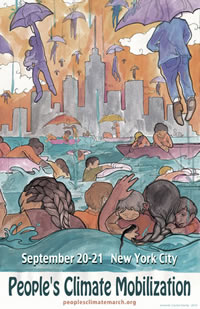 Almost two years ago, the theaters on Broadway closed in anticipation of Hurricane Sandy as it approached the New York area. Off Broadway shows were also cancelled and the new nightclub that was employing Local 802 members, 54 Below, announced it would be closed on the Sunday and Monday that the storm was expected to hit. Other concerts, classical and popular, were cancelled or postponed, as well. Countless musicians were impacted by the loss of work. When the city woke up Tuesday morning, much of it was without electricity and the impact of this historic weather event was beginning to become clear to everyone. The Broadway League had no choice but to darken the theaters for another night.
Broadway slowly regained its footing as New York's behemoth transportation system crawled back to normal. The direct impact on the midtown music scene passed relatively quickly, but 802 members who lived in the wake of Sandy's path knew that a return to normalcy would be a long time coming. Musicians, as was true of workers in all walks of life, faced devastation and displacement. For months afterwards, Hurricane Sandy's destructive force was often the topic of the hour. It was the biggest storm that the Atlantic coast had ever experienced and the second most costly storm in U.S. history. It might have been easy to cast this storm as a once-in-a-century catastrophe, but only one year previously, another storm called Irene just barely missed wreaking the same havoc on New York City. Only by a twist of meteorological fate did New York City avoid the predicted sea surges when Irene took a left turn, moving through the Catskills and into western New England.
There was one big the question being asked in the wake of these storms, whose intensity many attributed at least in part to climate change: is this our future?
It has taken a good while for the public to catch up to the awareness of climate change that scientists have been warning us about for decades. Outside of a few crackpots on Fox News, the consensus is that climate change is here and will only get worse. For many journalists writing about climate change today, the question is not whether climate change exists, but how much the planet will be negatively impacted and whether it could eventually mean the collapse of the civilization we are accustomed to. That may sound alarming, but if you consider that a shift of a few degrees in temperature can cause widespread drought, rising sea levels of 20 feet and increasingly violent storms, then you're faced with a scenario of crop failures, water shortages and displacement of people on a grand scale. California is already facing its worst drought in centuries, for instance. That is not a good sign for a country that depends so much on that state's fruits and vegetables to feed its citizens.
If you listen to the scientists, calamity is where we are headed if we don't find a way of curtailing the amount of carbon that humans are pumping into the atmosphere. The vast majority of climate scientists say that human use of fossil fuels is the chief factor in the acceleration of increased carbon in the atmosphere, causing climate change. The necessity of reducing carbon in the atmosphere is becoming more urgent with each passing year. The problem is that the scientists and environmental organizations are sounding the alarm but the world's governments, including the United States, don't seem to be listening.
U.N. Secretary-General Ban Ki-Moon seems to be aware of this dichotomy and has called for a Climate Summit at the U.N. later in September, in which heads of state, business leaders, local governments and non-governmental organizations are invited in the hope of creating a sense of urgency and action around what is arguably the biggest issue of our time.
Leading up to this summit is a more grassroots effort to focus on the economic framing of what is needed to curb greenhouse gases caused by fossil fuels. It's called the People's Climate March and it is planned for Sept. 21, just before the U.N. Climate Summit. The view of the Climate March organizers is that climate change must be seen as something that cannot be solved without changes in the way the capitalist system makes its profits. Corporations that rely on profiteering from oil, coal and natural gas cannot be allowed to conduct business as usual if we are serious about curbing carbon in the atmosphere.
So where is the labor movement in all of this? Most unions, being preoccupied with their own parochial interests, have not historically been strong on fighting for environmental causes and, in fact, some have been known for their opposition to the work of environmentalist organizations. In recent years, however, that has begun to change.
As an example, the controversial Keystone XL pipeline, which would transport raw bitumen, a particularly dense and dirty fossil fuel, from Canada to Texas, has put unions on both sides of the controversy. The Laborers and other construction unions have allied themselves with the likes of the Koch Brothers in favor of the pipeline. But the two largest transport workers unions (ATU and TWU) have opposed it. Climate scientist James Hanson has said that "exploitation of tar sands would make it implausible to stabilize the climate and avoid disastrous global impacts." Hanson has also said, "If the tar sands are thrown into the mix, it is essentially game over."
Ironically, the biggest industrial union in the U.S., the United Steelworkers (USW), has taken a strong environmental stance in light of climate change. According to Stephen Lacey, writing for Thinkprogress.org, USW is a founding member of the Blue/Green Alliance and has been pushing for renewable energy policies, "while representing one of the most carbon-intensive sectors." It too has opposed the XL Pipeline, calling the use of tar sands an "embarrassment on climate change." The USW has also been critical of the extraction practices of the natural gas industry known as fracking.
Local 802 has joined other unions in New York City in forming a working group to mobilize unionists and working people in the city to take part in the People's Climate March. Unionists organizing for the march believe climate change must be viewed as a labor issue as well as a fight for social justice. The labor coalition believes part of the solution to climate change must include the creation of well-paying jobs that reduce carbon emissions and contribute toward a sustainable future. As Jeremy Brecher, a longtime labor activist, put it, "Addressing the climate crisis is an opportunity to reduce unemployment, grow our unions, improve our community's health and restore balance to our environment. It's also an opportunity to challenge the 1 percent and corporate CEOs who are responsible for both attacking our unions and polluting our environment and causing climate change. They are the main reason why the United Nations has failed to reach a binding global agreement on the reduction of greenhouse gas emissions."
Obviously, there is no greener job than that of making music. If Local 802 members want music to survive as a profession in the city of New York, we should do our best to turn out in large numbers to this important event. The longer we wait to do something about climate change, the more New York, as a coastal city, is at risk. If the city is at risk, our profession is at risk. But just as important, the generations that come after us will want to know where we all were on Sept. 21 for the first People's Climate March.
For more information, see www.PeoplesClimate.org. To find out where Local 802 members will be meeting up for the march, e-mail John O'Connor at Joconnor@Local802afm.org or call (212) 245-4802, ext. 111.