NY Phil Korean Tour Feedback
Touring North Korea
Volume CVIII, No. 5
May, 2008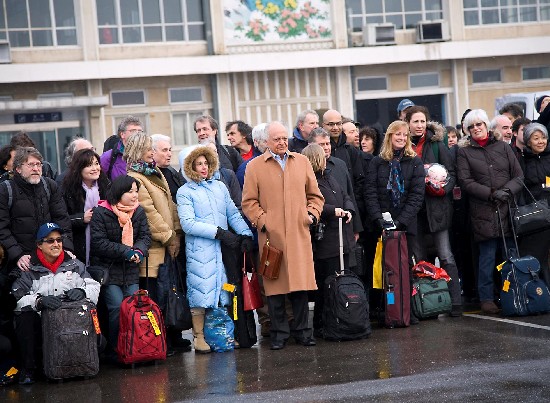 Maestro Lorin Maazel (center) with members of the New York Philharmonic at the Pyongyang airport in North Korea. Photo by David Finlayson.
As a member of the New York Philharmonic, what did the North Korea tour mean to you?
I definitely felt a part of history while in North Korea….now if only it was real! It's hard to know if the reaction to the concert was the real deal. It certainly seemed heartfelt and was the most moving part of the trip for me. People were insistently clapping and waving and just would not let us leave the stage. We were waving back with tears on many of our faces. This is very difficult to describe because of the palpable feeling in the hall, but it was amazing.
Other than that, it was incredible to see throngs of people lining the hillsides just staring at our buses as we drove by. Everyone walks everywhere, as there are no cars and even less oil to run them. Walking is the mode of transportation, so seeing our buses (imported just for this occasion) was a first for many of them. The incredulous looks on their were stunning from my perspective.
Another indelible memory was at breakfast. There was a very large spread for all of us (musicians, press, guests, etc.) and the amount of food was something most North Koreans couldn't even dream about. As we were leaving the breakfast room, the waiters had little cameras and were taking snapshots of the buffet tables to prove what they had seen. It was a very touching moment for those of us watching.
Carol Webb, violin
---
For me, the most memorable moment was the connection we made with the audience when they didn't want to let us leave the stage after the concert. As we were leaving after the first ovation, the applause got louder and louder, and we had no choice but to turn back and acknowledge the applause yet again. This time, the audience was waving wildly with tears in their eyes. Many of us were also crying as we waved back. I couldn't help thinking that not far away, US. and Korean soldiers were aiming guns at each other across the DMZ, and here we were waving to each other across the concert stage. That's when I really lost it.
Kenneth Mirkin, viola
---
Our trip to Pyongyang was one of the most emotionally charged ventures I can ever remember. Even though we could not possibly reach out to every person in North Korea, the few people we did get to interact with were brave enough to see past what their government tells them to see, and from my experiences, for them to genuinely enjoy our company. It is my hope that we can reciprocate by hosting their orchestra here in the States someday, and my dream to see their borders open up and the standard of living raised to even half of what the South Koreans have today.
Sandra Pearson, assistant principal librarian
---
Music, and America, have been good to me. It was an honor and privilege to serve as an emissary for both on this remarkable musical journey to Pyongyang.
Thomas Stacy, English horn
---
We all have platitudes that slide glibly off the tongue. One of mine has been "music is the universal language." Well, it's easy to say and it is true of course, and I have said it for as long as I can remember in different contexts.
Having been a professional musician for 30 years and longtime member of the New York Philharmonic, I have also had many occasions to see it in action during inspiring moments in performances all over the world. I've participated in peace concerts at the United Nations, in orchestras comprised of musicians from every nation, concerts after Sept. 11th, performances before diplomats and world leaders and for many cheering and happy crowds.
But I can honestly say that the trip to Pyongyang with the New York Philharmonic was one of the proudest and most moving of my career and my life.
Our North Korean trip began and ended with an exuberance of spirit that all the protocol meetings in the world couldn't quell. From the pandemonium of picture taking upon our arrival at the airport (where all semblance of order broke down), to the spontaneous cheers and poignant waving as we left the stage after the concert; it was as if neither side could tear themselves away — an unforgettable experience that left many in tears.
The North Koreans greeted us with an outpouring of hospitality — impressive cultural performances, generous banquets and a tremendous interest in our comfort. We of course knew that we were experiencing a world carefully prepared for visitors only; and that certainly gave everything a surreal quality. But we were gracious guests nevertheless, and gradually the problems making eye contact and the impassive facade of formality that I had noticed when we arrived melted away.
We played on the condition that we would perform music of our own choosing, without qualification or censorship and I was thrilled to hear, at the last minute, that our concert would be carried on the radio to the people of Pyongyang. It was also very gratifying that we could say whatever we liked to the press (a privilege not granted to the Olympic athletes). And I have to say that I was very proud to be part of what was a colossal effort by so many. It was an adventure that took close to 400 people and 120 musical instruments in a 747 across the 38th parallel. (Or should I say "around" it, as no one is allowed to fly over the 38th parallel!)
So, the words "music is the universal language" ring with a new depth for me now. Music is a beautiful and unique tool that allows us to go where no diplomat or politician can go. It allows us to communicate from heart to heart without the complication of words. And it seems in
Pyongyang, that we all heard the same message. I think there was a genuine and certainly uncontainable delight in discovering one another as human beings, and that, perhaps, is the best place to start.
We may not have changed the world, but I think we created a sort of wonderful chaos and managed to open a lot of hearts. And perhaps that is all we can do and the best we can do as musicians and as musical ambassadors. It was a rare opportunity that changed my life and that I will always be grateful for.
Katherine Greene, viola