Older, Wiser and Sounding Great
Senior Concert Orchestra to present its annual free concert
Volume CX, No. 9
September, 2010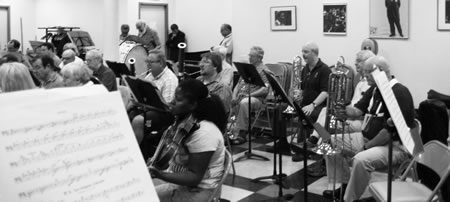 The Senior Concert Orchestra rehearsing for its 2008 performance.
The Senior Musicians Association of Local 802, together with the Lucille Lortel Foundation, will present a free performance of the Senior Concert Orchestra at Merkin Concert Hall on Wednesday, Oct. 20 at 2 p.m.
The concert will feature violinist, Jesus Reina, the 34th winner of the annual Waldo Mayo Memorial Violin Competition.
Musical director David Gilbert will conduct a program including Beethoven's Symphony #2, Debussy's "Petite Suite," and selections from "Oklahoma" by Richard Rodgers.
Soloist Jesus Reina will play Mozart's Violin Concerto #3 and "Caprice Basque" by Sarasate.
Since 1966, a group of retired and active musicians of Local 802 have been organizing concerts. In 1981 they incorporated as a fully nonprofit organization, the Senior Musicians Association of Local 802, dedicated to cultural, educational and charitable goals.
Their aim is to maintain and enhance the skills of distinguished senior musicians, retired and semi-retired from our many prestigious musical organizations, by presenting free community concerts in programs highlighting our musical heritage.
Our senior musicians constitute a valuable reservoir of musical expertise which should not be discarded before its time.
Many, through their playing and teaching, contribute their seasoned knowledge and artistic sensibilities to communities throughout the region.
Support, solely from voluntary contributions and tax deductible donations, continues to make their valuable concerts and programs possible.
Presently in their 44th season, the Senior Concert Orchestra has a tradition of providing free concerts at senior centers throughout the five boroughs and an annual gala concert at a major hall.
They have brought the pleasure of fine music to thousands ordinarily unable to afford or experience it live.
This is a community resource and cultural treasure well worth preservation.
The orchestra's performance on Oct. 20 will be its 149th concert since it began!
Queen of Off Broadway
For 23 years producer/director, Ms. Lucille Lortel, "The Queen of Off Broadway," a legendary figure in American theatre, sponsored the Waldo Mayo Memorial Violin Competition to honor her late brother, violinist Waldo Mayo. He was a long-time member, consultant and supporter of the Senior Concert Orchestra.
Since Ms. Lortel's death in 1999, the Senior Musicians Association has dedicated their concerts to both Ms. Lortel and Mr. Mayo.
The association hopes to continue this dedication. We are deeply indebted to the Lucille Lortel Foundation for continuing sponsorship of this annual event and their generous support of the live arts.
This presentation of the 34th winner of the memorial competition, violinist Jesus Reina, preserves the tradition of honoring the memory of our two benefactors.
The Music Performance Fund also supports this concert along with the New York City Library of the Performing Arts and – most importantly – patrons of the Senior Concert Orchestra, like you!
Local 802 members are invited to contribute tax-deductible donations to the Senior Musicians Association to support their programs.
Free tickets and more info
There are three ways to get free tickets to the Oct. 20 concert:
If you want your tickets in your hand prior to the concert, send a self-addressed, stamped envelope to: Senior Musicians Association, 322 West 48th Street, New York, NY 10036. In a cover letter, please tell us how many tickets you would like, and please provide your contact info, including name, address, phone number and e-mail address, so we may keep you informed of future concerts.
A quicker way to reserve your free tickets is simply to send us an e-mail at SeniorMusicians@gmail.com. Include all of your contact info and how many tickets you'd like. We won't send you your tickets ahead of time, but you'll be able to pick up your tickets at the box office right before the concert.
Free tickets will also be available at the box office, right before the concert, while they last.
Remember, the concert will take place at the Kafuman Center, Goodman House, 129 West 67th Street on Wednesday, Oct. 20 at 2 p.m.
For more information, or to make a financial donation to the orchestra, please contact Dr. Lyn Christie at SeniorMusicians@gmail.com or (914) 968-6038.