Omar Hakim & Rachel Z share the top skill sets needed to be a musician today
Volume 117, No. 6
June, 2017
In today's competitive marketplace, musicians face increasing challenges to creating sustainable and rewarding careers. On April 4, the Council for Living Music and Music for a Sound Future presented a free educational clinic hosted by Local 802 that offered insight into the skills required to meet these challenges. The title said it all: "Real Skill Sets for Today's Musician."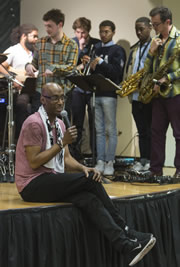 Rachel Z, the Grammy-winning composer, pianist and educator, co-led the workshop with her husband, the world-renowned drummer Omar Hakim. They were joined by guitarist Sandro Albert, bass player Jonathan Toscano, saxophonist Sean Nowell and invited students from the New School for Jazz.
The clinic focused on the various skills required to successfully lead musicians from the role of side musician to bandleader to producer. The overall goal was to help create a plan to navigate professional levels and achieve career goals over time.
The evening began with a performance of two of Rachel Z's original tunes, intended, as she put it, "to get everyone in the mood." From the very first notes, the audience of seasoned professionals, students and general public knew this was going to be an exciting event.
Launching into the heart of the clinic, Nowell spoke to the enthusiastic audience about "side musician skills" and the role of the horn section. He emphasized, "When working with a power rhythm section like this, it's best to stay out of the way and not to blow all over the place." Nowell explained, "It works when everyone is in tune, keeping the ego out of it and making it all about the music."
Addressing the keyboardists in the room, Rachel Z suggested sharpening one's reading skills with Bach choral preludes, Mozart piano sonatas, and works by Debussy and Ravel for color and textural ideas. She emphasized, "Classical music gives you harmonic ideas and tools that provide a broad vocabulary. With it you can paint a picture."
She then turned the floor over to Hakim, who focused on rhythm section "groove skills." He expressed his perspective eloquently: "Grooves are mantras – a statement that gets repeated over and over again and in that repetition, it gains power." To demonstrate the mantra concept, Rachel Z and Hakim started a groove in 15/8. The other musicians jumped in, including students Drew Anderson on trumpet and Hassani Cummings on sax, who rounded out Nowell's horn section. When the groove was comfortably established, Rachel Z and Hakim seamlessly switched places with their students, keyboardist Jack Gruber and drummer Blaire Milne. Finally, guitar student Andrew Skepasts stepped in until only the students were grooving, with the professionals coaching from the sidelines – an invaluable experience for these young musicians and an ideal way for the audience to witness the process.
Segueing into producing skills, Hakim stressed that patience and persistence are key. He spoke philosophically about producing an album: "A hit record is nothing more than a musical document that everyone agrees on. It might take time to develop your sound and material, but stay on the path." Throughout the event, there was a wonderful exchange of ideas with the audience members as they not only posed questions but also added valuable insight from personal professional experiences.
"Real Skill Sets for Today's Musician" was yet another successful educational clinic that benefited students, professionals and the general public. It provided New School students with an invaluable opportunity to play with and learn from top-notch, seasoned professionals while feedback from the supportive and inquisitive audience further enhanced the event. The Council for Living Music and Music for a Sound Future invite you to join us as we continue to produce these informative and valuable clinics in 2017 and 2018. Stay tuned! For a live clip of the clinic, please visit www.councilforlivingmusic.org.