On the Road: "Freeway Philharmonic"
Movie Review
Volume CVIII, No. 6
June, 2008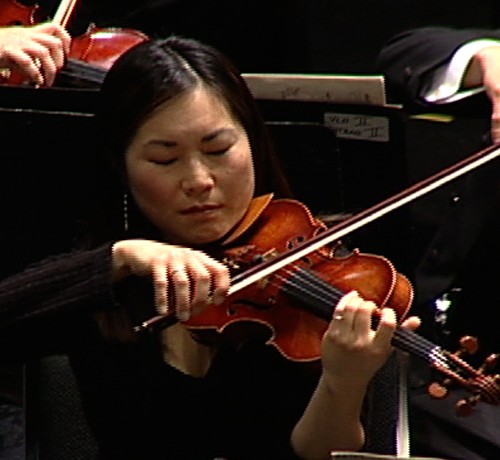 Karen Shinozaki Sor, a freelance road warrior and one of the subjects in the film "Freeway Philharmonic," about the lifestyle of freelance classical musicians.
Freelance musicians in New York City can see what the road life is like on the West Coast in the new documentary "Freeway Philharmonic." The film follows seven San Francisco Bay Area classical musicians as they perform with regional orchestras across Northern California while struggling to acquire a permanent position with a major symphony. It depicts their efforts to balance a love of music with a road warrior lifestyle that often requires traveling hundreds of miles a day to rehearse, teach and perform. These individuals have an unrelenting desire to perform for a living, sometimes at the expense of their family and well-being. The goal of the film is to show the dedication, perseverance and rigorous life of the musicians, while they grapple with their desire to succeed in a hard-driving career and come to terms with their limitations in their quest for artistic accomplishment.
While profiling the individual and often interconnected stories of the seven musicians, the documentary also illustrates the state of music and the arts in local communities across California. Like most small arts organizations, most regional orchestras don't have enough funding to hire full-time musicians. Instead they fill their chairs with freelance musicians who must piece together a living from multiple sources. Thousands of conservatory-trained musicians play in these orchestras, serving the cultural needs of communities of all sizes across the country. Without these individuals, smaller regional orchestras like those in Marin, Santa Rosa, Napa, Berkeley and Stockton, would simply not exist.
In addition, many of the freelance "Freeway Philharmonic" musicians have come up through public school music programs. As such, they are ambassadors for the promotion of funding music education. With music programs disappearing from schools everywhere due to insufficient funding and a shift in educational priorities, players often contribute by teaching and performing for students. In many ways they are filling the gap left by limited public music programs and are role models for the next generation of musicians, providing an example of one way to fulfill one's dream of playing music for a living.
Check out www.FreewayPhil.com for showtimes or purchase information.