Organizing Matters: Bridging the Gap
How We Won the KnitMedia Settlement
Volume CV, No. 9
September, 2005
It's Payback Time! Recording Artists Win Deal
Local 802 and KnitMedia recording artists recently settled the claims they had asserted in a lawsuit against KnitMedia, Inc., parent company to the Knitting Factory and Knitting Factory Records.
Under the terms of their agreement, the 28 artists named as plaintiffs in the suit will receive a financial settlement for unpaid royalties, the return of their masters, and the return of all rights to their work. They will also be given the option to purchase any remaining stock of their albums at $2 each.
Additionally, for a period of two years, all KnitMedia artists will be able to get the rights back to their work as well be able to purchase any back stock of their albums at $2 each. KnitMedia is turning over its entire inventory to Local 802 to handle the requests from artists who wish to take advantage of this provision in the settlement.
If you are a KnitMedia artist and you wish to be notified when 802 has received the inventory from KnitMedia, please go to www.TakeItToTheBridge.com and sign the petition posted there. You can also contact the Organizing Department at (212) 245-4802, ext. 186 or 191, for more information.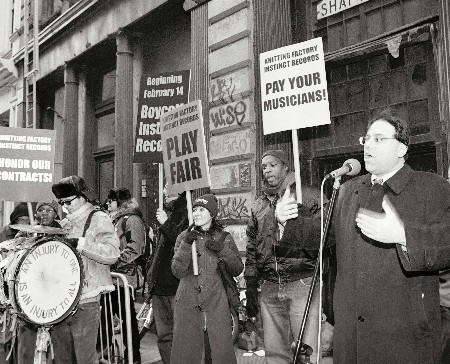 Demonstrating at last December's rally in front of the Knitting Factory are Kenny Wollesen (left, bass drum), Rebecca Moore, Dean Bowman, and New York City Councilmember Alan J. Gerson.
Rebecca Moore and her fellow artists have won an historic agreement covering musicians who recorded for KnitMedia, the parent company of the Knitting Factory. The agreement marks the resolution of over a year's struggle by current and former artists on the Knitting Factory record label.
Although some of the grievances went back over a decade, the artists' decision to organize followed an incident in which a large number of CD's had been destroyed by the label. The image of their work in a dumpster seemed for many artists to sum up their history with the label in a single shot. These artists had been signed by an indie, surrounded by all the hype of the indie "movement," with its connotations of a more artist-friendly, less corporate environment. But they became increasingly frustrated as royalties and other contractually promised benefits failed to appear.
This is a story often told. Artists with hit records can afford to audit their record company's books. The overwhelming number of recording artists can't. Labels know this, and underpayment or nonpayment of royalties is common practice throughout the industry, by labels large and small, "indie" and major.
Nonpayment fits well with the long-term strategy of many indies: acquire a large number of titles as cheaply as possible, pay out as little as possible in promo and royalties, then sit back and wait until some of the CD's become a valuable asset – for example, the early work of an unknown artist who goes on to become a star. Next, sell to a larger indie or a major label, which picks out the one or two stars and discards the rest. Artists' work is often permanently buried when catalogues are bought and selectively released.
AN ALLIANCE OF SORTS
Even though Rebecca Moore and her fellow artists (organized under the name "TakeItToTheBridge.com") worked independently of Local 802, their success owes much to the fact that they were able to form a strong working alliance with the union.
Within the indie scene in general, there is much skepticism about the relevance of unions to their own work. We've had little or no history of successful collective action.
And until recently, even if artists had managed to overcome their skepticism of the union, they would have been met on Local 802's side with an equally intense lack of understanding of their concerns and realities. For decades, a major culture gap existed between the union and indie artists.
To most of my contemporaries, the AFM's culture – everything from the graphics and language of union newspapers and leaflets to work rules to the language used to describe the work we did ("doubling fees," "leaders," "contractors," "copyists," "premiums") – seemed to come from another planet.
COMING TOGETHER
Contrary to the belief of most of my contemporaries, the language, work rules and culture of the AFM's core constituencies – Broadway, orchestral, major label/commercial studio, hotel, and club date musicians – didn't come from Mars. They successfully represent the work and feelings of many of its members.
But the work of the musicians I know in the network of indie labels and clubs is significantly different. It has changed to what economists call a "post-Fordist" or "post-industrial" mode of production.
As a result, the organizing tactics which had succeeded in winning real benefits for the union's traditional constituencies failed for us. On some level, my contemporaries knew this and stayed away from the union, but not because we were too stupid to understand the benefits of membership.
Basically, the cultural gap between the indie community and Local 802 was caused by changes in the structure of the record industry.
Over the years, however, this gap has been bridged. A change has occurred in the attitude of some Local 802 officials towards musicians and recording artists from the indie scene. In recent years, indie artists have been welcomed by 802 and the union has committed resources to us, including legal and organizing help.
Even more importantly, 802 organizers and officials understood the need for a creative approach to organizing.
The union's welcome to us wasn't an accident and it didn't occur overnight. A groundwork of trust between some union organizers and activists from the indie scene was built up over a period of almost a decade during collaborations between the union and the Noise Action Coalition, a predecessor to TakeItToTheBridge.com, which had been active from 1994 through 2000.
The Noise Action Coalition protested over nonpayment at the New Music Seminar and at the downtown nightclub Arlene Grocery. The coalition won successful collective bargaining drives at the Knitting Factory/Texaco Festival and the Knitting Factory/Bell Atlantic Jazz Festival. Two Noise Action Coalition members (Norman Yamada and myself) who had been active in these earlier campaigns were also involved with TakeItToTheBridge.com.
THE UNION WAKES UP
Equally important was the steady awakening of union officials to the importance of the indie label phenomenon. Long accustomed to viewing nonunion recording as isolated "dark dates" and indie labels as marginal phenomena, union officials had a rude awakening when indie recordings – nearly all nonunion – began to claim a large and growing industry market share.
As a result, Local 802 commissioned a study of the indie phenomenon by renowned sociologist Stanley Aronowitz and his graduate student Michael Roberts. It was titled "The Irony of the Indies: Post-Fordist and Post-Industrial Production Patterns in the Recording Industry," and Local 802 has copies for anyone who wants to read it.
This report confirmed that the indie label phenomenon was neither temporary nor marginal, but part of a 30-year pattern of corporate outsourcing and globalization affecting industries from automotives to food to entertainment.
Union officials began to understand the implications of the failure to organize indie labels and recognize the stakes. This is a battle to save the union presence in recording.
And union organizers had also come to realize the growing role recording artists play within the industry.
Traditionally, the AFM's main constituency in recording has been hired side musicians (a/k/a "session players") rather than royalty artists. While side musicians remain an important part of the recording work force, they don't dominate it as they did 50 years ago. Any group hoping to develop economic clout in most sectors of the contemporary record industry must organize both royalty artists and side musicians. Neither of these groups can ever hope to win concessions on its own.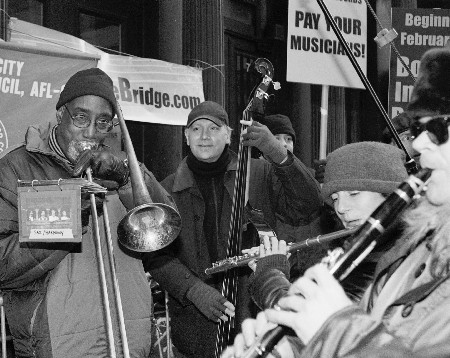 Curtis Fowlkes (trombone), Dave Hofstra (bass), Jessica Lurie (flute) and Briggan Krause (clarinet).
INDIE ARTISTS ALSO WAKE UP
A change has also occurred in the attitudes of at least some indie artists in New York City.
The sight of people picketing, leafleting and protesting nonpayment outside New Music Seminar events in the early 90's was shocking.
However, the determination of the Noise Action Coalition, with the help of Local 802 organizers (in particular, Dave Sheldon), in keeping weekly pickets going for over four months at the then-hip downtown club Arlene Grocery, and the coalition's success at winning contracts which significantly boosted minimum rates of pay at the Knitting Factory Texaco and Bell Atlantic jazz festivals, had both normalized the idea of collective action, and won some measure of respect for the coalition and its activists.
So when Rebecca Moore and the Knitting Factory recording artists began to organize themselves, they turned to several of those activists for advice, including Norman Yamada and myself.
Norman, also a skilled computer technician, set up the TakeItToTheBridge.com Web site. Together, we facilitated a relationship with the union.
CREDIT TO THE UNION
It is to the enormous credit of Local 802's leadership that they've had the foresight to commit resources to projects that admittedly produced few new members.
Although TakeItToTheBridge.com has urged all those who have won settlements from KnitMedia to join 802, it may still be some time before this investment in the future of the union pays off strictly speaking in terms of dues-paying members.
Organizing new sectors is a difficult, long-range goal. But long-range strategy is needed to match the long-range strategy of the record industry.
The labels' strategy seems to be this: allow the AFM to maintain the national recording agreements with major labels. At the same time, quietly move an ever-greater percentage of production out the back door to non-signatory indie labels, the overwhelming majority of which are still profitably distributed by the same major branch distributors who own the majors!
(That the industry has succeeded in marketing this change to "indie" production as an "anti-corporate rebellion" is one of the great jokes of our times.)
It's to the enormous credit of 802's Organizing Department – in particular its director, Joe Eisman – that they've approached the challenge of organizing creatively, respected the need of artists to maintain separate organization, and hired energetic and skilled organizers like Summer Smith who have cultural compatibility with the indie artists.
Thanks should also be extended to Bob Cranshaw. The support of this respected musician from the very beginning of these projects has meant a lot to all of us, and given real meaning to the word "solidarity."
A MODEL FOR SUCCESS
After KnitMedia had failed to respond to our requests to negotiate, a decision was made by all involved to begin a two-pronged strategy: we would initiate a lawsuit, and we would back it up by public protest – and, if necessary, a boycott and strike.
The threat which ultimately brought KnitMedia to the table was the threat to boycott the Knitting Factory clubs in both New York and L.A.
The agreement was concluded the day we made that threat credible at our demonstration in front of the Knitting Factory's New York City location. The night before, West Coast friends had handed out our leaflets in front of the L.A. Knitting Factory club.
Targeting protests at whatever subsidiary would hurt the parent corporation's profits the most, and doing it wherever those subsidiaries exist, is a model for success.
Doing this will not always be easy: corporations often "outsource" their subsidiaries in ways that make targeting the parent corporation illegal.
They often "globalize" their operations to places where it's difficult for local unions to follow.
That these two tactics – outsourcing and globalization – have become the hallmarks of "post-Fordist" industry, is no accident: they were designed to prevent unionization, and they do. The result has been a 30-year overall decline in union membership.
But if unionists understand the problem and are willing to confront it, they can find ways around these difficulties. We did.
If we can imagine this model applied to a much-larger record label or distributor, owned by a parent corporation that also owns, for example, a visible and profitable liquor brand or major computer manufacturer, the implications for organizing become clear.
If we can hold the distributor responsible for conditions at the labels it distributes, if we can hold the parent corporation which owns the distributor responsible for the behavior of the distributor, then we will finally have the possibility of organizing the nonunion sector of the recording industry, of winning real benefits for artists, and of reversing the decline in the power of the union. This model has implications well beyond the music industry.
Does this mean that every artist who sells 50 copies of a home recording of her high school punk band will receive union scale, health benefits, and a full pension? Of course not. There always will and always should be space for truly marginal indies. But there's no reason, for example, that all artists selling a total of over 17,000 CD's a year couldn't receive health benefits. (That's how AFTRA's health plan already works, for instance.)
CONCLUSION
Many of the issues that angered the Knitting Factory artists were non-economic.
They would have liked to have been notified before thousands of their CD's were destroyed by the record company and would have liked a chance to buy them back. They would have liked to have been given rights back to out-of-print CD's.
There's no reason that artists on even the most marginal product can't work under some minimal contract which protects them from exploitation should their work actually wind up making large profits somewhere down the line, and protects them from this kind of mistreatment.
There's no reason that "indie" labels with recent platinum record hits on their walls shouldn't be paying scale on all new projects.
If this is what artists want, we now have the tools to make it happen.
The views of the author are his own and not necessarily reflective of the views of Local 802.