Party Music! Composing the Next President
Music & Politics
Volume CVIII, No. 10
October, 2008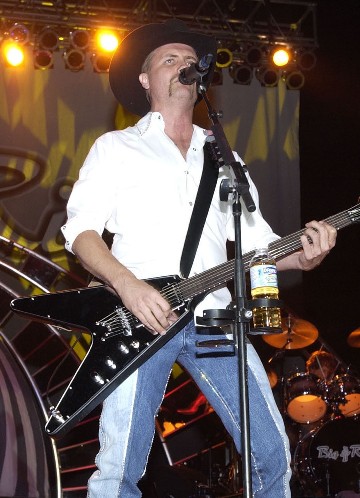 John Rich (top) wrote "Raisin' McCain" for John McCain. Kix Brooks (below) and Ronnie Dunn wrote "Only in America," which Barack Obama chose as the song to accompany his acceptance of the Democratic nomination. Photo by Sergio Leenen.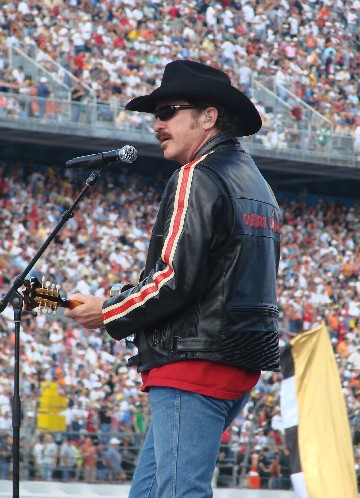 The 2008 presidential election has seen a reinvigoration of music as a political force — an art able to garner and galvanize support and thus help swing the election. Musicologist and bassoonist Mark Clague, a professor of music at the University of Michigan, has researched how music is used as a persuader in presidential campaigns. Allegro asked Dr. Clague if he would share his insights on how both John McCain and Barack Obama are using music to sway the voters.
Raisin' McCain" — with words and music by Nashville-based country artist John Rich and created specifically for the Republican nominee — offers what has become a rarity: the traditional American presidential campaign song. Like "Tippecanoe and Tyler Too" of 1840, Rich's song entertains while reiterating key themes about its candidate — McCain's patriotism, his military service and imprisonment in Hanoi — all the while incessantly driving the candidate's name into the voter's mind.
Set as an up-tempo pop-country dance tune with a rock-derived "American" guitar solo, "Raisin' McCain" energized the crowd at St. Paul's Republican national convention. The song sent subliminal stylistic messages as well. By using American country music, McCain's handlers associated their candidate not only with Western mavericks and the working class, but with the southern and almost exclusively white culture from which country music stems.
Race permeates the 2008 American presidential campaign, yet it remains a dangerous subject to talk about directly. Music, however, offers a way to discuss race without speaking about it. American music itself is possible because of the influences of European, African, Latin, and many other musics. Not only through lyrics, but in the non-verbal signals of musical style, tradition, form, rhythm, instrumentation, and a thousand other details, music speaks of the many Americans that forge our national identity.
It should not be a surprise then that the Obama campaign followed its candidate's acceptance speech in Denver not with the song written for him by hip-hop artist will.i.am, but with a country and western tune — Brooks and Dunn's 2001 multi-platinum hit "Only in America."
The cowboy duo's smash not only reassured the primarily white heartland voters that Obama identified with their music, but elegantly highlighted the themes of hope and opportunity in his speech. The lyrics of "Only in America" rehearse images of the American dream in which "everybody gets a chance" and any kid "just might be president," forging a patriotic connection to Obama's own working class roots and mixed race biography. (Following McCain's speech in St. Paul, Republican organizers used a similar tactic with Kool & the Gang's disco hit "Celebration" to collapse the distance between white and black.)
Ironically, "Only in America" also embodies another 2008 campaign theme — crossing party lines. In 2000, Brooks and Dunn performed the song at Republican president George W. Bush's inauguration, and in 2004 it was used to accompany Vice President Dick Cheney's convention appearance. The song's co-author Don Cook could not have been happy about the song's success in Republican circles; he helped found Nashville's Music Row Democrats. In 2008, however, the tables have turned and Obama has picked up the tune.
In their official press releases, the co-composers (Brooks and Cook along with Ronnie Rogers) have expressed only satisfaction that their song speaks for both parties, yet the message for professional musicians is clear: to control the political future of your music, you have to retain your publishing and mechanical rights. Campaigns today license pre-existing tunes for advertisements and personal appearances, attempting to graft the popularity of a hit song onto their candidate. If a song's rights have been sold to a commercial publisher, its creators may have no control over who can purchase these licenses.
Rather than a single song, 21st century campaigns use a playlist — a set of tunes encompassing tactical themes deployed at specific campaign events to connect with contrasting demographic groups in the electorate.
The Spanish language "Viva Obama" might be heard in San Antonio, for example, but not in Detroit. The closing night of the Democratic National Convention at Denver's Staples Center pulled from across Obama's campaign playlist. "Let the Sunshine In" introduced Al Gore, while brass band music celebrated the endorsement of dozens of U.S. military generals. Bruce Springsteen's working class anthem "Born in the U.S.A.," famously (mis)used by Ronald Reagan in 1984, emphasized Obama's tax cuts to workers. For his acceptance speech, Barack Obama walked out to the instrumental accompaniment of U2's "City of Blinding Lights" from their 2004 album "How to Dismantle an Atomic Bomb." The U2 hit not only captured the energy and excitement of Obama's appearance, but linked Obama to the world wide humanitarian work of Bono and his band and thus reminded listeners of the nominee's promise to restore America's credibility as an international partner.
Musical elder statesman Stevie Wonder's live appearance in Denver celebrated the crossover triumph of Motown and founder Barry Gordy's repackaging of black urban music for a white mainstream. Accompanied by the vocal harmony group Take Six, Wonder performed "Fear Can't Put Dreams to Sleep," a song clearly written for Obama's event that built upon the language of Martin Luther King's "I Have a Dream" speech delivered 45 years to the day earlier. Not only did Wonder's lyrics call for "unity and harmony" in a "world that is color free," but the backing ensemble brought together Latin congas and Japanese taiko with African, Native American, and "American" rock/pop drumming to unite cultural difference in a single rhythmic groove. Here campaign music is more than song, it becomes political theatre. The quality of artistry, however, is critical. The power of the performance will determine if voters find the music to be political pandering or genuine and moving.
In 2008, the multimedia expectations of the 21st century voter have returned campaign music to prominence, albeit with some important differences. Campaign music has become a sophisticated if sometimes unrecognized audio presentation of the candidate. Downloading "Raisin' McCain" helps capture e-mail addresses for Republican fundraisers. Yet not all campaign music is "party" music, carefully vetted by Democratic and Republican consultants. YouTube offers musicians, from stars (such as will.i.am) to anonymous amateurs (such as the family that wrote "You Rock Barack"), the opportunity to contribute directly to the nation's musical discourse. Regardless of one's position on the political continuum, all musicians should be excited that music again has the power to contribute to the political conversation and thus shape the world in which we live.
© 2008 by Mark Clague.