A tribute to Paul Liguori
Volume 123, No. 2
February, 2023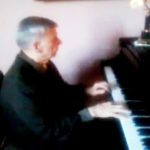 Paul Liguori, 85, a pianist and a member of Local 802 in the 1960s and 1970s, died on Feb. 23, 2022. Mr. Liguori's parents were immigrants who came from Italy to New York through Ellis Island. By the time Mr. Liguori was 6, he was already in love with the piano and was playing shows at school as well as churches and other local venues.
Mr. Liguori attended Juilliard on a full scholarship, where he won an award for his musical ear. He served in the Navy as a musician, and later became an in-demand pianist all over NYC, from Colony Hill to Carnegie Hall. He son Joe remembers his dad working constantly, including at the the Jerry Lewis telethon show, where Mr. Liguori performed as the pianist in the house band.
"My dad enjoyed telling me the story that he went to high school with Barbra Streisand and collaborated on a few songs with her," said Joe. "He also told me that he worked with Billy Joel."
Joe added, "My dad was always playing piano. He was just amazing. There was nothing he couldn't play. He played it all. His music was indescribable; it brought tears to your eyes."
Besides his son Joe, Mr. Liguori is survived by his grandchildren Anthony and Joedel. He was predeceased by his son Paul Liguori Jr.
If you have memories of Mr. Liguori, feel free to send an e-mail to: Allegro@Local802afm.org