A place for women to turn
The Phyllis Newman Women's Health Initiative is for women who are dealing with a serious medical condition
Volume 122, No. 9
October, 2022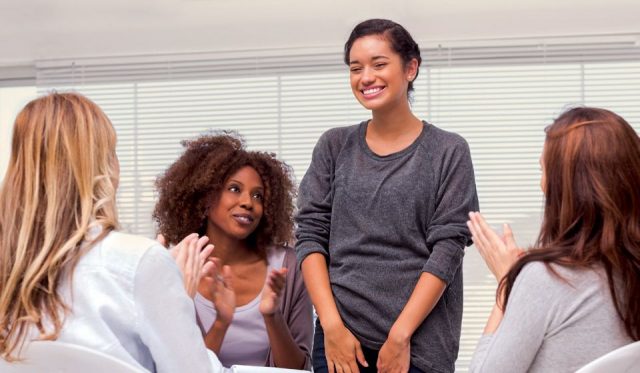 The Entertainment Community Fund honors Breast Cancer Awareness Month this month by recognizing the Phyllis Newman Women's Health Initiative.
Phyllis Newman (1933-2019), a Tony Award-winning actress and Fund trustee, founded the Women's Health Initiative to guarantee compassionate and confidential support for women navigating serious medical conditions.
A breast cancer survivor herself, Ms. Newman drew strength from her own health struggles to advocate for all women in entertainment. Raising millions of dollars to support her colleagues, she generated a safety net for countless women who experienced health crises. Today, Ms. Newman's legacy lives on through the Phyllis Newman Women's Health Initiative and her remarkable impact on the Fund.
When Ms. Newman was first diagnosed, there was a major taboo against openly discussing breast cancer. It wasn't until Ms. Newman bravely shared her medical history with the public that the discussion of women's healthcare became more normalized. As Fund Chair Brian Stokes Mitchell stated, "Phyllis Newman was our leading advocate for women's health. She was courageous and made sure not to hide her health challenges… She inspired us and we are proud that our Women's Health Initiative is named for her."
In 2009, Ms. Newman won the Isabelle Stevenson Tony Award for her dedication to women's health and medical care.
Established in 1996, the Phyllis Newman Women's Health Initiative is an accessible program staffed with social workers who prioritize and promote the wellness of their patients. The program aids female-identifying individuals with managing concerns that often come with life-changing diagnoses, including their ability to work, family issues, managing basic bills and medical bills, and coping both physically and mentally with a challenging medical situation.
From breast and gynecological cancers to additional critical health concerns, the initiative provides relief in various ways, such as:
Navigating medical and health care systems through each step of treatment and the recovery process.
Counseling to help women and their families cope with the impact of illness, including referrals to psychotherapists who are experienced in working with women in the performing arts and entertainment industry.
Groups that provide a place where women can offer and receive support around issues ranging from managing chronic conditions to returning to work and family issues.
Providing referrals to public and private community resources.
Short-term financial assistance for health-related costs such as treatment, medication, insurance and co-payments, as well as assistance with essential living expenses.
The Phyllis Newman Women's Health Initiative is open to female and female-identifying performing arts and entertainment professionals to call on for support, information and referrals to community agencies. Eligibility for emergency financial assistance is determined through an application process which includes: documentation of professional earnings and financial need, as well as meeting with a social worker.
To learn more about this program, click here.