A place for women to turn
The Phyllis Newman Women's Health Initiative is for women who are dealing with a serious medical condition
Volume 122, No. 3
March, 2022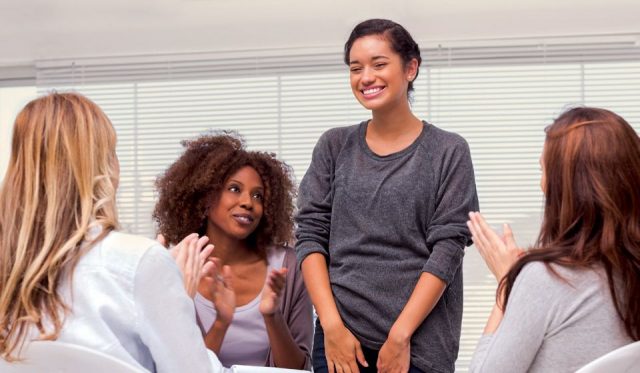 In honor of Women's History Month, we here at The Actors Fund would like to shine a spotlight on the Phyllis Newman Women's Health Initiative.
Founded by Actors Fund trustee and cancer survivor Phyllis Newman, the initiative is a program of The Actors Fund that was established to ensure no woman would have to face significant health concerns alone.
A Tony Award-winning actress whose career included work in theatre, television and film, Ms. Newman became an advocate for women's health after being diagnosed with breast cancer nearly 40 years ago and bravely shared her feelings about her diagnosis and experience openly. Today her legacy lives on through the program she founded and the women it continues to help.
In her words:
"I know from personal experience the fear and pain that can spring from a major medical crisis. In 1983, I was diagnosed with breast cancer which led to a double mastectomy. At the time, you didn't hear a lot of inspirational stories, and you didn't know many people who were survivors because everyone was so quiet about it. This is no longer the case. Today, my female colleagues in entertainment have the Phyllis Newman Women's Health Initiative: a safe place to go to address serious medical concerns and get confidential and compassionate help."
Since its inception in 1996, the Phyllis Newman Women's Health Initiative has been providing women working in performing arts and entertainment compassionate support and a place to turn when faced with a health crisis. Staffed by social workers experienced in helping women manage a range of critical health concerns, the program offers dedicated resources to address the challenges of a serious medical illness or injury and provide the care and support each woman needs to reduce stress and focus on her wellness.
With services ranging from navigating health care systems to connecting women to resources that offer education or financial assistance, the Phyllis Newman Women's Health Initiative provides access to an extensive support network that includes health care, diagnostic, preventative and mental health services.
Helping hundreds of women each year who are facing health crises — many whose treatment becomes compromised by lack of health insurance — the Phyllis Newman Women's Health Initiative provides relief to those in need in various ways, including:
Help with navigation of healthcare and medical systems
Counseling to help women and their families cope with the impact of illness, including referrals to psychotherapists experienced in working with women in the performing arts and entertainment industry
Groups that provide a place for women to offer and receive support around issues ranging from managing chronic conditions to returning to work and family issues
Short-term financial assistance for health-related costs such as treatment, medication, insurance and co-payments, as well as assistance with essential living expenses
During what can often be a stressful, overwhelming and frightening time, the Phyllis Newman Women's Health Initiative is here to provide confidential and compassionate support. The services of the program are available to all women working in the performing arts and entertainment, with eligibility for financial assistance determined through an application, interview and documentation of professional earnings.
To learn more, please visit www.actorsfund.org/PNWHI.