Remembering Sam Pilafian
Reminiscences
Volume 119, No. 7
July, 2019
Sam Pilafian (1949-2019)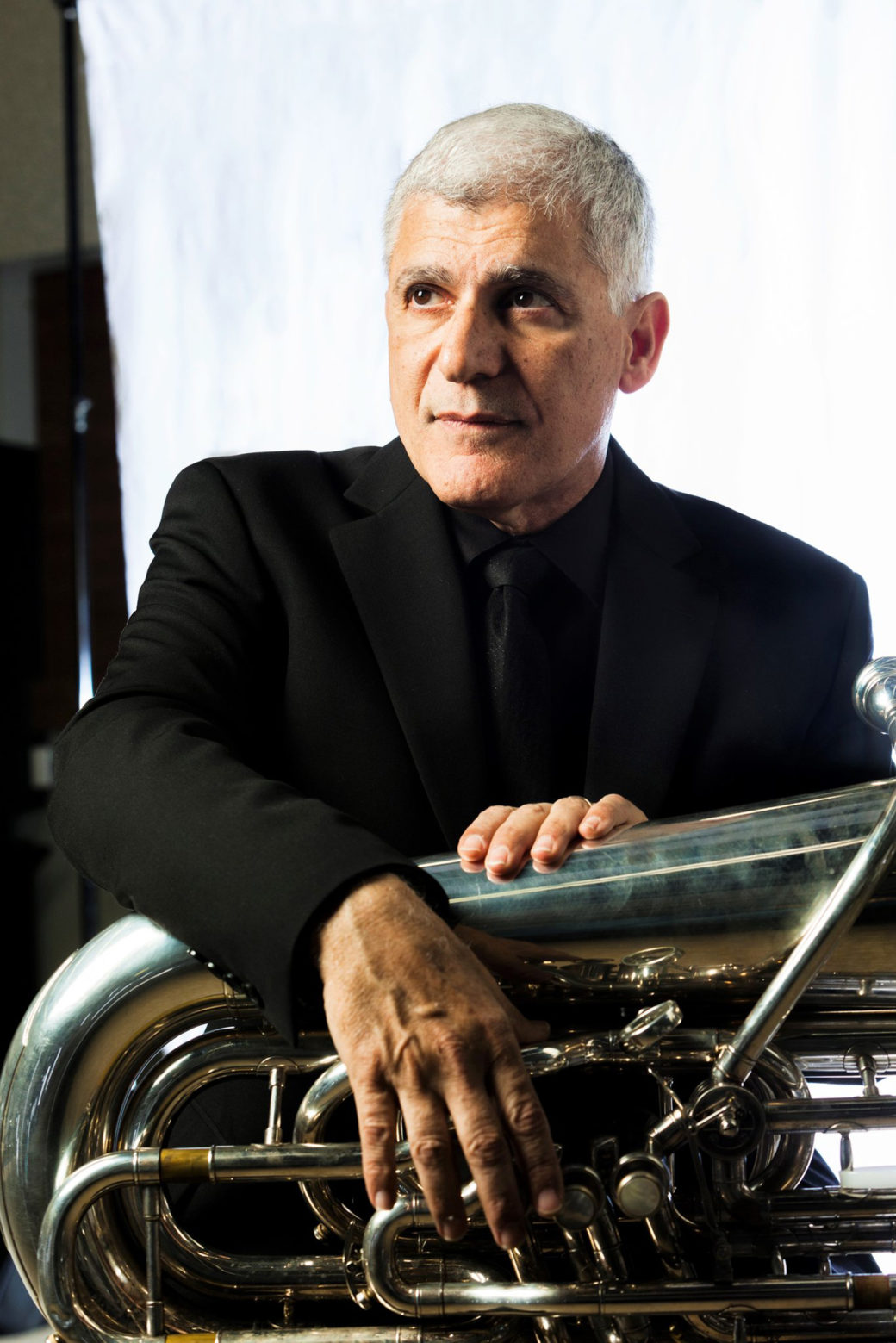 When we lost Sam Pilafian on April 5 at the age of 69, the proverbial flag of the brass-playing community all over the world flew at half mast. These months later, it remains at half mast – all those who loved Sam are still reeling from the loss of a professional and personal hero. James Samuel Pilafian, born Oct. 25, 1949, was arguably the most virtuosic and versatile tubist of our generation. It did not end there, however. First and foremost, Sam was a mentor and friend to all who knew him. His resume is mind boggling. After graduating from the University of Miami, Sam embarked on a 40+ year career that spanned all genres, defying all the usual confines of a tubist's professional path. While at Tanglewood, encouraged by both Leonard Bernstein and Michael Tilson Thomas, Sam founded the Empire Brass, which would revolutionize the way the world heard brass playing and chamber music as an idiom. Pilafian was recorded on Pink Floyd's "The Wall" (1979), countless movie soundtracks, commercial jingles, appeared with Empire as a guest on "Mister Rogers' Neighborhood" (1985), and performed with symphony orchestras the world over – most frequently with the Boston Symphony and the New York Philharmonic.
Sam was an educator for most of his career. He held positions at Boston University, Berklee, Tanglewood (plus the Boston University Tanglewood Institute), Arizona State University, and the Frost School at the University of Miami. He was in incredibly high demand worldwide as a clinician and visiting lecturer for the entirety of his career.
In the early 1990s, Sam teamed up with guitarist Frank Vignola to form Travelin' Light, further establishing himself as a crossover artist. The two would produce multiple recordings and perform countless live shows together. Yet another professional venture that he and fellow tubist Patrick Sheridan developed would evolve into one of Sam's great contributions to wind performance and pedagogy: The Breathing Gym. Also known as the Brass Gym, this is a series of exercises adapted from martial arts and yoga to help wind and brass players (as well as vocalists) breathe more effectively. Sam and Patrick produced this product as a series of books, CDs and DVDs, and engaged in workshops and clinics all over the world, reaching professional performers, educators and students for decades to follow.
What is perhaps most telling about Sam Pilafian's impact upon a generation of musicians is simply this. The myriad of tributes that immediately flooded all social media channels across the country and beyond once news spread about Sam's passing were not focused on his playing or his prolific career as a tubist. Instead, they were about his remarkable gifts as an educator and friend. The tributes were about how he made us feel about ourselves. Through his energy, charisma, infectious passion and true love for music and people, Sam had an extraordinary ability to enable others to discover and, in turn, become their best selves. He helped thousands upon thousands of musicians over the years not just to breathe more efficiently, but also to realize untapped potential. He wasn't just a hero, he was our hero.
Sam is survived by his wife Diann, sons Alexander and Zev, and sisters Marni and Nerisa. He had been a member of Local 802 since 1972.
– Shelagh Abate
Sam Pilafian arrived on the New York freelance scene in the early 1970s. His presence was quickly noted because of his enthusiastic and goal-oriented personality. He was very focused and always had his eyes on the prize, which was to play the tuba better than anybody else. He worked diligently at perfecting his craft. I remember bumping into him on a midtown Manhattan street as he was buzzing his mouthpiece while walking to his studio to practice. Never a wasted moment.
When Sam landed the job at ABT, I remember hearing him play some of the ballet classics. His tone was recognizable for its dark and penetrating solidity. The perfect sound to have at the bottom of an orchestral brass section. When not at ABT, Sam's freelance activities included (but were not limited to) playing at Your Father's Mustache – a "peanuts-on-the-floor" 1890-style bar.
Tuba players don't often work with each other, but one exception was the New York Tuba Quartet. This group was founded by four New York players: Toby Hanks, Tony Price, Sam and me. In this context I was able to appreciate Sam's talents as a fine musician as well as a mover and shaker.
I recall one time during a recording session for the quartet when Sam had to excuse himself to run uptown to Carnegie Hall to play a PDQ Bach concert. At the concert, he played a tuba solo in front of the orchestra standing on his head!
By the early 80s, Sam was expanding his exposure and interests beyond New York and increasingly traveling to Boston where he became a founding member of the Empire Brass Quintet. This became a world-renowned group. My favorite recordings of EBQ are the "Porgy and Bess"/"West Side Story" suites arranged by 802's Jack Gale.
Sam's versatility as a player and performer seemed to know no bounds. I encourage you to search YouTube for a clip of Sam on "Mister Rogers' Neighborhood," filmed at his apartment during his Boston years. To witness a young Sam patiently explaining his craft to Mr. Rogers is Sam at his most tender and earnest.
I am indebted to Sam for having introduced me to my wife of 39 years. She and Sam's wife Diane were childhood friends. I remember several memorable group dinners – the most notable being the first, at one of Sam's favorite Armenian restaurants in the village, Dardanelles. Sam was one of a kind: a highly dedicated musician who created excitement wherever he went. Rest in Peace, Sam.
– Steve Johns
I first met Sam Pilafian in the spring of 1979. I was 15. My big brother from another mother, Jon Sass, who was two years ahead of me at the High School of Music and Art, kept telling me I needed to study with his teacher. He said, "He's incredible, he's outta sight, just do it." Eventually I got the money and the nerve together to contact him, and we set up a lesson at the Charles Colin building, where many New York musicians had practice and teaching studios. Years later, I would rent one of those studios to share with three of my mentors: Jack Gale, Bruce Bonvissuto and Ethan Fein. That would be one of the many things in my life that I would do to imitate Sam. He was my and many others' Michael Jordan. (But our motto was "be like Sam" instead of "be like Mike.")
On the day of my first lesson, it looked like Sam wouldn't show. I waited for 30 minutes outside on 53rd and 8th. Right before I was about to leave, a guy comes running up the street wearing purple sweatpants, a sweatshirt and running sneakers. He approached me and said, "Hey, man! You must be Marcus!" I replied, "Yeah, man." That little exchange of "Hey, man…yeah, man," would be one of many things that would bond us for the next 40 years, and funny to think, it would later become a Sam catchphrase. I don't remember much about that first lesson other than him playing along with me, and how when I left, I felt something super special had happened to me.
Subsequent lessons would reveal that he was like a doctor. At the end of every lesson he would diagnose the problems you had and write a prescription. Medicines would include running, stretching, breathing exercises and handwritten, personalized exercises specifically for your issues. He referenced specific recordings and players he admired. Other teachers gave similar advice, but Sam's teaching had an extra component that made it feel like a life-coaching. He had a very inspiring vibe. When you left a lesson, you felt like you were a much better player than you actually were. I studied with him for a year and a half before he left New York to teach at Boston University. We reconnected when I went to the New England Conservatory to study with his friend Toby Hanks, another fantastic musician from the New York Tuba Quartet.
Everyone loved Sam. He had the ability to make you feel like you were the only person in the world who mattered, and that you were his best friend…even if it was bullshit. I, like everyone else, was totally enamored with Sam's playing. His sheer virtuosity and showiness were a marvel to witness. He used to stand on his head and play the Clarinet Polka. In the 1980s, in New York and Boston, I saw him play many times as a member and star attraction of one of the greatest brass chamber groups in the world, Empire Brass. I was always blown away by his rhythmic groove. His tone was beautiful, warm and clear. His articulation and ensemble concept were amazing. I was beyond inspired; I was obsessed with trying to figure out how to play this way. There had been many great tuba players before, from Bill Bell to Harvey Phillips, Toby Hanks, John Fletcher and Roger Bobo, to name a few, but Sam's appearance on the scene created this feeling that something new was being created. The way he played, talked and carried himself gave the impression that playing the tuba was cool and hip, at least to me, a 15-year-old kid from Brooklyn. It wasn't the impression most people had of tuba players.
Besides being an impeccable classically trained tuba player, he was also a musician who improvised and played jazz tunes, as evidenced by the "Travelin' Light" CDs he made as a leader. He also played bass and was an early doubler of euphonium and bass trombone. He played everything from record dates with Pink Floyd to a stage appearance as a soloist with Barbara Cook, yet other ways I would "be like Sam."
It's amazing to me that Sam is so recognized as a virtuoso, when I'm not aware of him giving many recitals, nor making a solo tuba record. He had a beautiful ability to be a star, while being a supporting player.
Like so many of his students and peers, I think the greatest thing I got from him was the idea that I could do anything I wanted with the tuba. If we put in the work and believed in it hard enough, we could do anything we wanted with our lives as musicians. He was the Heifetz of convincing others. Friends used to joke that he could sell you your own shoes.
I realize in many ways that I was always chasing Sam. Chasing the excellent standard he set, chasing his irrepressible energy and infectious enthusiasm. I've chased the idea that you make every group and person you play with sound better because that's your job.
Over the years we kept in touch pretty intermittently. I mostly left him messages about amazing recordings I'd heard or great tuba players I wondered if he knew about. He rarely called back, but every once in a while, out of the blue, he'd call to tell me he had heard some records I played on and that he was turning his students on to them. That made me happy. The weird thing about Sam's passing is that he had so much vitality. You always thought he'd be around, and if you ever got him on the phone, he'd tell you exactly what you wanted to hear. I'm going to miss sending him a message and knowing that he won't call me back, but knowing that he got it.
— Marcus Rojas
---
WE ALSO REMEMBER
Carol H. Blinkoff, piano
Anthony Criscitiello, drums
Henry Iacometta, trumpet
Sunny Raye, piano
To report the death of a member, call (212) 245-4802, ext. 128. Survivors should ask about the Local 802 death benefit or a refund of Local 802 dues (not everyone is eligible). Survivors should also get in touch with the AFM Pension Plan at www.afm-epf.org to inquire about any possible benefits. E-mail obituaries and reminiscences to Allegro@Local802afm.org or call (646) 765-9663.