Play Ball!
Local 802 softball team makes it to the playoffs
Volume 111, No. 9
September, 2011
All Photos: Walter Karling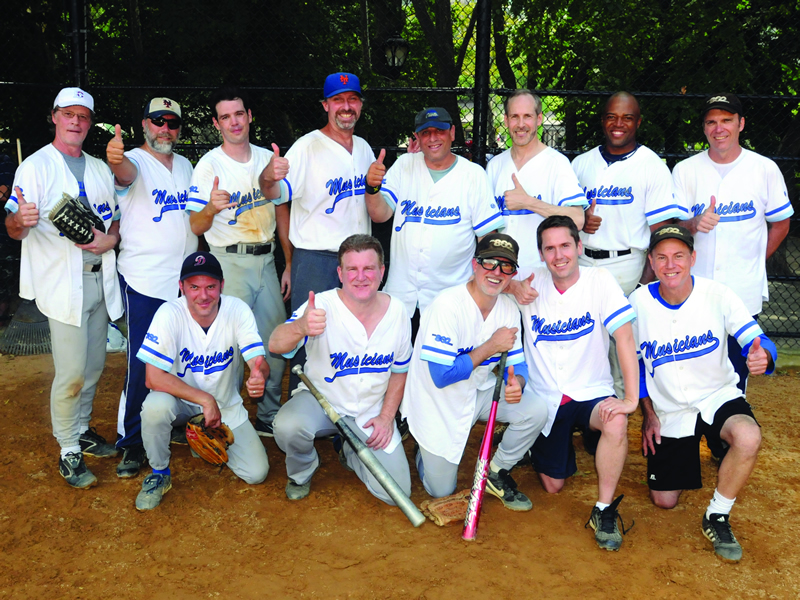 This year, Local 802 sponsored two teams. Pictured is the union's morning team. Back row, from left: Jim Robinson, Rod Kinter, Seneca Black, Todd Montgomery, Marc Rosenthal, Dave Olsen, Shawn Andrew and Joe Barati. Front row: Jeff Nelson, Clint Sharman, Greg Toroian, Jason Covey and Jack Mead. Not pictured are Wayne DuMaine, Rich Ford, Steve Ouellete and Marie Stack.
Batter up! As Allegro went to press, the Local 802 Musicians A.M. softball team had won its first playoff game in several years, a 3-to-1 victory over RJK Productions, last year's championship runner-up.
Local 802 competes in the Performing Arts Softball League, which is a 12-team league comprised exclusively of entertainment professionals in New York City. We play against members from other unions like AFTRA as well as entertainers associated with the Gotham Comedy Club and the Nokia Theater.
Interest in our team has been so high that this year a second Local 802 team was formed to play in the league's afternoon division. The Local 802 officers and Executive Board were fully in favor of the additional exposure for the union in Central Park and graciously gave their support.
Sammy Oatts was instrumental in organizing the new afternoon team and took on the role of manager. Members of the new team include Pat Milando, Mitch Frohman, Matt Mead, Antoine Silverman, Louis Crocco, and Kevin Batchelor, to name just a few.
Now that we have a morning and afternoon team, we're out there all day, adding to the rich, diverse fabric of New York City society and provide great exposure for Local 802. Each week we are approached by curious people in the park and asked about our team and our union. They come to see our union as real people, not as just an organization. Jay Blumenthal, our outgoing financial vice president came to a recent game and left very impressed. He said that sponsoring our softball teams is "money well spent," on a public relations level alone. He also told me, "Let the team know how proud we are of all of you."
As Allegro goes to press, the results of the playoffs should be in. Did we go the distance? See www.802softball.com for the final results. And e-mail me at Clint@TromboneMan.com if you want more information on trying out for the team next year or where to watch us. It's a great way to spend your summer days!
Clint Sharman is a member of the Local 802 Executive Board and manager of the Local 802 Musicians A.M. Softball Team.
This story originally appeared in the September 2011 issue of Allegro, the magazine of the New York City musicians' union (AFM Local 802). For reprint requests, send an e-mail to editor Mikael Elsila at Allegro@Local802afm.org.
| | | |
| --- | --- | --- |
| Patrick Dabdoub of the afternoon team delivers a fastball. | Mighty Dave "Boomer" Olsen at the bat. | Outfielder Shawn Andrew shags a flyball. |