Play Ball!
Spreading good will through softball
Volume CX, No. 9
September, 2010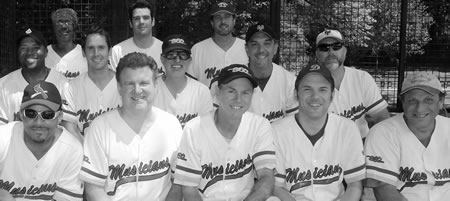 Hometown heroes: the Local 802 softball team. Front row, from left: Wayne DuMaine (assistant manager), Clint Sharman (manager), Jack Mead, Jeff Nelson and Marc Rosenthal. Middle row: Shawn Andrew, Jason Covey, Gregory Toroian, Al Espinosa and Rod Kinter. Back row: Kevin Batchelor, Seneca Black and Artie Dibble. Not pictured: Joe Barati, Jonathan Dinklage, Rich Ford, Tatum Greenblatt, Ryan Hayden, Joe Hundertmark, Todd Montgomery, Dave Olson, Sam Oatts, Steve Ouellette, Jim Robinson and Antoine Silverman. See below article for more photos by Walter Karling.
Batter up! There are many members who don't realize that Local 802 has supported a team in the Performing Arts Softball League for decades.
The 12-team league is comprised exclusively of entertainment professionals in New York City.
We play against members from other unions like AFTRA as well as entertainers associated with the Gotham Comedy Club and the Nokia Theater.
While it's a competitive league and everyone plays to win, we have an enormous amount of fun, too.
Others come to see our union as real people, not just an organization. Our team goes a long way in spreading the good will and fellowship of Local 802 with our industry peers as well as the public.
I think of those who read about Local 802 in the New York Times when there is an impending strike or work stoppage and wonder, "What is Local 802?" Our softball team puts a face, a name and a person, with the moniker.
Consider the countless tourists and visitors who see "Local 802 AFM" and "Musicians" on our softball jerseys and ask us for directions or where the restaurants are and are greeted and helped graciously with respect by a member of our softball team.
I'm happy and proud to report that in our league, the Local 802 team is one of the most respected and well-liked teams among other team players, the umpires, and the administration. I've been told that by those very people. It doesn't help us win games, but it goes a long way in spreading the good will and fellowship of Local 802 with our industry peers.
The new Local 802 administration is making huge strides in the public relations arena and our softball team is just one part of that initiative.
We carry a roster of 25 players. Let me tell you a little bit about some of them.
Trumpet player Wayne DuMaine, our team's assistant manager, has been playing the Broadway hit "South Pacific."
Jason Covey, also a trumpet player, is a fixture at "Mary Poppins."
Fellow trumpet player Sammy Oatts has played on the team for two years now, and many of you are familiar with his father, jazz saxophone soloist and educator Dick Oatts.
Another trumpet player on the Local 802 team is Seneca Black, who played for seven years with the Lincoln Center Jazz Orchestra.
Dave Olson, Kevin Batchelor, and Tatum Greenblatt round out our team's trumpet section.
Other Local 802 members include Jeff Nelson (bass trombonist and contractor at "Come Fly Away"), and another bass trombonist, Joe Barati, plays in Harry Connick's big band.
One of our team's newest members is violinist Artie Dibble, whose past athleticism has included organizing and managing an ice hockey team in his days as a student at Juilliard.
The team also has several players from other areas of the performing arts.
Our shortstop Steve Ouellette spends his working hours as house manager for the Neil Simon Theater.
Then there's Todd Montgomery, working as a guardian (a so-called "kid wrangler") for "Billy Elliot" at the Imperial Theatre, where, as he says, "I learned poker and how to curse from the pit musicians while Mom worked with them in "Pippin." (Todd's mother is pianist Sande Campbell, who has been a member of Local 802 since 1961.)
Another of our team's rookies is guitarist Joe Hundertmark, who also works as the sound engineer at Fat Cat Jazz Club.
As for me, I have been a member of the team for over 20 years. For the past seven years I have accepted the responsibility as manager, following in the footsteps of former managers Chris Hajian, Dave Glenn, Glenn Drewes and Larry Farrell. In the past we've been close to winning a championship but never quite got there. This year, we clinched a spot in the playoffs and I feel we have an excellent chance to win it all. We have the pitching, defense and resolve to get the job done.
As Allegro goes to press, the results should be in. Did we win it? See www.802softball.com. And e-mail me at Clint@TromboneMan.com if you want more information on trying out for the team next year or where to watch us. It's a great way to spend your summer days!
Clint Sharman is a member of the Local 802 Executive Board and current manager of the Local 802 Musicians Softball Team.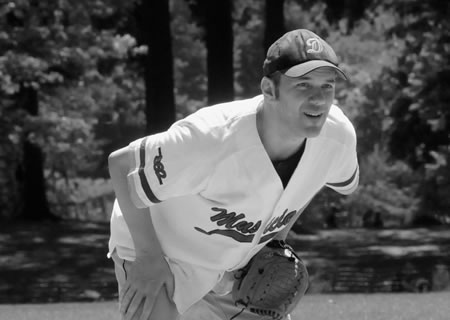 Jeff Nelson at the hot corner.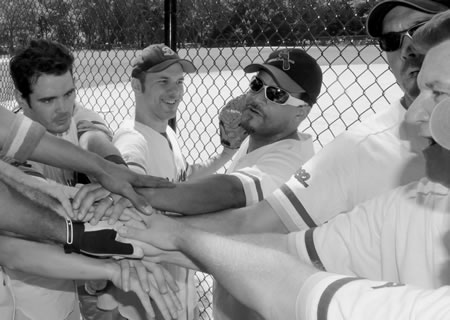 Seneca Black, Jeff Nelson, Wayne DuMaine, Rod Kinter, Clint Sharman and team.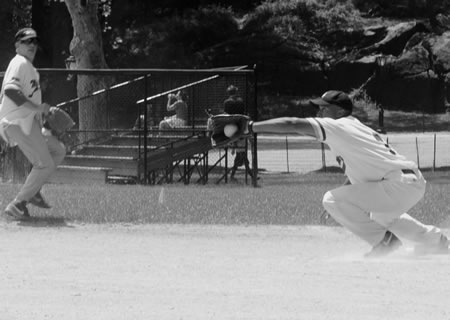 Shawn Andrew takes a throw at first base as Gregory Toroian looks on.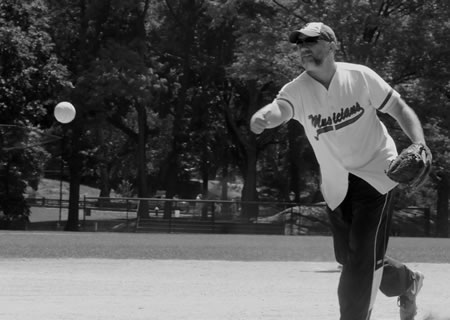 Rod Kinter delivers a fastball.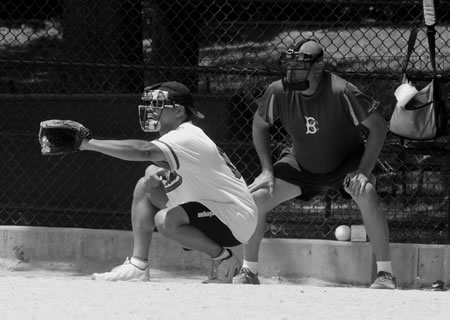 Catcher Wayne DuMaine and umpire wait on the pitch.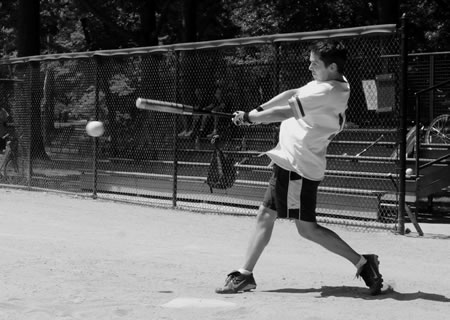 Another base hit for Jason Covey.