Playing It On the Fly
A conversation with Charles Tolliver
Volume CX, No. 11
November, 2010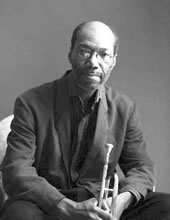 Photo: John Abbott
Charles Tolliver is one of the seminal hard bop trumpeters of that music's golden age, the 1960's and 1970's. He's also a prolific composer and arranger, and has been teaching at the New School for over 15 years. In this candid conversation with Jazz Rep Todd Weeks, Tolliver talks about his early days in New York, and various moments of inspiration that led to his career in jazz.
Todd Bryant Weeks: Let's talk about the Town Hall tribute to Thelonious Monk where you performed recently. How did that come about?
Charles Tolliver: I had just received the Grammy nomination for my big band CD "With Love." A gentleman from Duke University contacted me and wanted to do this Thelonious Monk night, in honor of Monk's concert at Town Hall 50 years ago. The original scores had been lost in a flood. My name came up. There are a lot of people who can transcribe, but they heard that I had transcribed John Coltrane's "Africa Brass" exactly as it was recorded, for another project.
TBW: Was that the African American Legacy Project?
Tolliver: Yeah. With Reggie Workman. So the Town Hall thing ended up being a big deal. We went in there and took the exact same formation, the tentet, and played on the same stage. Fifty years later. We pulled it off.
TBW: Were you born in New York?
Tolliver: No. I was born in Jacksonville, Florida, in 1942. I'm a product of a family that had a lot of the original jazz recordings, those big 78's, and a Victrola.
TBW: Were your parents musicians?
Tolliver: No, but my grandmother actually did play a C-melody saxophone. She's responsible for me and music. At 8 years old, I said I wanted a trumpet. I'd seen one in a store window. And my grandmother saved her pennies and bought it for me. So, that was my first instrument. Prior to that, I can remember back to when I was 5 years old, and sitting down at the Victrola and putting on these Jazz at the Philharmonic recordings. By the age of 8 or so, I could scan all of those things. I just translated that to the instrument, what I heard on those records.
TBW: So you moved to New York in what year?
Tolliver: In 1952. Harlem at that time was still Harlem. All the remnants of the post-Renaissance period, all the original housing. Places associated with Langston Hughes, even the rooms that Charlie Parker played, they were still there, intact. The Savoy Ballroom. Incredible.
TBW: Those 78's you listened to as a kid, do you remember anything specific about them?
Tolliver: Well, the ones I keyed in on were the small group performances with Dizzy Gillespie, Charlie Parker, and Charlie Shavers. At the time Shavers was the one who struck me.
TBW: Why?
Tolliver: Just the way he improvised. I can't even put it into words.
TBW: How did you learn to play bebop?
Tolliver: By listening to the records over and over.
TBW: So, by ear?
Tolliver: By ear, but also by eye. By going to the jam sessions. We got to play with all the innovators who were still alive at that time.
TBW: And you're talking about uptown?
Tolliver: I'm talking primarily about Count Basie's, which was a famous bar on 7th Avenue and 132nd Street.
TBW: You were still a teenager.
Tolliver: Oh yeah, I started going to those places around the age of 12.
TBW: How did you get in?
Tolliver: Simply by putting on an overcoat and a hat and looking, you know, older.
TBW: What about formal musical training?
Tolliver: I took some reading lessons on a Saturday. 50 cents a pop. At the same time I was turning my ears to hundreds of jazz records.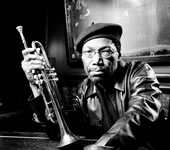 Photo: Jimmy Katz
TBW: Sounds like you knew even then that's what you wanted to do.
Tolliver: Yes and no. I also wanted to become a pharmacist because I liked chemistry. That was my goal, really. But then, when I got to Howard University in D.C., music was all around me. I couldn't get away from it. In my freshman class, there was a fellow named Andrew White. He was later to become famous as the transcriber of all the John Coltrane solos.
TBW: Was he a saxophonist?
Tolliver: Yes. He also later became one of the world's greatest oboists. At Howard, there was very little time that I sunk my whole heart into my pharmacy studies. Because they had just opened a new fine arts building. And I often found myself down there, in one of the practice rooms. And there I met another freshman who was the first wife of John Hicks, and her name was Olympia.
TBW: John Hicks, the famous hard-bop pianist?
Tolliver: Right. There she was practicing piano. And I said "Wow! What are those chords you're playing?" Well, I was to find out later she was married to John. I said "How do you do this?" She said "Those are minor ninths."
TBW: When did you return to New York?
Tolliver: Back up a bit. In my third year of school, I was practicing a lot, and I finally began to understand how the theory works – the scale-chord relationship – and how to rhythmically play it on the fly. But I wasn't able to put that together until the last few months in 1963 when I was at Howard. And I said to myself, "I see it. There it is."
TBW: How did you go from being an unknown guy in a practice room at Howard to suddenly recording with people like Jackie McLean and Max Roach?
Tolliver: My family – everybody, grandparents, all of us, had moved to Brooklyn. And in 1963, there was a place in Bedford-Stuyvesant called the Blue Coronet, which was a well-known local jazz club. And one night, a guy named Jim Harrison came in, and he said to me, "Hey, you know what? I'm running the Jackie McLean fan club, and he might need a trumpet player." Now at that time, Jackie McLean was at Metropolitan Hospital drying out; there were times when he needed to do that. So, I went there and Jackie McLean appeared in a housecoat and slippers and he looked at me, and I said "Jim Harrison sent me, I play trumpet." And he said, "Well, maybe. We'll see." And I waited until he came out. I went to see him, and I said, "Remember me? I came to the hospital." And he said "I'm going to be doing a record." He had not heard me play yet. He was going on Harrison's word, and he asked, "Do you have any tunes?" He was already moving away from straight bebop. I wrote something which I thought would fit that sound, and Jackie liked what I wrote. So basically, an unproven young trumpeter, at age 21, was brought in to play his first record date with Jackie McLean. [The record is "It's Time," Blue Note (1964).]
TBW: Were you nervous?
Tolliver: My knees were shaking the whole time.
TBW: Didn't you work with Gerald Wilson's big band in LA at some point?
Tolliver: I went to California with a percussionist named Willie Bobo, and then I decided to stay on the coast.
TBW: Did you know you had the job with Wilson before you quit Willie Bobo's band?
Tolliver: Nope. But I wanted to stay because there was a lot of activity in L.A. The great pianist and composer Andrew Hill was there. I had played with Andrew. So I got the job with Gerald, and that was just a great year, 1966, playing with him.
TBW: Where were you living in L.A.?
Tolliver: Near Venice and Hauser Boulevards on a place called Pickford Street. One day I got a call from Max Roach, and he said, "You've been pestering me, so get back here." I had been calling him. This was in 1967. And that's when I met Stanley Cowell, and Max started a band with me and Stanley and the great Jymie Merritt on bass, and Odean Pope on tenor saxophone. And Abbey Lincoln. Because Max was also thinking, "I want to go modern," and Odean Pope was a free player. Max and Abbey Lincoln were married at that time. I was in that band for two years.
TBW: It's been said that you've been influenced by John Coltrane in your playing. Is that safe to say?
Tolliver: In 1965, before going to California, I was living in a loft on Allen Street. And we all knew Naima, John's wife. And she brought John Coltrane by my loft, so I got a chance to meet him. I had already been watching him play all that great stuff with Elvin Jones, McCoy Tyner and Jimmy Garrison at the clubs, like we all were.
TBW: Did you find that you were able to break new ground musically in that quartet setting, ala Coltrane? Was it helpful to you?
Tolliver: It was, but so was working Stanley Cowell, my playing partner. We influenced each other. Sometimes I used John Hicks, and of course Cecil McBee. You have to remember what we were doing at that time was still considered very radical. It's a different world today. When I came to New York, a good portion of the stars of the 1930's and 1940's were still alive. All the greats. Jimmy Rushing, Pee Wee Russell, you name it.
TBW: Of course Coleman Hawkins was still active through the 1960's.
Tolliver: I saw him many times.
TBW: What about Don Byas?
Tolliver: He was one of the greatest saxophonists I've ever heard.
TBW: Charles Mingus?
Tolliver: I never wanted to work with him because he was disrespectful to his musicians on stage. But he was a great artist.
TBW: Booker Little?
Tolliver: I remember when Freddie Hubbard and I went and saw Booker at Small's Paradise in 1959. He died a little over a year later – he was only 23. Booker Little was one of the greatest improvisers, and brass players, in the history of the music. Really in the world.
TBW: Thad Jones?
Tolliver: Oh yeah. He's the end all and be all. The last word, for big band writing. People forget. He ranks up there with the greats. Thad Jones, man. The last word.
TBW: There are a lot of these cross genre groups that are appearing now. There's this Winter Jazz Festival in New York every year, and there's a lot of people who are mixing styles. Things are still happening, despite what the critics say. Do you think that's possible in this day and age to find ways to bring musicians together around issues and get them to form some kind of collective?
Tolliver: In order to make that happen, you need the major players to lend their names to it, to help the little guys. The people who do need it—they need the people who don't need it to be there.