Postcards from Broadway Boot Camp
Volume 111, No. 10
October, 2011
How do we build an appetite for live musical theatre? That's easy: teach the children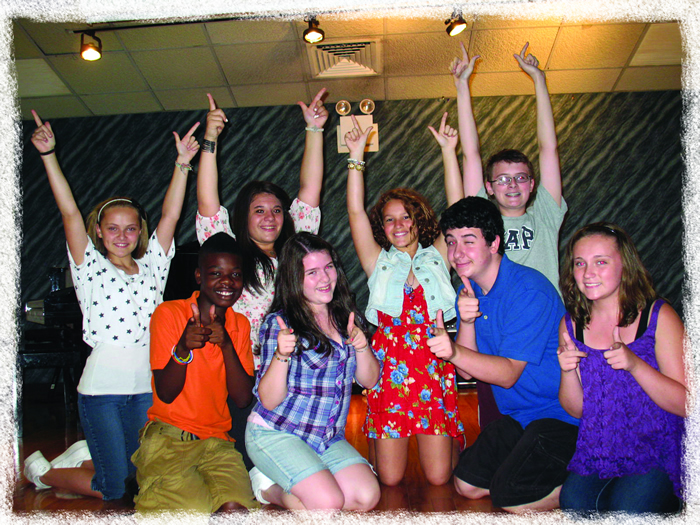 WHO'S WHO

: Young actors get a taste of live musical theatre at Broadway Boot Camp. From left, front row: Tyrig Nelson, Melissa Fishman, Nicholas Manna, Danielle Drugan. Back row: Annie Moran, Deanna Sorge, Leigh Dillon and Bailey Wilkinson.
The good old summertime: economies sinking, governments defaulting, prices rising, job markets shrinking, orchestras struggling, sweltering heat – and this year, an earthquake and a hurricane! Perhaps it was a summer many of us would prefer to forget.
But for eight lucky kids, it was a summer they will always remember. They got to spend one glorious week in August at Broadway Boot Camp, hosted this year by Local 802.
The camp is a yearly summer program presented by Inside Broadway, the professional New York City-based children's theatre company.
For five wonderful days, these children got to experience, first-hand, what it takes to put together a Broadway-style showcase.
Under the creative tutelage of program director Katie McAllister and teaching artist Abigail Jones, the kids – ranging in age from 10 to 15 – each learned a new Broadway song that challenged their vocal abilities, a monologue that taught them the subtleties of comedy, and a rather complicated group dance number they had to learn in just two hours. It was an intensive marathon of song, dance and drama.
Local 802 was proud and pleased to host the program. Michael Presser, executive director of Inside Broadway, had approached the union to see if we might donate our facilities three hours each day, culminating in a final show in the Club Room for a small audience of friends and family.
The officers and Executive Board members gave a unanimous thumbs-up to the request, which provided the kids a unique opportunity to rehearse and perform in the heart of the Theatre District.
Acting as liaison between 802 and the Inside Broadway team, I sat in on their last day of rehearsal in Room B. As I spoke to the group, I found myself talking about 802 and the challenges facing musicians on Broadway and how it's all about "keeping it live." The kids told me how thrilled they were to be at 802 where they had the chance to sneak into the Club Room each day to hear different bands rehearsing and watch professional musicians in action. Their response was a resounding: "It was awesome!"
The campers' final performance was attended by President Tino Gagliardi and Recording Vice President John O'Connor. Tino gave some fantastic opening remarks. The show was great and the kids had a blast.
Of equal significance was the fact that 35 proud friends and family members enjoyed the fruits of their labors while they sat in the union's Club Room for the first time. They heard our president speak about live performance and the importance of the union to music and musicians. They witnessed their children's accomplishments and were deeply appreciative that 802 gave these kids the opportunity to be part of a professional musical organization.
As chair of the union's Education Subcommittee, it was particularly rewarding for me to see Local 802 host Broadway Boot Camp. Six of the eight participating children play an instrument and are part of a school band or orchestra. These are our future members, and now they can say that they've performed live theatre with a live pianist in the Local 802 building, the home of live music.
Hopefully, we can host next year's camp and continue to educate children and their families about the importance of live music, while helping the folks at Inside Broadway teach and nurture the talents of these kids.
More importantly, it is my hope that we will continue to pass down the great tradition of musical theater and enable children to have fun and bask in the pure joy of live performance.
Now, I'd say that was a great summer!
Bettina Covo is a member of the Local 802 Executive Board and the chair of the union's Education Subcommittee.
'I know it has made a difference'
Live music was an essential ingredient of Broadway Boot Camp. Local 802 member B.J. Gandolfo (above), volunteered her time to play piano for the kids. She rehearsed and coached them in their songs and then accompanied them in the Friday showcase. She told Allegro why she said yes to this job.
When program director Katie McAllister asked me to come in and accompany their boot camp, working with her and Abigail Jones, I was very happy to do it.
As teaching artists, Katie and Abby not only know how to teach these kids all the aspects of being singing-and-dancing performers but they also make it fun and exciting.
This year, the students had some challenging songs to prepare. Some had key changes, tempo changes, or stretched their vocal ranges, but all the students worked hard on their music. With only a week to learn their songs, monologues and choreography, they did really well when it came time to perform them.
All of this was able to happen because Local 802 donated the space – for an entire week – in which the kids rehearsed and performed.
I am grateful to 802 for making that possible. I know it has made a difference to these young performers who will one day be facing the fights we face now. They will always value the summer when they performed with a live piano on the stage at Local 802.
–B.J. Gandolfo
This story originally appeared in the October 2011 issue of Allegro, the magazine of the New York City musicians' union (AFM Local 802). For reprint requests, send an e-mail to editor Mikael Elsila at Allegro@Local802afm.org.