'Power Balladz' Signs 802 Contract
Theatre Roundup
Volume CX, No. 9
September, 2010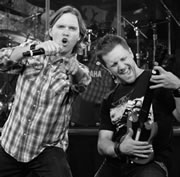 A scene from "Power Balladz"
Local 802 recently negotiated several theatre contracts. Davenport Theatre signed the Commercial Off Broadway Area Standards with a side letter for "Power Balladz." The show is a 90-minute musical that pays homage to music from the 1970's to 1990's and is making its Off Broadway debut at Midtown Theatre with five musicians. The show opened on Aug. 19.
The production of "Last Dance" was negotiated as a developmental audition production. Scale pays $515 for a 29-hour, six-day week. The music director earns a 50 percent premium. The premium for the first double is 12.5 percent and additional doubles pay 6.25 percent. Pension is 8 percent, and health pays $90 per musician per week.
Producers of the show "Freckleface Strawberry" signed the Commercial Off Broadway Area Standards with a side letter. It's the first children's musical to sign on to the Off Broadway Agreement. The 70-minute show will make its debut at New World Stages with two musicians. Performances start on Sept. 9 and the show officially opens on Oct. 3.
Local 802 and the Vineyard Theatre and Workshop Company negotiated a three-year contract that will pay musicians wage increases of 2 percent in the first year, 2 percent in the second year and 3 percent in the third year, with additional increases for health benefits.
"Bloody, Bloody Andrew Jackson" is moving to Broadway, making this show third Off Broadway production to move to Broadway this year.
On the flip side, "Tony 'N Tina's Wedding" closed for the summer.