Preparing for the Worst
The new threat of terrorism affects theatre musicians
Volume CX, No. 7/8
July, 2010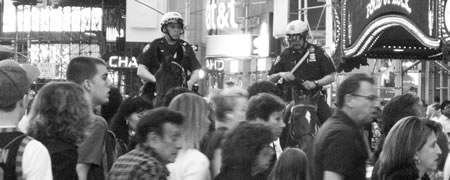 Evacuate! The attempted car bombing of Times Square on May 1 affected theatre audiences – and musicians.
Photo by "Rockinfree" via Flickr.com
Terrorism affects everyone – including theatre musicians. Thanks to the attempted car bombing in Times Square on May 1, what started as a routine mission for the Theatre Department turned into something of a bigger scope.
Just prior to the bombing attempt, we were in the middle of visiting each theatre to assess the setup of emergency exits and lighting. Nothing special: just standard stuff.
Then, after May 1, our concerns took a more serious turn.
No longer was it just about checking proper exits and lighting. It was about what to do in the event of a terrorist threat.
In late May, we met with the League and with reps from the Shubert, Nederlander and Jujamcyn theatres.
We wanted to re-establish a standing committee for health and safety as per the Broadway Agreement and discuss emergency preparedness at the theatres – including evacuation procedures.
All three theatre owners informed us that they meet at least once a year with cast, crew and musicians to go over evacuation procedures.
The head of security at Nederlander also told us that he would be willing to meet with musicians separately to give them special instructions in evacuating the pit.
At our meeting, League members pointed out that in the case of the attempted car bombing, it was the police and fire fighters who were in charge of blocking off the streets and deciding what buildings should be evacuated or not.
We were informed that few musicians attend the regularly scheduled health and safety meetings which are usually held 15 to 20 minutes prior to half hour. The musicians are notified of the meetings through the in-house contractor.
We pledged to be more diligent in getting musicians to these meetings. In the meantime, we are still continuing to visit each theatre to investigate health and safety procedures.