THE YEAR IN REVIEW
President's report
Volume 120, No. 1
January, 2020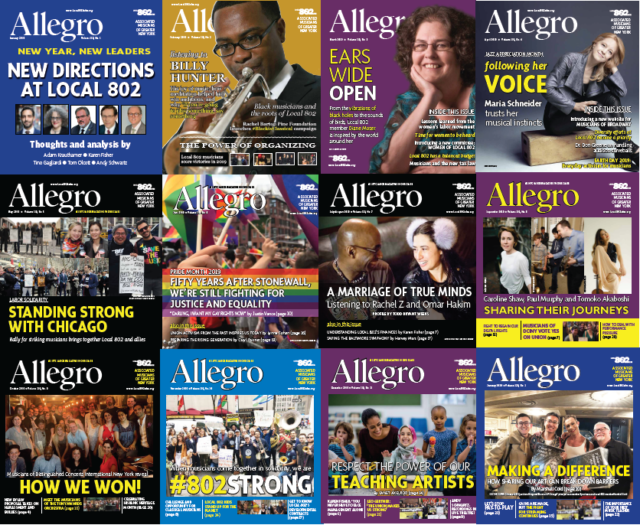 The outcome of last year's 802 election was virtually an entirely newly elected leadership at Local 802. Our administration was given a mandate to start changing the way our union works. It was a priority to hit the ground running in January of 2019 to start professionalizing, streamlining, and modernizing our union. One aspect of our platform was transparency and communication with membership, which included the commitment to publishing this year-in-review report.
I am extremely proud of the work we have done as a union in 2019. Many of our important accomplishments are covered in this year-in-review report. It is important to note that many of these accomplishments were only made possible through important contributions from engaged 802 members throughout 2019. Those contributions were supported by a staff at Local 802 who cares deeply about the musicians they serve and who have also embraced the need for progressive change in order to build a stronger union for years to come.
That being said, there have been disappointments and setbacks in this first year. Some specific concerns are as follows: recording work in New York continues to drop; the 802 Health Fund ran a significant deficit; both 802 resolutions were unsuccessful at the AFM convention; certain groups employing 802 members continue to act as subcontractors, which undercuts our standards and hurts fellow 802 members; and we have been unsuccessful in moving the AFM-EPF trustees to reform their governance.
The hard truth is that as a union we haven't adapted to the changes in our industry for many decades. In order to create the transformational change our members deserve and our union needs, it will take years. As president, I dedicate myself to ensuring that this transformational change continues to move forward and to not allow the problems of the day to overshadow our long-term priorities as a union. My only ask is for your help. In order to achieve our goal of transformational change at 802, as a community of union musicians we must all continue to stay engaged and work together for years to come.
New Organizing Victories
Argyle Theatre — In January 2019, musicians received voluntary recognition at the Argyle Theatre in Babylon, Long Island after months-long discussions with management. Negotiations for a first contract began this fall and will continue into the new year.
Distinguished Concerts International New York (DCINY) — Musicians had one-on-one conversations throughout early 2019 about unionizing their work at DCINY, reaching a strong majority by July 1, when they filed a petition with the National Labor Relations Board to hold a union election. This has been an elusive organizing target for 802 for the past decade, and we could not be prouder of the courageous DCINY musicians who deserve all the credit for this effort. After launching a social media campaign with participation and support from musicians across the 802 community, DCINY musicians won union representation by an 89 percent Union Yes vote on August 16. They then elected a representative negotiating committee and sent out a bargaining survey. The DCINY Negotiating Committee has now begun negotiations with management for a first contract, which will continue into the new year.
Negotiations
Broadway — We negotiated a landmark Broadway contract which included the largest economic gains 802 has seen in decades. We secured a 23 percent increase in health contributions, a 3.5 percent wage increase for each year of the contract, and a new 401(k) retirement plan option. The bargaining unit overwhelmingly ratified this new agreement.
Radio City Music Hall — Musicians playing at Radio City ratified a contract with 2.5 percent wage increases for each of the three years of the contract term. Additionally, split-chairs will receive a 23 percent increase in health contributions over the course of the contract. Finally, all Radio City musicians will have the option to participate in the new 401(k) plan.
Orchestra of St. Luke's — During negotiations we solidified 3 percent wage increases for each year of the contract. Health benefits contributions will increase by 13.5 percent for performances and 26.5 percent for rehearsals over the contract term.
New York Pops — We were able to negotiate a 5-year contract securing 3 percent increases in wages and cartage for each year of the contract. Health benefits will increase 5.6 percent for performances and 15.8 percent for rehearsals over the term of the contract. The weekly cap will be raised 12.2 percent over the entire term of the contract.
Not-for-profit Off Broadway — We started negotiations with not-for-profit Off Broadway theatres to combine several collective bargaining agreements into one. It's an ambitious project and negotiations are ongoing.
Other Agreements — In addition to these larger agreements, we negotiated successor agreements for the American Classical Orchestra, Bronx Arts Ensemble, Children's Orchestra Society, Hora Decima Brass Ensemble, the Kaufman Music Center faculty, New York Gilbert and Sullivan Players, New York Scandia Symphony, NYC Gay Men's Chorus, Queens Symphony Orchestra, Riverside Symphony and 92nd Street Y-Jazz in July, as well as an initial agreement for the Kaufman Music Center accompanists. We also negotiated a settlement that paid musicians overtime from a 2016 engagement at the United Nations.
Health Plan
Shortly after taking office, we learned that the 802 Health Plan lost $2.7 million in the last fiscal year. The Health Plan actuaries were predicting that the Health Plan would run out of money by December 2021. We immediately responded by proposing changes to the benefit structure, focusing on encouraging members to use in-network benefits as opposed to out-of-network providers.
We stood strong to negotiate major increases in healthcare contributions from Broadway: 23 percent over the next three years. Absent this 23 percent increase, the Health Plan would have had to drastically cut benefits and restrict access to members. We have also significantly increased employer contributions at: Radio City Music Hall (23 percent), NY POPS (5.56 percent for performances and 15.82 percent for rehearsals), and St. Luke's (13.53 percent for performances and 26.50 percent for rehearsals). Across the board, we've sent a loud and clear message to management: heath care is a human right that employers have a responsibility to provide to the musicians they employ.
Pension and Retirement
In 2019, the AFM-EPF initiated the process to cut our pensions. This month, the AFM-EPF has filed with the U.S. Treasury and members can expect to receive letters next month detailing benefit cuts. Our administration is committed to ensuring this process is accountable and transparent at every turn.
We asked the AFM-EPF trustees to appear before our local to answer members' questions. Although the trustees refused our invitation, we held a special pension meeting in September, where renowned pension expert Norman Stein gave a presentation on the multiemployer pension crisis and took members' questions. We plan to continue to educate Local 802 members on what is going on with their pension plan.
Additionally, this year we set a precedent by negotiating a new 401(k) option in our major new contracts, including Broadway and Radio City. This option will remain a priority as we negotiate successor agreements at other major workplaces in 2020. In the months since the 401(k) plan was ratified in these new contracts, we have been working with employers to negotiate instituting and administering the plan. Our goal is to launch the 401(k) plan in summer 2020. This option will enable musicians to plan for the future without being entirely dependent on the AFM-EPF for their retirement security.
2019 AFM Convention
The AFM convention took place from June 19 through June 21, 2019 in Las Vegas. Local 802 was represented by Janet Axelrod, Pete Donovan, Bill Hayes, Javier Gándara, and Caryl Paisner, in addition to myself. This convention takes place every three years and is attended by delegates from every local in the country and Canada. As the largest local in the AFM, we at 802 brought several matters to the convention floor.
The first issue was related to our ailing pension plan. We brought to the convention floor a proposed bylaw amendment that would have required President Hair to appoint to the AFM-EPF board two experts: one expert in actuarial science and the other expert in investments. Unfortunately, our proposed resolution was voted down by the convention delegates.
The second issue related to the burdensomeness of collecting recording work dues and royalties. The AFM requires locals like New York, Los Angeles, and other places where recording takes place, to bear all the costs of collecting work dues on recording activity within their jurisdiction. While the locals do all the collecting, much of what they collect gets kicked up to the AFM. Because of declining recording revenue, Local 802 is losing money collecting for the AFM. We therefore brought a resolution to the floor whereby the AFM would bear the cost of collecting the royalties and fees that are kicked up to them. Unfortunately, our proposed resolution was voted down by the convention delegates.
802 Finances
Keeping our operating budget in balance was a top priority for this fiscal year. 802 has operated at a deficit for the last four years and we viewed 2019 as an important year to get back on track. If 802's books are not balanced, it compromises our ability to do anything else. When we came into office, we created a balanced budget and are taking steps to stick to that budget as much as possible. It's too early to know the final results for this year but one concern we have tracked is a continuing downward trend in recording work dues this year. This tracks with the downward trends in the recording industry and the unfortunate fact that recording musicians still after many years do not receive streaming residuals despite the other above-the-line guilds achieving this two contract cycles ago. In general we have committed to really reducing expenses at 802. One of the biggest expenses in prior years has been the use of outside law firms. In 2018 alone, Local 802 spent over $640,000 on outside firms. This year, we reconsidered all of our legal options and established a relationship with a firm that meets both our financial and organizational needs. As a result, our legal costs will be a fraction of what they were in previous years.
Improvements to the Building/Internal Restructuring
While we are mindful of our budgetary constraints, we made some small, but noticeable improvements to the building. We've given some attention to the Club Room by ordering new chairs and tables, and the Executive Board generously volunteered their time to give the Club Room walls a much-needed fresh coat of paint and curate new photos of members hung throughout the room. At the request of the 802 Green Committee, we installed new filtered water dispensers throughout the building. We also upgraded our building's security and will continue to phase in security procedures to meet standards in the area.
We value our union staff who work every day on behalf of the members. In order to better support our staff's ability to meet our members' needs, this year we began a process of internal restructuring, which included some reassigned workspaces. Although our Musicians' Health Fund still resides on the third floor, the rest of that floor was cleared out and will be rented out in the new year to generate income for the local. Our second floor still houses the Membership and Electronic Media Departments and all Finance and IT Department staff members now work on the fourth floor. Our business reps, who now belong to the Department of Field Services under the leadership of new Director of Field Services Leo Gertner, can be found on the fifth floor along with the Department of Strategic Campaigns, which includes Organizer Lily Paulina and Communications Associate Maria DiPasquale. For an updated map of where departments are situated in the building, see www.Local802afm.org/about-local-802.
Communications
We integrated strategic communications strategies into our organizing initiatives. The success of the Musicians of Broadway Web site and the social media launch for DCINY demonstrate how effective this approach can be.
We responded to member concerns about the ad-based "802 Notes" by instituting a monthly events email that is ad-free. In addition, we worked to enhance the diversity of the Allegro editorial board, bringing more, and different, voices to the table. We were proud that Allegro won first place for general excellence in the annual journalism contest of the Metro New York Labor Communications Council. Allegro was #1 in its class in NYC.
In April, we implemented a peer-to-peer texting platform to communicate with and mobilize our membership when we have an urgent call to action or important information that needs to be disseminated quickly. We tested it out first for our rally to support the Chicago Symphony musicians, and again to drive turnout to our October membership meeting. Both instances confirmed how effective this platform can be as a mobilization tool.
We also improved resources available to members on the 802 Web site by launching the 802 Resource Center, which guides members to access entrepreneurship opportunities and social services through curated links and information.
Anti-Harassment
We collaborated with the Anti-Harassment Committee to roll out the first-ever harassment hotline for 802 members to report instances of bullying, discrimination, and harassment — anonymously or not. The Workplace Harassment Initiative committee worked to draft new bylaw language to replace outdated language that did not go far enough to address member-on-member harassment. The amendment was presented and discussed at the October membership meeting and passed with unanimous approval.
Building Relationships
We developed excellent working relationships with other entertainment unions including IATSE Local One, Actors' Equity, SAG-AFTRA, IATSE Local 764, and AGMA. We are also building strong relationships with key policymakers in City, State, and Federal government.
Increased Member Engagement in Our Union
None of the victories and achievements of the past year would have been possible without the increased engagement of our members. Musicians reaffirmed what we know to be true: musicians are the union, and our union is made stronger when we are all active participants. Here are just a few examples:
Member-Led DCINY Campaign — An 89 percent "Union Yes" vote at DCINY was achieved through six months of musicians having hard, honest, one-on-one conversations with one another — about what they loved about their job, about what needed to change, and how coming together in union is the best path to making that change.
#BandTogether Campaign — As the AFM negotiated our national film and TV contract with the major studios, a group of New York musicians formed a Contract Action Team, leading the charge in holding well-attended musical rallies to put pressure on the studios to pay scoring musicians the streaming residuals they deserve. Although the tentative agreement reached in November fell short of winning those residuals, the gains we did achieve — wage increases, minimum rates on direct-to-streaming films, and on-screen credits — can be attributed to musicians standing up and taking action to fight for a fair contract. We'd like to recognize every member who participated — the fight for fair pay in streaming continues, so stay engaged!
Indie Musicians Caucus Survey — Our Indie Musicians Caucus designed and administered a member survey over the summer with the goal of finding opportunities for new organizing in the indie sector. Our membership can expect to see those results sometime in the new year. Thanks to everyone who participated!
Next Generation Initiative — We have begun work on a Next Generation Initiative to help rebuild our union's relationship with younger 802 members and reach out to the next generation of New York musicians. We're working to connect with as many college and conservatory musicians as possible to let them know the value of being part of the union. As part of this initiative in 2020 we plan to host the 802 social engagement series for this next generation of current members and non-members. The will cover: union education, union services, community networking and social issues.
High Turnout at Membership Meetings — We met quorum (meaning at least 95 musicians were present) at both the February and October membership meetings, well exceeding average attendance at membership meetings in recent years. Reaching quorum allows us to conduct official union business; with over 100 musicians present at each meeting, this also meant we were able to have important — while at times difficult — conversations about the future of our union.
Anti-Harassment Bylaw Amendment — The new Anti-Harassment bylaw amendment, which passed with unanimous approval at the October membership meeting, was the result of a year-long, member-driven process to draft and present the updated language to the full membership.
On the Horizon in 2020
Launching the 401(k) Plan – In the months since the 401(k) plan was ratified in new contracts on Broadway and at Radio City, we have been working with employers to negotiate instituting and administering the plan. Our goal is to launch the 401(k) plan in summer 2020. This option will enable musicians to plan for the future without being entirely dependent on the AFM-EPF for their retirement security.
Creation of a Stewards Program (to launch on Broadway in 2020) – We are creating a program to ensure that every show has a steward – a union representative on site chosen by musicians on that show to ensure that the contract is being followed and respected. The stewards program will include education on labor law, workers' rights, contract enforcement, and other union issues.
Transitioning the Membership Department to Member Services – The membership department and recording department will soon be consolidated into one "member services department," all located on the second floor of the 802 building. Through staff development and reorganization, we look forward to making this vital department even better at serving the needs of our members.
New Intake System for Member Concerns and Issues – The field services department is spearheading the development of a new intake system to create a single point of entry for members to bring concerns and issues to the union. Currently, many members experience having to contact the union multiple times to connect with the right department. The intake system will help ensure that member concerns are routed efficiently and correctly.
Diversity Study – Our consultant Shea Scruggs had an initial meeting with representatives of several 802 committees this fall. The first phase of our diversity study plan is expected to begin in 2020.
Continued Partnership with the Actors Fund – in spring 2020, as part of our continued partnership with the Actors Fund, we will host an Arts Worker Resource Center event.
Negotiating Agreements – Negotiations for first contracts for the Argyle Theatre and DCINY continue into 2020, as well as negotiations for not-for-profit Off Broadway theaters. Negotiations will begin for successor agreements at the New York Philharmonic, the New York City Ballet Orchestra, American Ballet Theater Orchestra, Little Orchestra Society, Orpheus and Mostly Mozart.