Hope is in the air
President's report
Volume 121, No. 4
April, 2021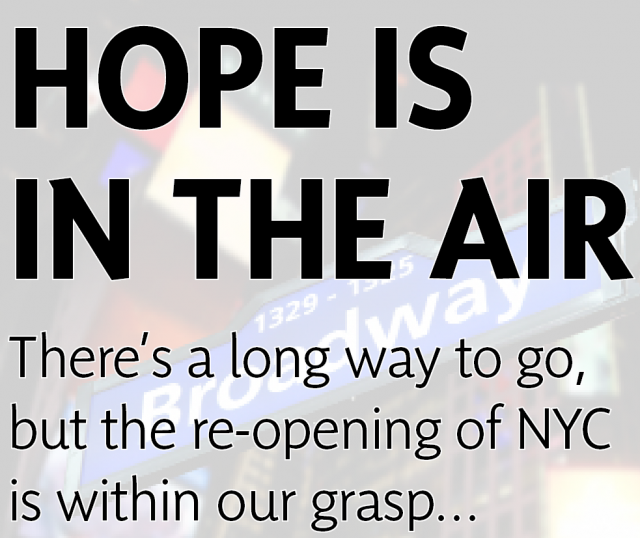 As we start to sense a hopeful future for us and our industry, there are several positive developments I'd like to highlight this month.
First, the news that even more New Yorkers are eligible for vaccines was a great way to kick off the spring season. Check your eligibility at https://covid19vaccine.health.ny.gov.
Secondly, we welcomed the recent announcement by NYC Mayor Bill de Blasio that the city is taking steps to work with our entire community to re-open Broadway this fall with appropriate safety measures, including vaccine sites for theatre workers and testing sites near venues. I recently met with Mayor de Blasio to discuss plans for the reopening of the arts, the state of our industry, vaccinations for arts workers and what kind of help our members and industry needs to ensure that New York City remains the arts capital of the world.
On a national level, the big legislative news was the passage of the American Rescue Plan. After years of hard work, the members and officers of Local 802 — as well as union members around the country — are celebrating health insurance relief and the rescue of our pension. Millions of union members around the country fought for this victory. But let's be clear: without the consistent and effective pressure of Local 802 musicians, our message wouldn't have been heard by our national leaders. We're proud of how loud you raised your voice; it was heard!
As a result of the American Rescue Plan, our pension fund has withdrawn its application for pension cuts. For information on your pension, start at www.afm-epf.org
For health benefits, the American Rescue Plan allows many members of Local 802 to stay on the Local 802 health plan for a certain time period using the provision in health care law called COBRA. We have very limited information on how this COBRA subsidy will work until the appropriate government agencies give us guidance. We plan on holding a Zoom meeting shortly after we do get government guidance to inform our members. Also, any information will be posted at https://www.local802afm.org/healthcare.
The American Rescue Plan also includes expanded unemployment benefits. We suggest that you start at the Department of Labor website, and if you have additional follow-up questions, send an e-mail to membership@local802afm.org.
Lastly, the AFL-CIO has posted "20 Ways the American Rescue Plan Helps Working People." Check it out!
FIRST LOCAL 802 SURVEY OF OUR MEMBERSHIP
All active members of Local 802 should have recently received our first Local 802 membership survey by e-mail on March 24. (If you didn't, please send an e-mail to Mikael Elsila at melsila@local802afm.org). The purpose of this survey is:
To understand how Local 802 members view their relationship with their union, and to learn how the union can better serve its membership
To gain a clearer understanding of the demographic, financial, situational, and professional profile of current Local 802 members
To better understand the effects of the COVID-19 shutdown on Local 802 musicians' careers
Please take time to participate in the survey; it is our version of a census. Now more than ever, data is power — and as a union, we need this data to leverage our power properly.  We also want to use the survey as an organizing tool to make sure our union truly represents the diversity of our members.
NEW YORK STATE BUDGET
As you read these words, the New York State budget is in the process of being finalized. Local 802 put in major time and effort to include some positive funding for musicians, including:
New York State COBRA subsidy to help pay for health insurance on top of the federal COBRA subsidy in the American Rescue Plan
Worker protections in the Broadway tax credit bill to make sure that Broadway producers don't cut hours, pay or benefits if they apply for state tax credits.
Increased funding for the arts
These kinds of successes take slow, painstaking work as we meet with our political allies and push our proposals. It's not flashy work, but it's the kind of work that yields tangible results for our members. It's inevitable some things will work out and others won't, but the important part is that we are really engaged in this area on behalf of our members.
WORKING WITH CHUCK SCHUMER
One reason we've been able to increase our national political leverage this year was our strong relationship with Senator Chuck Schumer. We co-hosted an online meeting with Senator Schumer with IATSE Local One which included the entire NYC entertainment industry. Next up, Senator Schumer is coming to meet with Local 802 members on April 8 to discuss the American Rescue Plan and take questions. (Register for the meeting here.) We appreciate our partnership with Senator Schumer and look forward to working with him on more initiatives with him and his staff. If you want to help out with our political efforts, send an e-mail to Local 802 Communications Director Mikael Elsila at melsila@local802afm.org.
MET OPERA
Met Opera musicians and Local 802 recently released the following statement: 
The musicians of the Metropolitan Opera Orchestra welcome the warm and strong support of Maestro Yannick Nézet-Séguin in his March 18, 2021 letter to the orchestra negotiating committee. We wholeheartedly agree that the board of the Metropolitan Opera must "urgently help to find a solution to compensate our artists appropriately." Failing to do so would result in the loss of many more of our musicians and, by extension, the loss of generations of cultural history that have been passed down by our predecessors in this great orchestra.
Throughout the pandemic, we've put our audiences first by spearheading educational initiatives to underserved populations and by self-producing the MET Orchestra Spotlight Series despite having received no salary for a year. The Met musicians have made a strong public commitment to save the Met and revitalize New York City's cultural landscape by voluntarily offering a temporary salary cut in a generous spirit of collaboration – especially considering we have been the only major orchestra to have been furloughed without any pay for a year.
While making this bold sacrifice, the Met musicians condemn the hard-line tactics of Met Opera General Manager, Peter Gelb, who has hired non-Met musicians and left the Met's own artists unpaid; who has outsourced set construction to non-Met crews – including overseas; and who has publicly said "take it or leave it" time and time again. The Met musicians have been trying to negotiate with Met management for a year even while pay was cut off, so we are relieved to be starting this eight week period of negotiations. Any agreement moving forward must protect the livelihoods of those who bring the Met to life every day. We are hopeful that the Met is finally willing to thoughtfully consider our proposals and look forward to making significant progress in the coming weeks. However, we will not allow Met management to use the pandemic as an opportunity to extort major changes and cuts to our contract.
Over the past 10 years, the Met musicians have agreed to cut their salaries and benefits multiple times in order to save our beloved opera company. Now, as the musicians start to negotiate another contract we implore the Met to listen to Maestro Yannick Nézet-Ségui, who wrote: "Protecting the long-term future of the Met is inextricably linked with retaining these musicians, and with respecting their livelihoods, their income and their wellbeing. This must be a priority for the leadership of this institution."
AGAINST VIOLENCE
Local 802 added its voice to condemn the recent increase in violence towards the Asian American and Pacific Islander community. Local 802 released a statement that said "Hate and intolerance is not acceptable anywhere, including our neighborhoods, our orchestras, or our union. Local 802 stands with our Asian American and Pacific Islander members and pledges to be a safe and strong community for all of our musicians. We want our members to feel safe: incidents of violence can always be reported to law enforcement, and other incidents of intolerance or bullying can be reported anonymously via the Local 802 Harassment, Bullying, Discrimination, and Emergency Response and Reporting Procedure."
GOING DIGITAL
As you well know by now, the pandemic has changed every aspect of our music industry — as well as our own union. We've had to streamline our staff and impose strict restrictions on spending. As a result, we're conducting most of our operations electronically. Most official union communications will be sent by e-mail from now on.
This includes sending out your membership dues invoices as e-mail invoices instead of "snail mail" as you're used to.
Therefore, it is very important that you have a valid e-mail address on file with the union. The best way to do this is to log into our membership portal at https://info.local802afm.org and make sure that your e-mail address is current. You can also use the membership portal to update your mailing address, website, phone number and much more.
Please note the following:
We recognize that these changes aren't convenient for all of our members, but it is the best way to utilize the technology we have, be environmentally friendly, be fiscally responsible and make sure that we can focus our resources on helping musicians in the most efficient way possible.
Please reach out to us if you have any questions. As mentioned above, the best way to reach Local 802 is via e-mail at Membership@Local802afm.org or by phone at (212) 245-4802.