The slow (but steady) opening of NYC
President's report
Volume 121, No. 5
May, 2021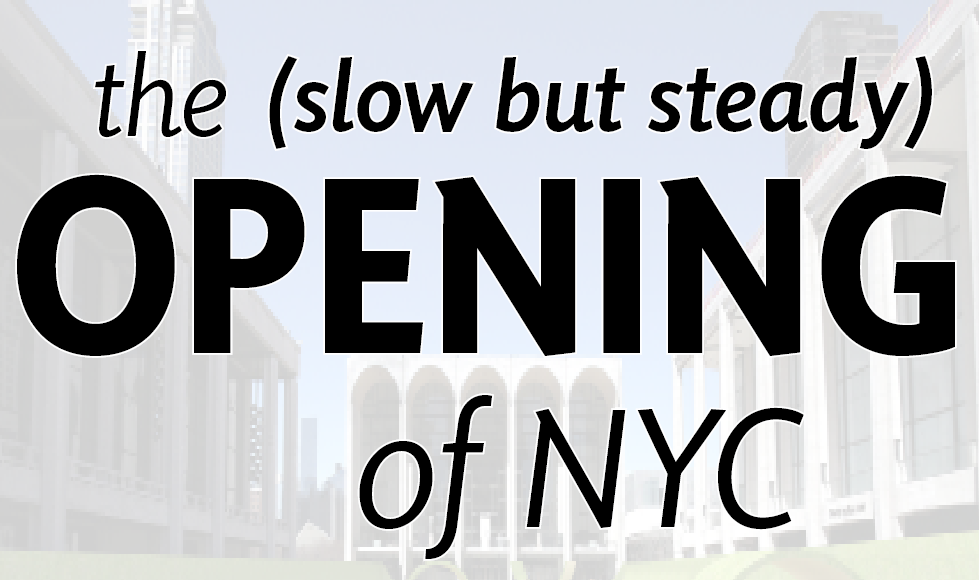 As the weather warms up, we're feeling optimistic about the reopening of NYC. More and more of us are fully vaccinated, and it's feeling safer to perform music and see our audiences return, even though it's starting small. (If you haven't signed up for a vaccination yet, start here.) Many 802 ensembles are performing at the Lincoln Center "Restart" outdoor stage, including the New York Philharmonic and Mostly Mozart. The New York Philharmonic recently performed at the Shed in Hudson Yards, the NYC Ballet performed at the Bronx Zoo, and members of the Met Opera orchestra were flown out to Texas to perform with the Dallas Symphony. More recording projects are on the books every week. We hope that you are finding increased opportunities to perform and teach and are starting to feel hopeful about the reopening of the arts in New York City.
There seem to be two kinds of employers that emerged during the pandemic. One type is attempting to use the pandemic as an opportunity to cut wages and gut contracts, even as they receive taxpayer bailouts. The other kind of employer realizes that the long-term health of an orchestra or ensemble relies on the long-term health of the musicians. That kind of employer is who we want to cultivate, and we're doing everything in our power to say no to any permanent changes to our agreements.
Local 802 is in the middle of many tough negotiations right now. We'll keep you posted as to how you can plug into helping our musicians settle their contracts, including any public actions or protest if it comes to that. Our 802 committees are doing everything they can, and their work continues to inspire me.
I'm happy to report that Jazz at Lincoln Center agreed to maintain their musicians' wages and benefits for the next three years. Jazz at Lincoln Center was one of the bright spots during the pandemic; they continued to pay their musicians and were able to perform streaming concerts. We're appreciative of all of our employers who are doing the right thing.
Also, we're proud to announce that Local 802 achieved a one-year extension of our collective bargaining agreement with New York City Opera.  The agreement contains increases in pay for performance rates. While it temporarily suspends the seasonal performance guarantee, it restores the guarantee upon expiration of the extension if no successor agreement is reached to the contrary, and preserves all increases. I want to thank orchestra committee members Mark Shuman (chair), Don Batchelder, Nancy McAlhany, Thomas Hutchinson, Jeffrey Marchand — along with Local 802 counsel Harvey Mars — who worked tirelessly on achieving this agreement. Local 802 is hopeful that New York City Opera will soon be able to resume performances and is pleased that it was able to achieve this progressive agreement at this very challenging time.
JOBS FOR OUR MEMBERS
We're thrilled that Local 802 secured $200,000 in funding from the City of New York to present musical performances at 11 of the city's vaccination sites. We also won an additional $80,000 of funding from New York City Health & Hospitals to renew our joint Music for the Soul series. Both these partnerships create paying jobs for our members at a time when we need them the most. To learn more and sign up, click here. We've been advocating for this kind of direct funding to musicians since the beginning of the pandemic. Too often, taxpayer money that's supposed to "save the arts" gets funneled into arts organizations but doesn't go to the artists themselves. This program is different in that musicians are getting directly hired and paid under a union contract. We couldn't have accomplished this without our relationship with the city and the mayor's office — plus the dedicated work of our 802 Executive Board and Local 802 staff, who brought this funding over the finish line and are making it work for our members.
Separately, did you know that there is a fund to help pay for your live gigs that are free and open to the public? The Music Performance Trust Fund, which is a separate entity from the union, has been providing grants for over 70 years. Local 802 rep Marisa Friedman is available to help you apply for funding. MPTF gigs can take place in parks, schools, and public halls, as well as in hospitals and at nursing homes and retirement centers. You can even livestream a concert, as long as it's free and open to the public. Get more info here.
HEALTH BENEFITS UPDATE
We remain appreciative of the Biden administration and Senator Chuck Schumer in their delivery of our pension rescue and health insurance relief in the form of a COBRA subsidy, which will allow those Local 802 members who qualify to continue on the union health plan at no cost, through September. (Then, after September, our New York members will be invited to apply for the New York State COBRA subsidy, which is a 50 percent subsidy.) We sent out an e-mail blast near the end of April and the information is here.
THE BIGGER PICTURE
April was another painful month for our country. We witnessed the killings of Daunte Wright (age 20) and Ma'Khia Bryant (age 16), both Black, at the hands of white police officers. At the same time, we were relieved that a jury delivered justice for George Floyd's family. Musicians and the larger labor movement must do everything in our power to keep the pressure on our lawmakers and each other to create a more just society.
One important step Local 802 has taken is our first membership self-identification survey, which will allow us to graph the economic, racial and gender demographics of our union for the first time. This will allow us to chart our progress moving forward to create a more diverse union. To assure confidentiality, the only person who will have complete access to the original data is our outside data consultant, who will be bound to strict data privacy. The survey team will only receive summary results for each question. In addition, for those of you who wrote answers to the open-ended questions about how you feel about Local 802, those answers will be disassociated from all other data collected (demographics, work history, etc). Our data consultant will ensure that we will not receive data that allows us to identify any particular individual.
Finally, the case of producer Scott Rudin was yet another wakeup call that the fight against abuse is overdue for the entertainment industry. Rudin's disgraceful and unacceptable behavior was an open secret for decades, but thanks to the courage of those speaking up now, we no longer have an excuse to be silent. All of us in the entertainment industry need to take the right path forward to ensure that all workers are protected, whether they work in an office or on stage. We welcome Rudin's resignation from the Broadway League and we demand that all previous non-disclosure agreements connected to him are nullified so that victims can speak up.
Every workplace should be free of violence, racism, sexual aggression, intimidation and abuse. Bullying and illegal behavior should never be tolerated. Broadway and all venues and productions should be safe, secure and compassionate workplaces for all workers. As a union, we pledge to continue our work for justice, integrity and safety in all of our workplaces — and in our entire industry. The time for accountability and justice is overdue, and change starts now. For more, read Local 802's recent joint statement on the need for harassment-free workplaces in the arts.  Local 802 members are urged to report discrimination, harassment, bullying, or intimidation to the authorities and via the union's 24/7 Hotline at (646) 971-0604 or by clicking here.