Profiles: Carolina Slim
A Musician and Patriot Turns 80
Volume CVI, No. 11
November, 2006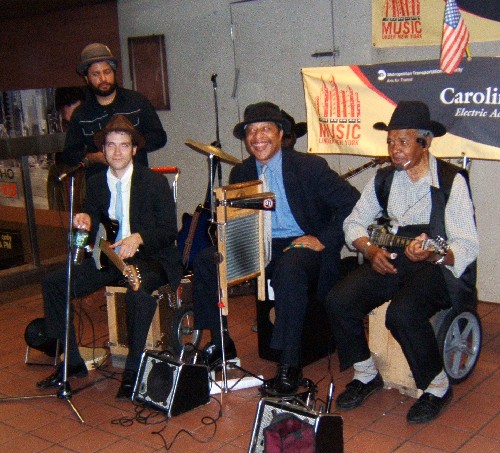 From left, Jeremiah Lockwood, Ernesto Gomez, Dirty Red and Local 802 honor member Carolina Slim.Photo by Powell Burns.
Carolina Slim can often be seen and heard down under New York City's subways strumming and plucking melodies in his tradition: Piedmont blues that make you stop and cut a jig. As the trains move north, south, east and west, so do the patrons to the sound of his guitar. For his love of America, "Ol' Glory" flies on his stand, attached to a banner bearing his name.
"I was made in Denmark, South Carolina, on Sept. 15, 1926," Mr. Slim told me, in his rich Southern tone. ("Made"? Not "born"? That's Mr. Slim's style.)
A day short of 80 years later – on Sept. 14, 2006 – Tim Higginbotham of the MTA's "Music Under New York" program honored him with a blues festival, which included Jason Green, Floyd Lee, Jeremiah Lockwood, the Ebony Hillbillies, Brotherhood of the Jug Band Blues, and myself.
City Councilmember Leroy G. Comrie Jr. of Queens issued a proclamation in honor of Mr. Slim's continued leadership of music and education in blues and jazz.
Carolina Slim was born Elijah Staley; he is also known as Stud Staley. He is a Local 802 honor member and joined the union in 1960.
He fought in the Korean War. One of his memories is of a young Berry Gordy Jr. – before he was famous for founding Motown Records – who was the organist for his battalion's chaplain! During the war, when the chaplain was called to do a service in the field, Berry Gordy would haul his portable pump organ and accompany the service. Years later, Mr. Slim saw Berry Gordy in the news and recognized him.
Mr. Slim's patriotism defines him. "I may not agree with everything George W. Bush does, but I love this country," he told me.
With his wife and son, he lives in Queens, which has a tradition of renowned musicians. Being featured with great artists over the years – as he was in Madonna's video for her song "Secret" in 1994 – came natural to him.
To make 80 and remain one of the country's truest patriots, while continuing to play West Africa's gift to the world – the blues – is remarkable. America loves and respect you, ol' citizen!
Ricky Gordon (a/k/a "Dirty Red") lives in Fort Greene, Brooklyn. He's an 802 member and a drummer and percussionist whose most recent project is performing on Terence Blanchard's score of Spike Lee's documentary "When the Levees Broke." He also has played with Wynton Marsalis and has performed on and composed for numerous TV, film and commercial dates. Gordon says that Carolina Slim influenced him to add the washboard to his repertoire of instruments.