Pump Up the Jazz
Local 802 Inaugurates Jazz Appreciation Month
Volume CVI, No. 6
June, 2006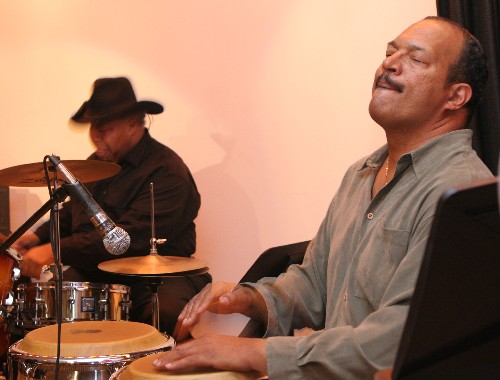 Steve Kroon (congas) and Wally "Gator" Watson (drum set) pump out rhythms for a Jazz Appreciation Month concert, which 802 co-sponsored with Bread and Roses.
Local 802 held its first Jazz Appreciation Month ("JAM") concert on April 27. Judging by the audience's response, I predict many more annual JAM concerts to follow.
Historically, African-Americans celebrate jazz all year – and also as part of Black History Month in February. But now there's Jazz Appreciation Month in April, which was proposed by the Smithsonian's National Museum of American History. Congress made it official in 2003.
Our concert was held in the Martin Luther King, Jr. Labor Center Auditorium at the headquarters of the service workers' union, 1199SEIU, on West 43rd Street. The co-sponsor of the event, Bread and Roses, transformed the auditorium into a jazz café, with café table seating and a complimentary soul food buffet. As the lights lowered, the crowd quieted with anticipation.
The event opened with poetry readings by 1199SEIU members in celebration of National Poetry Month, which is also celebrated in April.
Local 802 member Fran McIntyre demonstrated her multiple talents through her passionate reading of an original poem, "Jazz is the Soul." McIntyre is a vocalist, percussionist and poet; she's also a gospel, jazz and blues singer.
The performing jazz band, which was dubbed "The Jazz Advisory Committee All-Stars" consisted of Bob Cranshaw (bass), Chuck Fowler (piano), Steve Kroon (percussion), Jimmy Owens (trumpet), "Sweet" Sue Terry (sax) and Wally "Gator" Watson (drums).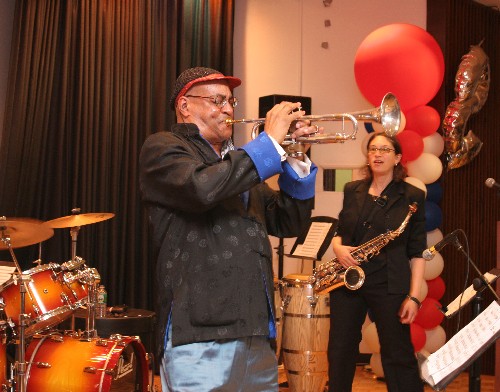 Jimmy Owens and Sue Terry make the music sizzle. Photos of other band members below.
Each artist is also a member of Local 802's Jazz Advisory Committee, which was founded by Cranshaw, Owens, Jamil Nasser and Benny Powell. It advises the union on how to better serve the interest of jazz musicians. The committee's goal is to improve the lives of jazz musicians by collective action, providing access to union health insurance plans and the AFM pension fund, and lobbying on the city, state and national levels.
The all-stars lived up to their name while performing Sue Terry's arrangements of "Bird Lives" by the late Jackie McLean and "Solitude" by Duke Ellington.
The band also played Jimmy Owens's "Martin's Theme," dedicated to Dr. Martin Luther King, Jr.
An appropriate spring standard ("I'll Remember April") and a slow blues rounded out the set.
The band performed with the chemistry of a sextet who had played together for years. But although some members have been friends for a long time, they had never performed together.
The audience's roar rose higher and higher at the end of each song performed. This portion of the show was more like a show within a show. It was akin to a rich dessert after a great meal.
Finally, at the end of the set, the audience gave a standing ovation.
After, the audience was treated to a jazz and hip-hop inspired tap dance performance by Tyrice Conway, accompanied by Cranshaw, Kroon and Fowler. Conway was one of the performers in "Bring In 'Da Noise, Bring In 'Da Funk."
The evening closed with more performances in celebration of National Poetry Month.
Local 802 thanks all of the talented artists who performed and also our co-sponsors: Bread and Roses, the Music Performance Fund and 802's Council for Living Music.
Pictured are Chuk Fowler (piano), Bob Cranshaw (bass), "Sweet" Sue Terry (sax), Jimmy Owens (trumpet), Steve Kroon (conga/percussion) and Wally "Gator" Watson (drum set). All photos by Claire Houston.