Reflections of a Master – Insights from Ahmad Jamal
Feature Interview
Volume 117, No. 12
December, 2017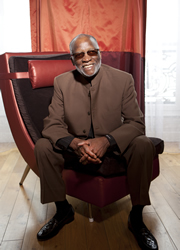 Pianist and composer Ahmad Jamal is a living legend. A member of Local 802 since 1964, Mr. Jamal was born in Pittsburgh, where he attended the same school as Erroll Garner. (In fact, as he likes to recount, both he and Garner started playing piano at the same age – 3 years old!) Mr. Jamal started his formal studies with the well-known pedagogue Mary Cardwell Dawson, the founding director of the National Negro Opera Company. By the time Mr. Jamal was 10, he was already composing, orchestrating, peforming Liszt, and exploring the music of Duke Ellington, Art Tatum and Nat Cole. As a child prodigy, Mr. Jamal was soon being hired by Pittsburgh masters who were three and four times his age. He was so in-demand that he joined the Pittsburgh local of the AFM at age 14, even though the minimum age requirement at that time was 16.
At the age of 17, Mr. Jamal could be found touring the country with the George Hudson Orchestra, where he played with Clark Terry and learned from orchestrator Ernie Wilkins. Just four years later, Mr. Jamal became the leader of his own group and, with the help of producer John Hammond, started his recording career. That career has continued for over six decades and has resulted in not only great art but also one of the most successful albums of instrumental music of all time. Recorded live at Chicago's Pershing Hotel in 1958, the recording "At the Pershing: But Not for Me." has sold more than a million copies. Music from the album has been used in films as diverse as "The Bridges of Madison County" and "The Wolf of Wall Street." It is also utilized by dance companies all over the world, and continues to make musical history.
In 1994, Mr. Jamal won the NEA Jazz Masters Award, although in truth, Mr. Jamal eschews the term "jazz" and prefers the designation "American Classical Music." He has also won the Living Jazz Legend Award from the Kennedy Center and the Officier de L'Ordre des Arts et des Lettres from France.
Mr. Jamal remains one of the most sampled composers and recording artists in the world. Local 802's Bob Pawlo recently caught up with Mr. Jamal to learn from his rich life and career.
Bob Pawlo: How did your journey in music begin?
Ahmad Jamal: My father was a union steel worker in my beloved Pittsburgh, where I'm from. Any one of my family could have become a musician: all of us were musical. But they all pursued other avenues. I'm the only one who ventured out into the wilderness. My mother had actually purchased an upright piano in hopes of studying it herself, but she never had the time. One day my uncle was sitting there at the piano. He was a well-known chef in Pittsburgh. He played something on the piano and asked me, "Can you play this?" He was teasing me. But I sat down and played note for note what he was playing.
Bob Pawlo: Your first piano lessons were with Mary Cardwell Dawson, who later left Pittsburgh to become the first African-American woman to serve as a coach with the Metropolitan Opera Orchestra. Later you studied with James Miller. What do you remember from those early lessons?
Ahmad Jamal: We studied both European classical music and American classical music, which is what other people call jazz. We studied Bach, Liszt and Ravel, and we studied Duke Ellington, Art Tatum and Jimmie Lunceford. We didn't have separation.
Bob Pawlo: Speaking of Art Tatum, I heard that you actually got to meet him when you were a young man?
Ahmad Jamal: Yeah, Art Tatum heard me when I was 14. I was working at the Washington Club in Pittsburgh, which was an after-hours club that I had no business being in. Art Tatum came in and the rest is history, of course. There was nobody who ever played like him.
Bob Pawlo: How did Pittsburgh influence you musically?
Ahmad Jamal: So much! Let me name a few of my fellow Pittsburgh musicians and artists who inspired me: Erroll Garner; George Hudson; Dodo Marmarosa; Billy Strayhorn – I sold papers to his family when I was seven years old, but Billy had already left and gone with Duke; Ray Brown; George Benson; Stanley Turrentine; Oscar Levant; Earl Wild; the dancer Gene Kelly; Andy Warhol; Kenny Clarke; Art Blakey; the wonderful Joe Harris, who was one of Dizzy's first drummers; Jerry Elliot; Will Hitchcock; Leroy Brown; and Johnny Costa, who became famous for being the music director of "Mr. Rogers' Neighborhood." My roots that I got from Pittsburgh are so strong, they've lasted me all my life. I attribute everything I do to my coming up in Pittsburgh, because I had to play with every configuration of instruments, known and unknown. I did gigs with just saxophone and piano in Pittsburgh…no drums or anything!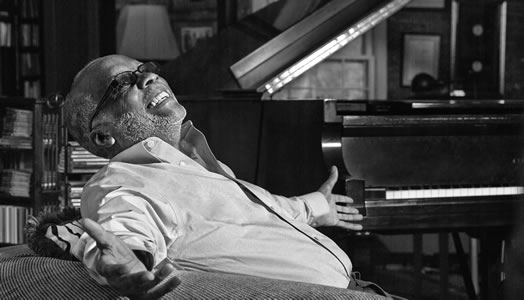 Bob Pawlo: You're an extremely lyrical player. I've heard that you're very conscious of the lyrics of a song,. What is your approach to a tune?
Ahmad Jamal: Well, you know, I'm like Ben Webster. I'm told that Ben Webster once stopped playing a song because he forgot the lyrics! So it's important for a proper performance to know some of the lyrics, if not all.
Bob Pawlo: When you accompany a singer, what's on your mind?
Ahmad Jamal: Sensitivity. Think of how Tommy Flanagan melded with Ella Fitzgerald. John Malachi, who the world has forgotten, accompanied the great Sarah Vaughan. It's another level altogether, another zone. That's a craft, working with singers, making them responsive and encouraging to do what the human voice is supposed to do – incredible things. So sensitivity is the operative word.
Bob Pawlo: When you play the piano with your trio, there seems to be a whole universe of sound that you get from your group with just three musicians. How do you do it?
Ahmad Jamal: I only think orchestrally. That's the thing. And I draw upon a vast repertoire.
Bob Pawlo: You've done so many things in so many genres of music. What is it that you haven't done that you look forward to now?
Ahmad Jamal: I have to still figure out what the white and black keys do! That's what I look forward to: discovery. That's what life is all about, in my opinion. And, as artists, we don't "create." We're not creators, but we can reflect creativity. People may disagree with me, but no human being can create a fly or a leaf. We can discover all these things, and we can reflect creativity, and that's what it's all about as far as I'm concerned. And you can discover things every day if you're in tune with life in the proper manner. So I'm trying to discover. I'm still discovering things within myself and outside. Every day it's a new thing. Every day is a discovery.
Bob Pawlo: What advice would you give to young musicians starting out in their careers?
Ahmad Jamal: Seek knowledge, because everything depends on the knowledge that one possesses. And have more than one exit door. Then you don't get trampled in case a fire breaks out. The only way you're going to have more than one exit door is to go and get involved in institutions of higher learning. It's easy now compared to what it used to be. You can get a PhD in music now. That was unheard of at one point, but not anymore. So doors of opportunity are there. And what do I tell young people? The best advice I can give them: go to school. Appreciate knowledge. Have options. There are some negatives in institutions of higher learning, but the positives outweigh the negatives. If you can't teach, perform. If you can't perform, write. If you can't write, conduct. If your performance career breaks down, don't get disheartened, don't go into drugs and all this negative energy. Instead, teach for a while. Write for a while, like Quincy Jones and Johnny Mandell! And if that breaks down, then maybe you conduct for a while, like what Burt Bacharach did with his career.
Bob Pawlo: What music inspires you now? What do you listen to?
Ahmad Jamal: I listen to everything good. I keep my ears open, but to tell you frankly, I listen to myself mostly. Because I'm still discovering me. I'm 87 years old now, and you know, if I live another ten years, that's only a few minutes. Yesterday I was 15 years old. So, I have to take that time now to listen to what's left.
Bob Pawlo: What would you like to say in closing to your brother and sister Local 802 members and union members?
Ahmad Jamal: Well, number one, the union is very valuable, and number two, the union is very valuable, and number three is the union is very valuable. Thanks to people like Jimmy Owens and the late Bob Cranshaw, the union is a strong and better place. That's what I have to say.