Remembering Barbara
Volume 111, No. 7/8
July, 2011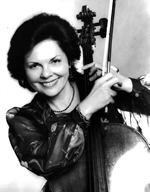 Barbara Reisman
(1934-2011)
The gifted cellist and soprano vocalist Barbara Reisman, 77, died on May 30. She had been a member of Local 802 since 1951.
Born in Newark, Barbara studied at the School for Performing Arts, which later became Juilliard. Her cello teachers included Leonard Rose, Bernard Greenhouse and Janos Starker. She also studied voice with Giovani Martinelli.
Even in her teens, Barbara was a very popular musical figure and was a featured artist on famous TV programs, including the Milton Berle Show and the Arthur Godfrey Hour, where the 15-year-old cellist and singer entertained millions of enthusiastic viewers.
As a singer, Barbara's voice sparkled, and she often was featured in lyric soprano roles. In addition to her musical gifts, the physically stunning young teenager was chosen and crowned Miss Newark as part of the Miss America Beauty Pageant contest.
The excellent pianist Shirley Reisman is one of Barbara's sisters; the other is Mona Reisman, a first-class violinist, who had been a principal player in the Chicago Lyric Opera. The three of them performed as the Reisman Trio, which was managed by Columbia Artists. They were highly acclaimed by audiences and critics alike.
Barbara was a terrific performer and could sing rare voice literature from Offenbach to Kurt Weil to Gabriel Faure in beautiful German or French. Her vocal art and feeling for uniquely different styles was quite remarkable and her ability to captivate and audience was quite special. When Barbara picked up the cello and played, she played with the same passion and fire as in her songs.
Besides her sisters, Barbara is survived by her brother- in-law William Schoen, the prominent violist. She will be sadly missed by all of her friends and family.