Remembering Dino Anagnost
Volume 111, No. 5
May, 2011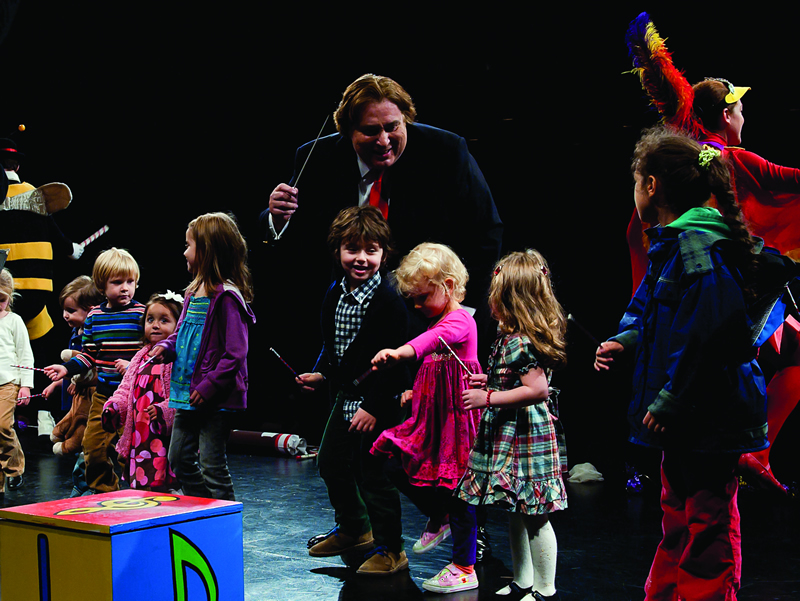 Dino Anagnost (1943-2011) doing what he did best: inspiring others.
On March 30, we lost our leader of over 30 years. We must now try to imagine the Little Orchestra Society without Dino Anagnost.
What a legacy he left. I remember the first "Lolli-Pops" concert at Bruno Walter auditorium in 1985 with its wonderful talking animals personifying the orchestra's families of instruments. It was all from the mind and spirit of Dino. He once brought a high school marching band streaming down the aisles of Avery Fisher Hall as part of "Babes in Toyland." When we presented Gian Carlo Menotti's "Amahl and the Night Visitors," the composer himself often took the stage to introduce the show's monkey, George, to the audience. (George would ride on Menotti's shoulders!)
Dino programmed big shows with big stars: Carol Channing, Billie Jean King and Lemony Snicket come to mind, all of whom collaborated with the orchestra. But sometimes even 10-year-old prodigies stole the show. Dino loved them all.
The adult concerts carried on the orchestra's mission of innovative programming for the chamber ensemble and Dino vastly expanded it with works from a wider cultural spectrum, including South American music, films and jazz. Dino completely embraced thematic, multimedia programming: words, images and music presented by crowd-pleasing narrators such as Lynn Redgrave, Estelle Parsons and James Earl Jones. "Music Takes Flight," featuring Marc Blitzstein's music with videos of man in the air and beyond, and the narrated "Vivaldi's Venice" series, where he generously called upon us to be soloists along with many well-known artists of our era, were bold statements about the future of the concert format.
What I will miss most is the rapport Dino had with us. Who else would blow kisses in your direction when he loved what he heard in rehearsal, or even smile right at you for a beautiful phrase during the glorious Christmas concert at his beloved Holy Trinity Cathedral. So gregarious to begin with, he always looked happiest when he was conducting us. Who else would write personal thank-you notes to the orchestra as he did last summer after the final Vivaldi concert?
His legacy continues. There is a newly-completed "Lolli-Pops" concert announced for this fall. There will be new ventures and maybe even some classics from our trove of many years of successes. All of this will be under a new musical director, something very bittersweet for all of us.
Less than a month before Dino passed away, he and the Little Orchestra Society were honored by the InterSchool Orchestras of New York. Citing the "impeccable scholarship, meticulous planning, rare creativity and an adventurous spirit combined with spectacular showmanship," the ISO bestowed its 2011 Award for Distinguished Achievement in Music Education on Dino and the orchestra. The tribute read: "ISO congratulates you on the joyous understanding of music and the devotion to its pleasures you instill in audiences of all ages in the concert hall, the classroom, and among those who participate in your popular programs." Well said. I couldn't agree more.
Dino, as one orchestra member put it, was like a Greek epic: grand, energetic and full of drama – but a lot more fun. We will always remember Dino's warmth, enthusiasm, and congeniality, and especially his deep resonant laugh.
In finding words for this piece, I appreciate those in the Little Orchestra Society who related what Dino meant to them: David Wilson, Susan Rotholz, David Wakefield, Jonathan Haas, Susan Jolles, Howard Hall, Alan Kay, Katsuko Esaki, Eric De Gioia, Chris Lee, Scott Ballantyne, Mary Whitaker, Lilit Gampel, Krystof Witek, Ahling Neu, Andrew Schwartz, David Heiss, Mike and Ann Gillette, John Moses, Sheryl Henze and Bob Chausow.