Remembering Diz and Monk
Volume 112, No. 10
October, 2012
Jazz legends Dizzy Gillespie and Thelonious Monk – who were both members of Local 802 – would have turned 95 this month. Below, Local 802 member and composer David Amram recounts his memories of meeting Diz and Monk, and how their creativity can still inspire us.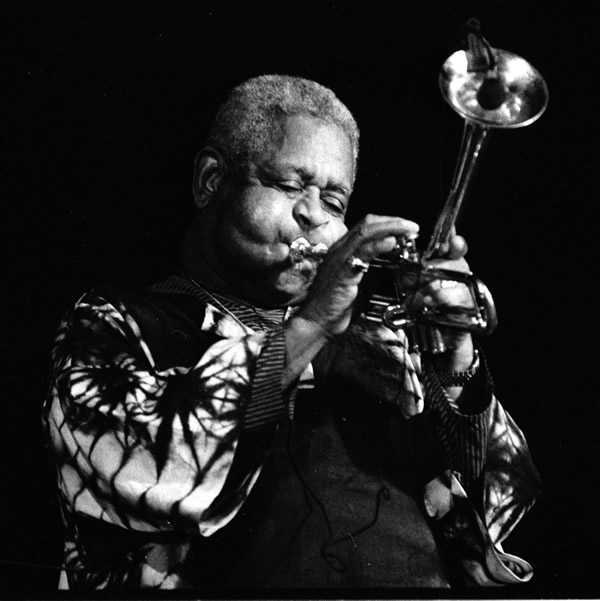 Dizzy Gillespie (1917-1993), performing in France in 1991.
Photo: Roland Godefroy
I met Dizzy Gillespie in 1951 at my basement apartment in Washington, D.C. A good friend of his had told me that Dizzy was playing in Baltimore and wanted to come down with his quintet and have a place to hang out with the band afterwards.
So about 1:30 a.m., Dizzy arrived with his quintet. The band guys all crashed out and Dizzy sat in my one chair and I sat on the floor.
He talked to me almost all night long about pan-African music and how the people from African origins had traveled all over the world. Everyplace they went they left something of their music and they took something with them to the next place.
And he said that jazz was related to that process. He spoke about Duke Ellington, and how Duke would visit different places and bring his music with him and take something back musically with him to the next place that he went. I'd never heard anybody speak about that before.
Dizzy knew I was trying to play jazz on the French horn. He told me, "You have to meet my man Julius Watkins if you come to New York some day." Of course I ended up playing with Julius for years.
The next morning just before I went to my job, he said, "Come on and play the horn with me. I'll play piano. What do you want to play?" I was shocked and said, "Let's play a blues." He even asked me what key I wanted to play in.
I realized as I got to know Dizzy better through the years that he had that approach with everybody. He tried to make everybody comfortable – including members of the audience – and bring them into the music rather than using music as a weapon to intimidate people.
And of course he was an incredible master of keyboard harmony. When he played the piano, I heard all these things I'd never dreamed of before.
Years later, he was showing me some chord changes to "Tin Tin Deo," and he showed me 25 different ways to play a ii-V-I progression. And I said, "My lord, Dizzy, that's like the whole symphony!" and he said "Man, I'm a harmony freak."
I went to Cuba with Dizzy in 1977. We were the first musicians to go there since the revolution. Dizzy was 60 years old and a reporter asked him, "What are your plans for retirement?" Dizzy said, "I'll never retire. I'll do this as long as I'm here. That's why God put me here: to play this music.
Ten years later, at his 70th birthday party at Wolf Trap, he told me, "Jazz music is so beautiful, I'm not even sure America deserves it. But we're going to keep playing it anyway."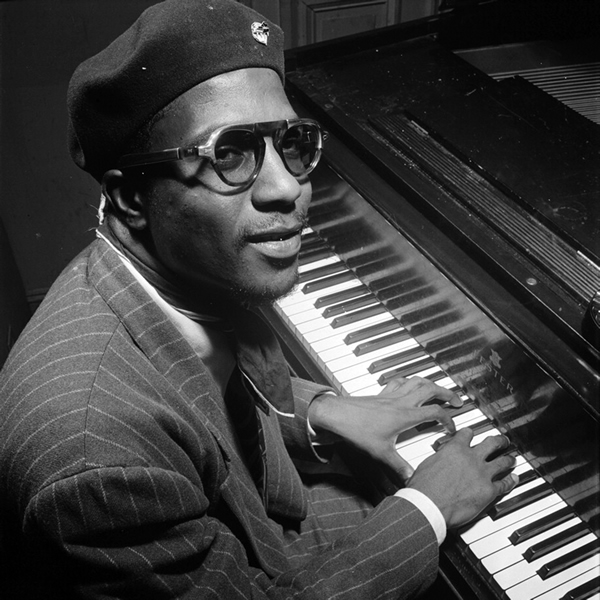 Thelonius Monk (1917-1982, at Minton's Playhouse in 1947.
Photo: william Gottlieb
MEMORIES OF MONK
I met Thelonious Monk in 1955, at the Café Bohemia when I was playing French horn with Charles Mingus. Later, he came over to my place on the Lower East Side and walked up the six flights of stairs. I had a little piano there and he started playing. I said to him, "You know, I've always wanted to learn 'Off Minor,' and everybody who shows it to me doesn't sound like the same thing you're playing." So he said, "Well, they should have asked me." He wrote out the chord changes and every single note.
Monk was a master of harmony and I used to go to visit him at his little place at the end of West 63rd Street. (That block is now named Thelonious Sphere Monk Circle.) It was such a warm, loving home. He was a kind and warm person and also one of the funniest people who ever walked the face of the earth.
Monk also told me that some day musicians all over the world are going to make their own jazz instead of just copying us, and he said that's the way it should be. He said other musicians should use our music as inspiration to make their own kind of jazz. And of course all these years later that's what's happening
Monk's son T.S. recently told me, "Since you are the youngest of the old guys who spent time at the house with my father in 1955, you should always share with anyone and everyone what you had learned about the beautiful way these masters treated everyone who crossed their path, as long as they were respectful. Kids need to know about this."
T.S. Monk also told me, "The young cats today have the chops but they don't have the philosophy."
What he meant was graciousness and generosity, which is what the whole world desperately needs. This is what jazz was about, and what all great music is and always will be.
The spirits of Diz and Monk will always remind us that we should tell our own story. Both of them fostered creativity in others and they brought a combination of excellence and joy into everyone's life. They were not limited by definitions of who others thought that they should be. Monk's magnificent tune "Straight No Chaser" was just how they lived. We all should do the same.
David Amram, a member of Local 802 since 1956, was the first composer in residence of the New York Philharmonic. A pioneer jazz French hornist, Amram has collaborated with everyone from Jack Kerouac to Charles Mingus, and everyone in between. He was recently seen with fellow Local 802 member Pete Seeger at an Occupy Wall Street musical march and protest. See www.DavidAmram.com for more.