Remembering Gil Barretto, a bandleader who became a spiritual teacher
Reminiscences
Volume 115, No. 9
September, 2015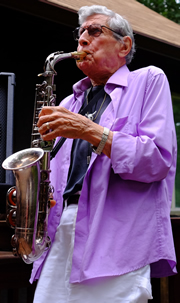 My husband Gil was born in the Bronx on March 2, 1929. As a young man he played saxophone, clarinet and flute, and became a bandleader on the club date circuit, including a long tenure at Brown's Hotel in the Catskills.
While performing at a bungalow colony in 1972 he was approached by Joseph Goldstein, a cofounder of the Insight Meditation Society and son of the bungalow colony's owner, to join a group of meditators on a pilgrimage to Dalhousie, India. Gil accepted the invitation. Once there, he began a life of meditation and contemplation, studying with the renowned teacher S.N. Goenka. His studies were interrupted, however, when he contracted hepatitis. He was taken to a small village hospital on New Year's Eve. Outside his window he could see funeral pyres burning and was told he could be next in line. With great difficulty he left the hospital, left India, and made his way back to his parents' apartment in Washington Heights. Again he withdrew from the world, this time to regain his health.
While in India, Gil had become acquainted with the Fourth Way work of G.I. Gurdjieff, and had been given a letter of introduction to Madame Jeanne de Salzmann, founder of the Gurdjieff Foundation. That trail led him to study under prominent Fourth Way teachers Henry Korman, Lord John Pentland and Louise March. Gil soon began a Fourth Way group of his own in New York and led it for 37 years, right up until his death.
In his 50s, Gil had gone back to school to study psychoanalysis and social work. He attended classes during the day and worked gigs at night. Although he continued to play for his own enjoyment, he abandoned his professional career after earning his MSW degree from Hunter College. He went on to work as a counselor with Beth Israel and Lenox Hill Hospitals, and the Greenwich House.
Music remained important to him throughout his life, and he believed you should send a qualified sub not only for gigs you gave up, but also for any lessons you missed with your teacher. In his youth he had studied with the legendary classical clarinetist David Weber. But Gil was having girlfriend problems at the time and let his lessons with Weber fall by the wayside. He regretted that he had left Weber without sending another student to take his place.
Years later when I met Gil, I was writing articles for Allegro. He suggested I write about David Weber, then in his 90s and still playing and teaching. I did so, and Weber urged me to come back for lessons. I welcomed the chance to study with the great master, and Gil was thrilled that decades after he'd left Weber, he was finally able to send in a sub.
Gil continued to play clarinet, but his favorite instrument was tenor saxophone (like his idol, Stan Getz). He would bring his tenor when we went to Ecuador every winter, where I am artist in residence at the Jazz Society there. Gil always played with me. Everyone loved him. The Ecuadorian musicians called him "Gilberto," or sometimes "Don Gilberto," a term of respect.
Gil died on March 5, 2015. After his death, I went to Ecuador where I spent a month visiting friends and playing at the Jazz Society. My first night back on the gig, pianist Jim Gala introduced me to a handsome young man who had just moved to town from Spain and is now a regular member of the band.
The new kid plays beautifully. His instrument? Tenor saxophone. His name? Gilberto.
Gil Barretto is survived by his wife Su Terry, a longtime member of Local 802 and a saxophonist and clarinetist. He is also survived by his daughter Sunday, grandson Alexander and scores of students.