Remembering Joe Madding
Volume 111, No. 9
September, 2011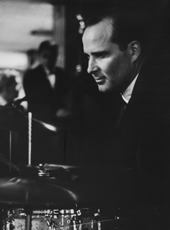 Joe Madding (1920-2011)
A true musician and entertainer has passed. Joe Madding, 91, a drummer, banjo player, keyboardist and multi-instrumentalist, died on July 23. He had joined Local 802 in 1953.
Joe, whose first nickname was Buddy, was born in Pine Bluff, Arkansas. He loved to sleep outside. Once, when he was around 10, he heard an amazing thumping sound that shook him to his core. That sound came from the Baptist Church down the road. He snuck over, stuck his head in the church, and found the church's percussionist Ezra playing the drums. Joe asked if he could hit that thing. Ezra put the stick in his hand and that was all it took.
Joe couldn't stop playing the drums and taking lessons, much to the chagrin of his mother and the detriment of his schoolwork. Finally, he was sent to Riverside Military Academy in Gainesville, Georgia. He excelled there and became the school's drum major.
He later graduated from the University of Florida and from Fordham University, where he earned a Ph.D. in psychology. But he would always tell people that he was a drummer first. In fact, he scheduled his patients around his gigs!
During World War II, Joe became a pilot, rising to the rank of captain while serving in the European theatre. During his military time, Joe met the comic actress and standards singer Martha Raye, who often toured with the USO. Raye offered Joe a spot with her in Miami.
Later, he won a chair on the Arthur Godfrey show in New York City. Around then he earned his second nickname – Joe Madding became "Mad Joe."
Mad Joe became a studio musician and worked on other shows, including the Jackie Gleason and Ed Sullivan shows. Joe was very fond of Gleason. It turns out that Gleason loved music, especially Dixie music. Gleason once took the band on a train to Florida and had them play Dixie music the whole way.
During his decades in New York City, Joe played with the bands of Lester Lanin, Bunny Berigan, the Kim Sisters and Jan August. He also did a lot of work with Nelson Riddle, who referred to him as the "thinking musician's drummer."
Once, he wrote an arrangement for Denise Lor. After leaving the studio, he was greeted by Irving Berlin, who complimented Joe on his use of strings, saying that it reminded him of another famous arranger. Joe's response was, "Well, if you're going to steal, steal from the best."
Joe was very humble. He often said that he was simply on the right corner at the right time, and that there were probably a thousand other drummers who could have done what he did. I doubt it.
Later, Joe recorded the groundbreaking rock-and-roll tune "Rock Around The Clock" with Bill Haley and the Comets. He also recorded with Bobby Darrin, Lena Horne and Harry Bellefonte. In the 1970's, he recorded "You make Me So Very Happy" and "Spinning Wheel" with Blood, Sweat and Tears.
After moving to southwest Florida, Joe played with big bands, country bands and Dixie bands. Here, he earned his third nickname – "Doc" – due to his Ph.D.
Doc was constantly aware of his audience and made the necessary changes in order to get them out on the dance floor. He had to get them involved or wasn't happy. The only time he complained was when a bandleader didn't watch the crowd.
About three years ago, Joe fell and broke his right hip. I was there. He yelled out, "I just broke my hip! I'll never be able to play drums again!" Well, thankfully, that didn't happen. He went through physical therapy. One day, at 3 p.m., he was finally released from the rehab clinic. That same day, he went home, changed his clothes, and made his 5:30 gig – a three-hour show. The bandleader introduced him as "The Eighth Wonder of the World." His perseverance won out over his injury. Joe slept the whole next day but the smile that he wore that night and the smiles that he put on the faces of his audience were all he needed to live. It was his oxygen.
Joe's performing schedule finally slowed down two years ago, due to the combination of a knee replacement and the poor economy. Though he wasn't happy about not playing regularly, he never lost his sense of humor or a smile for everyone. He had a special wit and was very quick with a joke or story. No one ever left his company feeling left out.
Joe's last gig was a three-hour event on St. Patrick's Day of this year for his local community, a party of about 100 or so.
He liked everyone he met and was loved by all that knew him. He will be missed by all. God bless you, Joe.
A memorial to celebrate Joe's life will be held in Fort Myers, Florida, at a later date. He is survived by his nephew Thomas E. Madding Jr. as well as myself, his constant companion and caregiver of the past 11 years.
This story originally appeared in the September 2011 issue of Allegro, the magazine of the New York City musicians' union (AFM Local 802). For reprint requests, send an e-mail to editor Mikael Elsila at Allegro@Local802afm.org.