Remembering Nannette Levi Harry
Reminiscences
Volume CVII, No. 7/8
July, 2007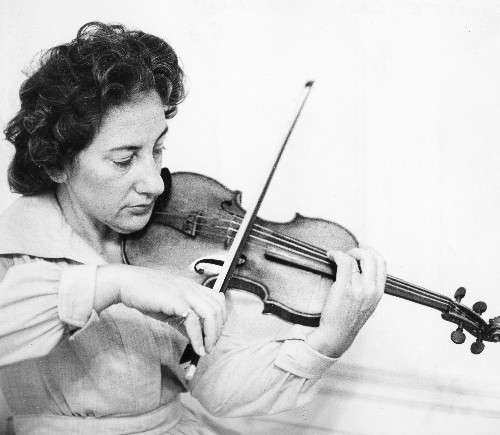 My wife, Nannette Levi Harry, 80, a violinist and an 802 member since 1946, died on May 25.
Nannette was born in San Francisco and took up the violin at a very young age. It became evident she was a real talent, and she began studying with Carol Weston, a noted San Francisco violin teacher.
She soon won a chance to play as a soloist with the San Francisco Symphony, at one of the orchestra's concerts for young people, conducted by Rudolph Ganz. Her performance drew great acclaim.
Soon after, she was on her way to New York to play for Louis Persinger, who accepted her as a private student in 1943.
The following year, she continued her study with Persinger, winning a five-year scholarship to Juilliard, where her theory and composition teachers were Bernard Wagenaar and Vittorio Giannini. She also studied chamber music with Hans Letz and Felix Salmond.
With her teacher Louis Persinger, she performed on CBS radio and at the Metropolitan Museum of Art.
In 1949, she debuted at the New York Times Hall.
Between 1947 and 1957, Nannette was concertmaster and soloist with the Bach Festival Orchestra in Carmel, Calif. She also performed the Beethoven concerto with the San Francisco Symphony.
With the New Orleans Symphony, she performed the Brahms double concerto with me in 1951. It was the first performance of this piece in New Orleans. While there, she played first violin in the Everett String Quartet and performed at Tulane.
In 1957, Nannette became concertmaster of the San Antonio Symphony: she was hailed by Time magazine as the first woman ever to hold such a post with a major U.S. orchestra.
At the close of the 1959 season she was voted "Woman of the Year" by the San Antonio chapter of Theta Sigma Phi, the national sorority for women in journalism.
In 1956, in Europe, Nanette was asked to play at a Pablo Casals master class in Zermatt, Switzerland. She chose the Adagio and Fugue from the Bach unaccompanied sonata in C major.
She really gave an inspired performance, to which Casals said, "I knew you were going to play well." After the applause died down, Casals said, "Do you mind a few suggestions from a cellist?"
Joseph Szigeti was also there. Afterwards, he came up to Nannette and said, "You have great courage!" He then gave her the supreme compliment: "Whenever you perform, I would like to attend."
Upon returning to New York in 1959, she freelanced. She was frequently the concertmaster of the Radio City Music Hall Orchestra. She was a member of the Erica Morini string quartet, founded the Gotham Trio and recorded for the Orion label.
Nanette also played with the Pacific String Trio, which was awarded the Medal of Honor from the Eugene Ysaye Foundation of Brussels, Belgium for giving the first performance in the U.S. of Ysaye's "Trio di Concert" in 1967.
Nannette and I performed in Philadelphia on the NBC show "Portraits in Music," and did a lot of radio and T.V. recording in Europe.
Finally, Nanette taught violin and chamber music at Mannes. Her last appearance was with Local 802's Senior Musicians Orchestra at Carnegie Hall in 2005.
She is survived by myself, and two nieces and a nephew.
Cellist William Harry is a member of Local 802.