Remembering Peggy Wiltrout and Bliss Michelson
Volume 121, No. 4
April, 2021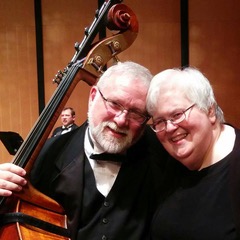 Local 802 members Peggy Wiltrout (oboe) and her husband Bliss Michelson (bass) both died of Covid over the winter. Below is an obituary for Peggy written by Carolyn Clark, her friend of 40 years. A separate tribute for Bliss Michelson can be found here.
Staten Island Philharmonic mourns the loss of our oboist, personnel manager, and dear friend Peggy Wiltrout, who died of Covid on Feb. 26 in Manhattan. Born on October 13, 1946 to LeRoy and Margaret Wiltrout, Peggy grew up in Elkhart, Indiana, a town known for making woodwind and brass instruments. In elementary school, Peggy chose the oboe as her instrument, and the rest of her life fell into place from there. She majored in music at Indiana University. Straight out of music school, Peggy joined the Alabama Symphony, then moved on to the Shreveport Symphony in Louisiana. In the summers, she played at the Lakeside Festival in Ohio.
Peggy left symphony life for the touring company of "Cabaret." The musicians were onstage and in costume. Years later, Peggy loved showing photos of herself in a blond wig and a risqué outfit, complete with garters, that she wore for the show.
After "Cabaret," Peggy made the big move to NYC, settling into the apartment on 71st and Broadway where she lived for more than 40 years. Although the apartment was small, Peggy was always happy for friends to stay over on her sofa. Her hospitality and kindness were legendary. So was her sense of humor, as evidenced by the welcome mat at her front door that said "GO AWAY."
Musicians sometimes have side jobs. One of Peggy's jobs was making oboe reeds. Each reed had a slip of paper inside that read "Inspected by…" Peggy turned each slip over and wrote, "Help! I am being held prisoner in an oboe reed factory." The company soon began receiving strange phone calls about their treatment of employees.
Peggy freelanced throughout the tri-state area, but she spent a great deal of time in Staten Island. She taught at the Dorothy Delson Kuhn Music Institute of the JCC and at Wagner College. In the 1980s, she performed with the Staten Island Musicians' Society Band, that played in local parks throughout the summers. She played in the now-defunct Staten Island Symphony, and was a founding board member of the Staten Island Philharmonic. Peggy was also a founder and board president of the Viva Voce Chamber Ensemble.
New Jersey's Orchestra of St. Peter's by the Sea is another group that Peggy performed with frequently. That is where she met the love of her life, bassist Bliss Michelson. Peggy was Bliss' true love, as well, and it was wonderful to watch the care and devotion they showed each other. They married on January 1, 2013, and really did live happily ever after.
Peggy will be missed for her fine musicianship, but even more for her kindness, her generosity, and her radiant smile. She is survived by her brother Skip, several cousins including Elizabeth Raff, and a host of friends who will always remember her.
p.s…A sad postscript: our Staten Island Philharmonic music director Alex Guzman has also passed, from cancer.
— Carolyn Clark
We also received the following tribute to Peggy Wiltrout from Kathy Milsark:
My oldest friend Peggy Wiltrout, who I met 70 years ago when we were 4 years old, was taken by this ruthless pandemic this winter. My Facebook feed was full of remembrances, most focusing on music and adult Peggy. I certainly share those memories, but what I kept thinking about all day yesterday was childhood stuff. Endless games of jacks on the steps. Hopscotch. Roller skating around the block in opposite directions to see who could get back first (usually Peg — she may have been big but I was clumsy). Winky Dink on Saturday mornings. Mickey Mouse Club after school. Lots and lots of board games: Clue, Monopoly, Parcheesi and Sorry, sure, but the one we played most was a dorky game she had that had all the presidents around the rim and you progressed by answering questions about them. We inexplicably adored it and memorized all the cards. And canasta and double solitaire. And her dad's ginormous ham radio setup. And playing "bookstore" in Vic Smith's basement (talk about dorky!). And mixing up horrid concoctions we somehow hoped we could trick her brother into drinking. And giggly sleepovers with mothers shushing us and telling us to go to sleep (yeah, right!). Well, sleep well now, my good old friend.
— Kathy Milsark