Remembering Reinhardt Elster
Reminiscences
Volume 116, No. 4
April, 2016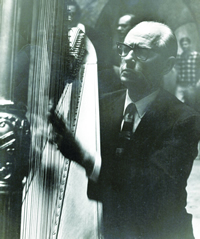 My father, Reinhardt Elster, who died peacefully at 101 on Oct. 5, 2015 at his home in Massachusetts, was fond of telling a story about Sir Thomas Beecham, the English conductor.
As the story goes, Beecham was in a graveyard one day and saw a tombstone with the epitaph, "Here lies a great musician and a great harpist."
"Egad!" Beecham said to his companions. "I didn't know they buried two people in the same grave."
To me, my father was both a great musician and a great harpist. But my father liked to say that he was first a musician and then a harpist.
Reinhardt Elster was born in Hammond, Indiana, on July 23, 1914. His father, a semiprofessional musician, helped found and run the local union. "Musicians' unions are in my blood," my father would later say, and he walked the walk. He joined Local 802 in 1946; he did research for the Metropolitan Opera Orchestra's negotiating team; and, in the early 1960s, he helped found ICSOM (the International Conference of Symphony and Opera Musicians) and served as the second editor of its publication, Senza Sordino.
My father's life as a musician began with piano and percussion. His first paid job, at 14, was playing the organ at a roller-skating rink. He was a two-time national high school champion on the Deagan marimba-xylophone. He began studying harp at 15 only because his high school bought one and paid for his lessons. After six months his teacher said he was so good he should study with the principal harpist of the Chicago Symphony.
At the National Music Camp at Interlochen, Michigan, in its early, rustic days, my father twice won the student conducting contest. A mentor there advised him to apply to the Curtis Institute in Philadelphia. Curtis accepted him, and for six years he studied with the celebrated harpist Carlos Salzedo.
During the Depression my father was music director of radio station WHIP, (nicknamed "We Hope It Pays"). In World War II, he played harp in the Army Air Force Orchestra, which, after the tragic disappearance of Glenn Miller over the English Channel, played the weekly Mutual Radio broadcasts from New York City.
After the war my father became a successful freelance harpist in New York. He played the Perry Como Show and with Toscanini's NBC Symphony. He recorded with Russ Case and Marian McPartland, and you can hear his smooth glissandi on Nat King Cole's original 1948 recording of Mel Tormé's "Christmas Song." He also published his arrangements for harp of "Frenesí," "Perfidia," "Tico Tico," and "Donkey Serenade."
But soon a friend from Curtis, the flutist Harold Bennett, began needling my father to audition for the Metropolitan Opera Orchestra. With reluctance, he agreed and was promptly offered the position. With even more reluctance (because of the demands of the operatic repertoire), he took it.
From 1948 to 1986 my father was principal harpist of the Met, and from 1968 to 1978 he was the harpist for the Casals Festival Orchestra in Puerto Rico. It was a career filled with many grand moments – and also some unexpected ones, as when my father, playing four-handed piano with Fritz Reiner in a rehearsal, nicked the maestro with his fingernail and drew blood, or when a soprano once kicked a stool into the pit, narrowly missing my father's head and his harp.
My father performed with the greatest orchestral musicians of his day. Pavarotti, Domingo, Björling, Sutherland, Price, Sills and countless other operatic legends crooned to his lyre. Marilyn Horne, accompanied only by my father, once wowed a Met gala audience with "I Dream of Jeannie with the Light Brown Hair." And many revered 20th-century conductors – and my father played for most of them, from Stokowski to Mehta – had tremendous respect for his musicianship.
George Szell admired the resonant virtuosity of my father's "Tannhäuser." James Levine marveled at his superb ability as an accompanist, saying it was uncanny how my father followed the singer. And I remember how as a boy I watched, crouching in the pit behind the timpani during a dress rehearsal of "Carmen," as Leonard Bernstein strode up to my father after the first act, pumped his hand, and called him "a wonderful harpist."
Arthritis ended my father's career at age 72; he didn't want to keep playing if he couldn't perform at his best. In December 2014, at 100 years old, he visited the Met and was received like royalty. It was a crowning moment for him.
In his long century of life my father saw and suffered many things, from the loss of his first wife and their adopted son to the loss of his second wife, my mother, Nancy Carr Elster, a music teacher and graduate of Oberlin Conservatory, in 2011. Through it all, and to the end, he lived with dignity and humor, and he deeply cherished beauty, especially in music.
Besides me, my father is survived by his granddaughters Carmen, Judith and Jennifer, all talented artists in their own right.