Requiem
Volume CX, No. 2
February, 2010
Rusty Dedrick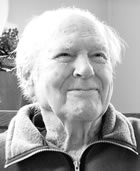 Lyle "Rusty" Dedrick
Lyle "Rusty" Dedrick, 91, a jazz trumpeter, arranger, composer and educator, died on Dec. 25. He had been a Local 802 member since 1946.
Mr. Dedrick bought his first jazz recording – a Louis Armstrong 78 – at age ten, even though his family had no phonograph at the time. A decade later, he would drop out of the music program at Fredonia and take to the road with Dick Stabile, Red Norvo and, later, Claude Thornhill.
While with Thornhill, Dedrick would fall under the influence of Gil Evans and emerge as one of the most sought-after arrangers in the New York studios. His charts would bring a hip, progressive flair to the records of Don Elliott, Maxine Sullivan, Lee Wiley and others. Meanwhile, he continued to play trumpet in the bands of Urbie Green, Ralph Flanagan, Richard Maltby, Lionel Hampton and Benny Goodman.
In 1971 he joined the faculty of the Manhattan School of Music, eventually becoming its director of jazz studies. He was the first professor of arranging and composition at the New School University's Jazz Department.
In 1986, he was honored by the American Jazz Orchestra with an evening of his arrangements of Harold Arlen tunes at the Cooper Union. His final work, an Americana suite called "Music of America," was completed in 2007 and awaits publication.
Rusty is survived by his wife Patricia and sister Ruth Tabor. He is also survived by his daughter Doreen (and Doreen's husband Mark Lonergan), his son Jeff (and Jeff's wife Gail), and his daughter Karin (and Karin's husband George Piskoz), as well as many nieces and nephews.
A memorial service will be held in the spring. For more information, e-mail Mark Lonergan at mlonergan@nyc.rr.com.
We also remember…
Rudolf F. Aurori, bassoon
Leo Fogel, trombone
Eugene Maresco, violin
Joseph R. Sugar, trumpet
Morton Werbel, trumpet
To report the death of a member, please call Tamea Dunn at (212) 245-4802. Be sure to ask about any possible refund of Local 802 membership dues. Spouses of deceased members should also call the AFM Pension Fund at (800) 833-8065, ext. 1311, to ask about any possible benefits. To submit an obituary to Allegro, e-mail Allegro editor Mikael Elsila at Allegro@Local802afm.org or call (646) 765-9663.