Requiem
Volume CX, No. 5
May, 2010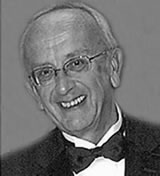 ALAN FOUST
Alan foust, 64, an orchestrator and arranger and a Local 802 member since 1965, died on March 20. He collapsed, apparently of a heart attack, while riding his bicycle, said his wife, Cathy, according to NorthJersey.com.
The Indiana native created jingles and worked with Wyclef Jean, Barry Manilow and Lena Horne.
He also played a key role in a memorable political commercial. Mr. Foust composed, arranged, orchestrated and conducted for Ronald Reagan's "Morning in America" video, which famously began with these words: "It's morning again in America."
"Morning in America" ranks 43rd on Advertising Age's list of the top 100 advertising campaigns of all time.
Cathy Foust said her husband was not politically active and landed the gig through a music production house he was working with at the time.
The versatile Mr. Foust was especially proud of his work with rapper Wyclef Jean, his wife said. He conducted the orchestra during a Carnegie Hall benefit concert for the Wyclef Jean Foundation in 2001. Rap music, Cathy Foust said, was "totally out of his league."
Mr. Foust wrote jingles for a who's who of corporate clients, including General Electric, Pepsi and Delta Air Lines.
He retired several years ago and was enjoying a new hobby, bicycling. On March 20, he was touring with his bicycle club when he felt unwell. He turned around and was heading back to his car when he was stricken in Demarest, New Jersey, his wife said.
In addition to his wife of 37 years, Mr. Foust is survived by his daughter Cynthia Foust-Venner, sister Andrea Wyman and a grandson.
Obituary from NorthJersey.com
---
JAN ROSENBERG
Jan Rosenberg, 56, a Broadway conductor, musical director and pianist, died on April 1. She had been a Local 802 member since 1979.
Ms. Rosenberg strongly believed in the union's mission and served as delegate to the Broadway Theatre Committee. She was also co-chair of the Music Directors Committee in the 1990's and a member of the State of Broadway Subcommittee in 2006.
In addition, she worked as the advertising manager for Allegro for several years, before leaving the job in 2009 when she became musical director of the national tour of "Legally Blond."
Ms. Rosenberg grew up in West Hempstead, studying both dance and piano as a young child. She began serious studies in New York City at the age of 12. Throughout high school, she conducted or played piano for many musicals. Ms. Rosenberg trained at the Mannes School of Music and graduated from Hofstra University with a degree in music education.
During her career, Ms. Rosenberg played keyboards for numerous Broadway shows. She served as musical director for the Off Broadway shows "A…My Name is Alice" and "Charlotte Sweet." She also was the musical director of "Starlight Express" in Las Vegas as well as on its first national tour, and of "Jekyll & Hyde" at Theater Under the Stars in Houston.
She also worked as assistant musical supervisor on "Dream" and associate conductor on such shows as "Dirty Rotten Scoundrels," "Jekyll and Hyde," "Cats," "Sweeny Todd" and many others.
Ms. Rosenberg was a faithful practitioner of Nichiren Buddhism for three decades and found much comfort, support and joy from her practice and fellow practitioners.
"Jan was a dedicated, consummate professional who will be missed by all those who knew and loved her," her partner Sheri Cowart told Allegro. In addition to Sheri, Ms. Rosenberg is survived by her sister Terri, brother Bobby, aunt Doris and longtime friend Lorraine.
For additional tributes to Ms. Rosenberg, see Larry Rawdon's essay in this issue and Joseph Church's letter in Musicians' Voice.
We also remember . . .
William J. Duane Jr., accordion
Irving Kwasnik, violin
Joseph Perillo, drums
Oscar Ravina, violin
MEMORIAL SERVICES
Michael Levin
There will be a memorial gathering to celebrate the life of violinist Michael Levin on Monday, May 10 at 5:30 p.m. at Grace and St. Paul's Church, 123 West 71st Street (between Broadway and Columbus). There will be music, reminiscences and a wine and cheese reception. His family will be there and would love to meet any of his colleagues who are able to attend. Please call Christine Ims at (201) 837-9196 for more information and to RSVP.
Al Schoonmaker
In the last issue of Allegro, on the letters page, we referred to a May 1 memorial service and musical tribute for Al Schoonmaker. That event has been canceled. For more information, please call Jack Reilly at (732) 818-0840.
To report the death of a member, please call Tamea Dunn at (212) 245-4802. E-mail obituaries to Allegro@Local802afm.org.