Requiem
Volume 112, No. 2
February, 2012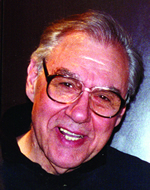 Joe Bennett
Joe Bennett, 85, a trombonist and a Local 802 member since 1943, died on Jan. 9.
Joe Bennett – who was born Joseph Benante – played in many of the great postwar big bands. As a member of CBS studio orchestras, he was heard on the Garry Moore, Ed Sullivan and Jackie Gleason shows. He had a stint on Broadway and a career in New York City's recording studios. And he was active in the club date field, working with the Lester Lanin orchestra.
Mr. Bennett's talent began young. He was only just out of high school when he was invited to play a chair in the newly formed Vaughn Monroe Band. Later, he studied with Jack Elliot, a member of the NBC Symphony under Toscanini, and with Roger Smith of the Metropolitan Opera orchestra. As he continued his studies, he worked gigs in various venues around NYC. His mentors at that time were Brad Gowans (a valve trombonist who worked at Nick's in the Village) and, primarily, the jazz Dixieland trombonist Jack Teagarden.
Mr. Bennett later played in the bands of Bobby Sherwood, Les Brown, Lucky Millinder, Jerry Wald and Art Mooney.
He also played on the famous Gil Evans arrangements on Miles Davis's albums "Miles Ahead," "Porgy and Bess" and "Sketches of Spain." Mr. Bennett once said that these albums were the apex of his recording years. He also said that watching Miles Davis in action created a respect for him that lasted all his life.
Mr. Bennett is survived by his children Stephen, Catherine, Christopher and Joseph, his three nephews and four grandchildren. The family asks that donations be made to the Local 802 Senior Musicians Association, 322 West 48 Street, New York, NY 10036. Contact Dr. Lyn Christie at (914) 968-6036 for more info.
This obituary was edited from the feature article we ran about Mr. Bennett in the January 2001 issue of Allegro, by Leo Ball. The full article can be seen here: http://TinyURL.com/JoeBennettStory
---
Bob Brookmeyer
Photo: Takehiko Tokiwa via bobbrookmeyer.com
Bob Brookmeyer, 81, a valve trombonist, pianist, arranger, and composer, and a member of Local 802 since 1978, died on Dec. 15
Although Mr. Brookmeyer played piano with the big bands of Tex Beneke and Ray McKinley and played on a two-piano album with Bill Evans, his main instrument was valve trombone. He played with the Claude Thornhill orchestra and in small groups led by Stan Getz, Gerry Mulligan, Clark Terry and Jimmy Giuffre.
But he was best known for his arrangements for big bands, especially Gerry Mulligan's Concert Jazz Band and the Thad Jones-Mel Lewis Jazz Orchestra.
Mr. Brookmeyer also played in the house band for "The Merv Griffin Show" and wrote arrangements for Ray Charles and others. He moved to Los Angeles in 1968 and did studio work before moving back to NYC in 1978. He began composing classical music in albums like "Music for String Quartet and Orchestra."
Mr. Brookmeyer went to Europe in the 1980's, playing with jazz ensembles in Germany, Denmark and Sweden and forming the New Arts Orchestra.
Mr. Brookmeyer was named a National Endowment for the Arts Jazz Master in 2006. He recently received the eighth Grammy Award nomination of his career for an arrangement from the Vanguard Jazz Orchestra's album "Forever Lasting."
Mr. Brookmeyer, who was married four times, is survived by his wife Janet, four stepsons, Ben, Greg, Scott and Cary Bahora; and eight step-grandchildren.
See John Mosca's reminiscences of Mr. Brookmeyer in this issue, and Bill Crow's reminiscences in "The Band Room."
Edited from the New York Times obituary.
---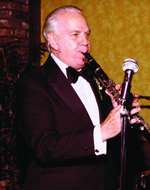 Gerald Thomas Sanfino
Gerald Thomas Sanfino, 91, a saxophonist, clarinetist, flutist and multi-reed player, died on Dec. 14. He had been a Local 802 member since 1937.
By age 17, Mr. Sanfino was already touring the U.S. with bandleader Deacon Moore. He was later called to play by Glenn Miller, but had already accepted a job with the Alvino Rey band at the time.
When World War II broke out, Mr. Sanfino enlisted in the Coast Guard and helped establish a Coast Guard band that featured Kai Winding, Bob Alexander, Louis Goodman and Jack Egan. The band raised millions of dollars for the bond drive during the war.
After the war, Mr. Sanfino played first with Benny Goodman then later George Paxton, Boyd Raeburn and Carmen Cavallaro before ending up at NBC working for the Kate Smith Show. He was also very active on the New York City recording scene.
Later in his career, Mr. Sanfino played for Tito Puente, Noro Morales and Tito Rodriguez.
Mr. Sanfino was the king of telethons, working the Jerry Lewis MDA Labor Day event and Tony Cabot's cerebral palsy telethon. In the 1970's and 1980's, Mr. Sanfino worked at the Westchester and Westbury music theatres. At age 80, he was still playing music.
He is survived by his wife Barbara, daughters Kristina Sweeney and Nysa Parrish, and grandchildren Michael, Katie, Matthew and Andrew.
---
William "Bill" P. Snyder
William "Bill" P. Snyder, 95, a pianist and a Local 802 member since 1952, died on Nov. 5.
After studying with Moritz Rosenthal and Rudolph Ganz, Mr. Snyder zoomed into national prominence with his first record, "Bewitched, Bothered and Bewildered," from the Rodgers and Hart musical "Pal Joey," which sold well into the millions and made it to number one on the charts. He conducted, arranged and performed musicals in the famed College Inn in the Sherman House in Chicago, shows that included "Salute to Cole Porter" and the "Salute to Rodgers and Hammerstein" shows.
In his lifetime, Mr. Snyder earned nine gold records and one platinum for his singles and albums. He toured around the U.S. and Canada for Columbia Artists Management. He appeared with symphony orchestras and performed such well known works as Gershwin's "Rhapsody in Blue," Listz's "Hungarian Fantasy" and some of his own compositions.
After performing 75 years, Mr. Snyder retired with his wife, Marion, in Fond du Lac, Wis.
Besides Marion, Mr. Snyder is survived by his stepchildren Ken, Cyndee, Traci and Steven, as well as grandchildren, great-grandchildren, nieces, nephews, other relatives and many friends.
Edited from the Fond du Lac (Wis.) Reporter.
---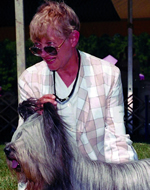 Janet Kristensen Weiss
Janet Kristensen Weiss, 79, a flutist and a Local 802 member since 1965, died on Dec. 25.
A native of Duluth, Minnesota, Ms. Weiss studied flute with Joseph Mariano at the Eastman School of Music. She later studied with Julius Baker, Harold Bennett and Haakon Bergh.
She was a member of the AFM since the mid 1950's. From 1958 to 1965 she lived in LA, where she worked in film and TV, and was a member of the Musicians' Guild of America for a time. She moved to New York in 1965 with her husband, clarinetist Mitchell Weiss, working with the Radio City Music Hall orchestra and the American Symphony.
After her playing career was cut short by repetitive stress disorders of the hands and wrists, she researched these disorders extensively, ultimately becoming a recognized authority. She advised many flutists, instrument makers, and the National Flute Association on prevention, rehabilitation and ergonomically redesigned flutes. In later years, these studies led her to become an expert flute repairer and design consultant. She served as a chair or participant on many committees related to these topics.
Throughout her life she was an active teacher, with countless students, young and old, amateur and professional. Her hobby was raising show dogs, specifically her beloved Skye Terriers. Fifteen were awarded the title of champion.
She is survived by Mitch, her husband of 59 years, and her son David, a flutist. Both are members of Local 802. She is also survived by her daughter Cecilia of Los Angeles.