Requiem
Volume 112, No. 3
March, 2012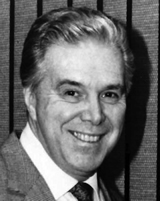 Clem DeRosa
Clem DeRosa, 86, died last Dec. 20. He had been a member of Local 802 since 1945 and was an internationally respected educator, bandleader, composer, arranger, drummer and author.
Mr. DeRosa started his career in the South Huntington (Long Island) school district. He was a pioneer of jazz education and was perhaps the first public school educator to instill a solid jazz curriculum and teaching method in the 1950's that became nationally recognized. He produced high school jazz bands that sounded astonishingly professional, some of which appeared on the Johnny Carson and Merv Griffin TV shows.
Clem was a founding member of the National Association of Jazz Educators which grew into the International Association of Jazz Educators. He was also an original faculty member of the Stan Kenton Clinics.
Upon his retirement from music education in 1980, Clem spent the remainder of his career touring the world as a professional bandleader for the Glenn Miller, Jimmy Dorsey, Benny Goodman and Bert Kaempfert orchestras. He also co-authored several books with Mel Lewis, Dick Hyman, Michael Moore and Ed Shaugnessy.
Clem is survived by his wife Shirley; son Richard and his wife Kimberly; daughter Dianne and her husband Jeff; son Gary and his wife Kim; and grandchildren Martina and Janice.
A memorial service is scheduled at 7:15 p.m. on Monday, May 21, at St. Peter's Church (619 Lexington Avenue at 54th Street, www.SaintPeters.org).
Donations may be made to the Clem DeRosa Jazz Scholarship at Smithtown (New York) High School East, c/o Ed Balsamo, #6 Angelo Court, St. James, NY 11780. For more information, send an e-mail toDeRosaMusic@gmail.com.
---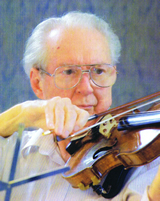 Gregory Komar
Gregory Komar, 91, a violinist and a Local 802 member since 1941, died last Sept. 14, 2011.
Mr. Komar enjoyed a long and successful career, starting with the original Broadway pit orchestra of "Carousel" in 1945. In 1948, he played at Billy Rose's famous Diamond Horseshoe nightclub. He went on to travel with the Boston Pops Orchestra under Arthur Fiedler, and played with the American Symphony in Carnegie Hall under Leopold Stowkowski. He was with the Radio City Music Hall Symphony Orchestra for 28 years and was instrumental in saving Radio City Music Hall from demolition in the late 1970's.
Additionally, Mr. Komar played for many entertainment luminaries, including Frank Sinatra, Perry Como, Sammy Davis Jr., Placido Domingo, Luciano Pavarotti, Linda Ronstadt, Henny Youngman, Rick Wakeman, Pia Zadora, and four movie soundtracks for Spike Lee. Other Broadway shows he played for were "Hello Dolly," "Call Me Mister," "They're Playing Our Song," "The Grand Tour," and "Nine."
Mr. Komar is survived by his wife Helen; son Greg and his wife Gail; and daughter Cathy and her husband Scott.
Edited from the Tampa Bay Times via Legacy.com
---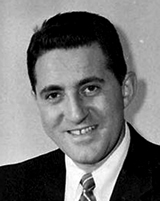 Phil Kraus
Phil Kraus, 93, a percussionist and mallet player, died on Jan. 13. He had been a Local 802 member since 1936.
Mr. Kraus worked with such diverse musicians as Leonard Bernstein, Buddy Holly, Ella Fitzgerald, Tony Bennett and the Drifters.
Born in New York City, he won a full scholarship to Juilliard at 17. During World War II, he enlisted in the Army, where he was recruited to play in the band for Irving Berlin's "This is the Army," both on Broadway and in the movie version.
Working in television, concerts and recording sessions in New York, Mr. Kraus played the famous marimba riff in Ben E. King's "Spanish Harlem," the guiro on "Stand by Me" as well as other percussion instruments for Billie Holiday, Carol King and Ray Charles. He also played with groups led Quincy Jones, Benny Goodman and Doc Severinson. He was in the orchestra at Madison Square Garden the night Marilyn Monroe sang "Happy Birthday, Mr. President" to President Kennedy, was in the band of the Ernie Kovacs show, Perry Como show, Howdy Doody and Miss America and was on the soundtrack of movies such as "Midnight Cowboy," "Carrie" and "The Godfather."
Mr. Kraus later taught percussion at Rice University and played in the Houston Pops.
Mr. Kraus is survived by his daughter Beth and her husband Edwin; daughter Suzanne and her husband Donald; grandson Andy and his wife Amy; granddaughter Alexa and her husband Eric; granddaughter Chloe and her husband Daniel; grandson Jeffrey; and great-grandsons Will and Jack.
Edited from HoustonJewishFunerals.com
---
Arnold Manchester
Arnold Manchester, 91, a drummer and a percussionist, died on Jan. 16. He had been a Local 802 member since 1945.
Born in Massachusetts, Mr. Manchester was a graduate of the New England Conservatory of Music and served as a member of the West Point Band. He performed with orchestras, Broadway shows, and jazz and swing bands. He recorded in New York and Los Angeles with various artists. Later in life he moved to Baltimore to become the business manager for the Baltimore Symphony Orchestra during the construction years of the Meyerhoff Symphony Hall. He was a 32nd degree Mason (Noquochoke Lodge, Mass.), a member of the Scottish Rite, and a Boumi Shriner.
Condolences may be made online at www.WitzkeFuneralHomes.com.
He is survived by his wife Virginia; son Raymond; stepdaughter Willa and her husband Bo; stepson Carl and his wife Linda; and granddaughters Jacy and Cary.
WE ALSO REMEMBER…
Matthew J. Bonelli, piano
Carmen Le Nard Holliday, guitar
Lorraine Kay, harmonica
Anna Lapiz, organ
Evan Robinson, piano
Harry Stump, drums
Mark Teofilo, drums