Requiem
Volume 112, No. 4
April, 2012
Wade Barnes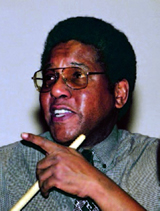 Wade Barnes, 57, a drummer, composer, producer, bandleader, arranger and educator, died on March 3. He had been a Local 802 member since 1996.
Mr. Barnes was the director of the Brooklyn Repertory Ensemble. He also led groups with unique names: Bottom Line, Unit Structures and Word on the Street.
Early in his career, Mr. Barnes taught music in the New York City schools. Later, as an established professional, he came back to give clinics and workshops. He was well known for presenting music to under-served communities.
In his day, Mr. Barnes performed with "Doc" Cheatham, Candido, Bob Cranshaw, Archie Shepp, George Coleman, Sonny Fortune and Jon Faddis, among many others.
In 1997, Mr. Barnes was commissioned by Meet the Composer to compose "From Slavery to Freedom," a suite dedicated to the noted historian John Hope Franklin.
One of Mr. Barnes' favorite endeavors was to provide music workshops to children at the Brownsville Heritage House in Brooklyn, home of the oldest children's library in the country. At the completion of each program, every child would receive a library card.
Mr. Barnes earned a master's degree in music from Vermont College at Norwich University and bachelor's degrees from Empire State College and Queens College.
He is survived by his daughter Naima, mother Grace, sisters Laura and Stacey, brother-in-law Carlos, nieces Aja, Kemba and Brooke (who is also his goddaughter), nephews Carlos, Keith and Gregory and many other family members including grandnephews and grandnieces.
Mr. Barnes' musical life was too rich to condense into this small space. For much more, see his interview with Local 802 jazz rep Todd Bryant Weeks.

---
Ernie Tallarico
Ernie Tallarico, 94, a saxophonist and piano tuner and a member of Local 802 since 1935, died on Feb. 23.
Mr. Tallarico was a well-known piano tuner in New York City. For over 70 years he tuned pianos at the Hilton and Waldorf Astoria, and at many theatres, including on Broadway.
He was also a professional saxophone player and at one time played in a band with his brother Victor, family friend Ray Cavicchio, and nephew Steven. (Steven would grow up to become Steven Tyler, the lead singer of the rock band Aerosmith.)
Mr. Tallarico served in the Army during World War II in New Guinea and the Philippines, helping bring supplies to the soldiers. He earned the Asiatic Pacific Service Medal, the Good Conduct Medal and the World War II Victory Medal.
Mr. Tallarico is survived by his daughter Laura, niece Lynda, nephew August, and nephew Steven.
Mr. Tallarico's brother, Victor, was also a member of Local 802. Victor Tallarico died Sept. 10, 2011.
We also remember . . .
Anthony P. Costa, piano
Richard L. Kniss, bass
Howard Workman, tuba