Requiem
Volume 111, No. 6
June, 2011
Leonard Arner
Leonard Arner, 87, an oboist and a Local 802 member since 1941, died on Jan. 27.
Mr. Arner was a member of the first graduating class of the High School of Music and Art. He studied at Juilliard and earned a degree from the Teachers College at Columbia University.
Mr. Arner was a founding member of the Lincoln Center Chamber Music Society. He was principal oboist with many ensembles throughout his career, including the Buffalo Philharmonic, National Symphony Orchestra, St. Louis Symphony, Bell Telephone Hour, Symphony of the Air, New York City Opera Orchestra and the Mostly Mozart Festival Orchestra.
He performed at the Casals, Spoleto, Aspen and Marlboro festivals, and New School chamber music concerts with Alexander Schneider.
Mr. Arner was the founder and director of the Amadeus Ensemble. He taught at Queens College and the Montclair State College School of Music.
He is survived by his wife Leah, daughter Jessica, son-in-law Eli Abbe and grandchildren Daniel and Rebecca Abbe. The family suggests that donations may be made to Juilliard or to the LaGuardia High School of Music & Art and Performing Arts.
---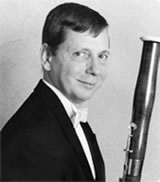 Dennis Godburn
Dennis Godburn, 62, a bassoonist and a Local 802 member since 1975, died on May 13.
Widely regarded as one of the preeminent bassoon soloists in the world, Mr. Godburn pursued a distinguished career as a performer of baroque, classical and modern bassoons.
Mr. Godburn served as the principal bassoonist for the Orchestra of St. Luke's since 1976. In 1977, he started playing with the Orpheus Chamber Orchestra and became a member in 1995. He also performed with the Metropolitan Opera, the San Francisco Symphony, Music @ Menlo Festival, New England Bach Festival, Boston Early Music Festival Orchestra, Handel & Haydn Society, Waverly Consort, Philharmonia Baroque and the Classical Band, among others.
Mr. Godburn appeared as a soloist on the Great Performers Series at Lincoln Center and at the Mostly Mozart Festival, the Chamber Music Society of Lincoln Center, Ravinia Festival, the Kennedy Center and on "Live from Lincoln Center" national television broadcasts.
He also served on the faculties of the State University of New York at Stony Brook and the Manhattan School of Music.
In lieu of flowers, contributions can be made to the Orchestra of St. Luke's, 450 West 37th Street, Suite 502, New York, NY, 10018 with a designation for the Dennis Godburn Memorial Scholarship Fund.
He is survived by his wife Moy Eng, daughters Amanda and Julia, sister Denise, brother-in-law Michael, aunts Lorraine and Gertrude, uncle William, numerous cousins and the Dobratz-Crandal family.
A memorial concert is being planned for later this year.
WE ALSO REMEMBER…
Julius Brand, violin
Marty Gold, piano
Sebastian Larry Guarnieri, clarinet
Harry M. Horowitz, piano
Martin Noliboff, french horn
Johannes F. Somary, conductor
Rudolph G. Stevenson, guitar
Lois A. Terry, violin
Karen A. Tuttle, viola
Bill Walker, violin
Snooky Young, trumpet